Herp Meet and Greet!!
February 7 @ 7:00 pm

-

8:30 pm
Event Navigation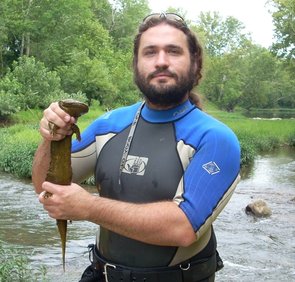 Habitat and Wildlife Keepers (HAWK), a local chapter of the North Carolina Wildlife Federation, is hosting Dr. Shen Unger.
North Carolina has an amazing diversity of Herpetofauna (Reptiles and Amphibians).   Come to the February HAWK meeting for the opportunity to get up-close and personal with some of them!!!  Dr. Shem Unger will focus broadly on the life history, ecology, and conservation biology of some of North Carolina's most interesting reptiles and amphibians.
There will be an opportunity to meet and greet with some of Dr. Unger's outreach education animals including common species of salamanders, snakes, and frogs.
Dr. Shem D. Unger, Assistant Professor of Biology at Wingate University, is broadly interested in the conservation, ecology, evolution, and behavior of amphibians and reptiles. Much of his current research involves understanding the larval life history of a unique North Carolina salamander, the eastern hellbender. Dr. Unger enjoys sharing his love of the natural world with his students and the community both in and out of the classroom. Dr. Unger participates in several HAWK festivals/events by bringing his outreach animals including native snakes, salamanders, and frogs.  Outside of the classroom and outside of snorkeling rivers for salamanders, Dr. Unger enjoys spending time with his family, hiking, camping, kayaking, and playing the ukulele.
This meeting is free  and open to everyone, especially kids that like creepy crawlies!  For more information HAWKNCWF@gmail.com  or 704-236-0929.