Nature Journaling Hike and Nature Journaling Techniques
April 4 @ 5:00 pm

-

8:30 pm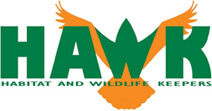 Tuesday April 4, 2017, Matthews Community Center
5:30PM-NATURE JOURNALING HIKE
7PM-NATURE JOURNALING TECHNIQUES

Reignite your sense of wonder about the natural world, and discover the peace and grounding that comes from connecting with nature.
Join Habitat and Wildlife Keepers or HAWK, a local chapter of the North Carolina Wildlife Federation, and best-selling author and naturalist Clare Walker to learn simple prompts and exercises that will inspire you to use all of your senses to notice the colors, sounds, smells, and textures of the trees, plants, animals, birds, insects, clouds, and other features that can be seen right outside your home, no matter where you live.
Clare Walker Leslie will be coming to us from Cambridge, MA to get us excited about techniques for increasing our awareness and information about our own local nature. In the tradition of the early Explorer/Scientist Naturalists, careful records were kept as proof of what adventurers were discovering. Today, nature journal records are just as important as we witness changes to our own environment. Using very simple methods of writing and recording, Clare will have us setting up our own ongoing methods for keeping track of what we care so much about- our beautiful and varied flora and fauna of North Carolina, through the seasons. Clare will make this fun, easy, encouraging as she does hands on demonstrations and shows her own work.
We will start with a walk along the Four Mile Creek Greenway at 5:30pm for a hands-on demonstration of Clare's methods and then we will meet at the Community Center at 7pm to discuss nature journaling in more detail so that everyone can use these techniques to deepen their relationship with nature.
The walk and presentation are free and open to everyone, including and especially children.
​
The process of seeing is what counts, not "how good is my drawing?" — Clare Walker Leslie