Registration Open for 2023 Ocean Advocacy Workshop (OAW)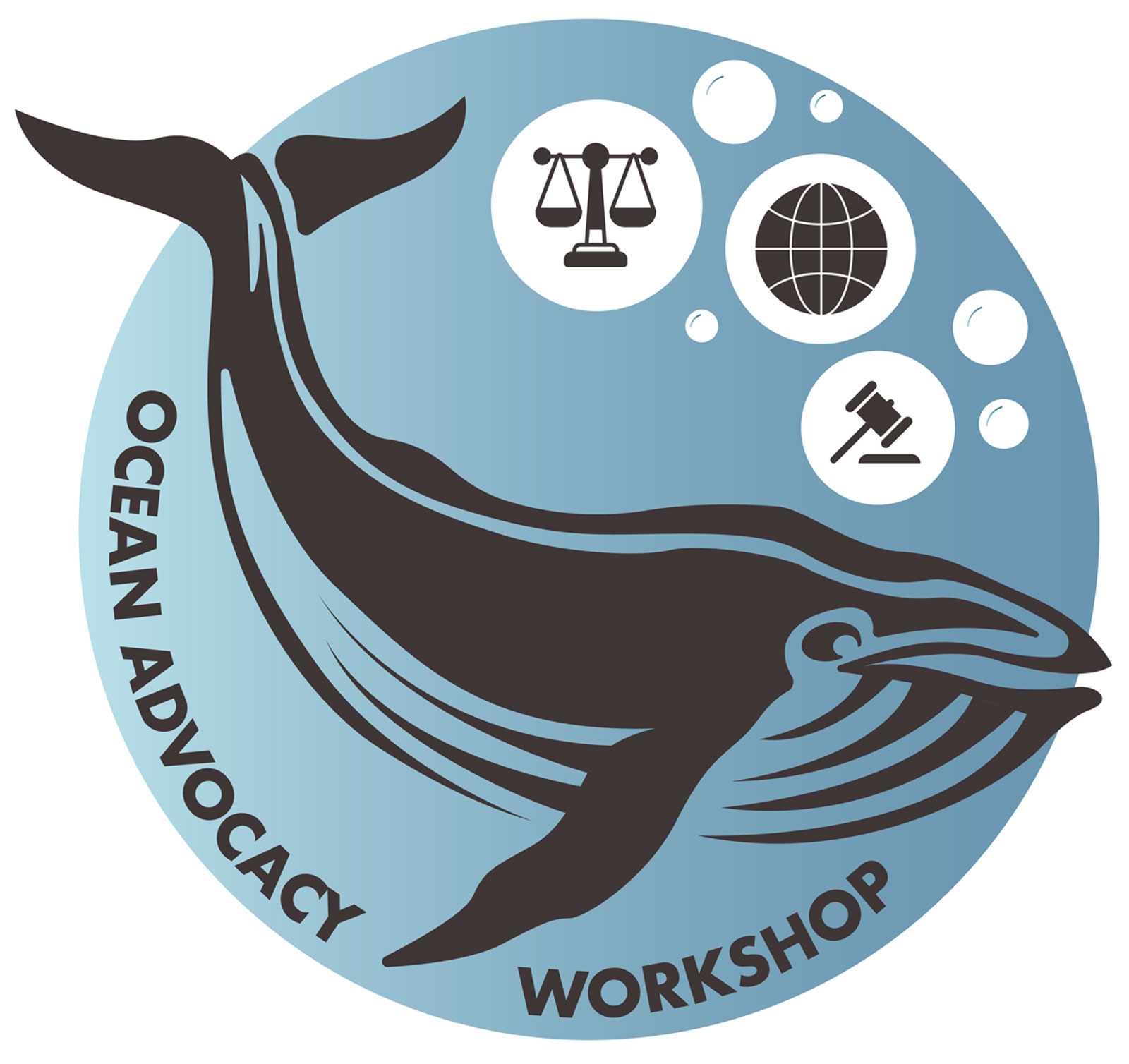 The North Carolina Ocean Advocacy Workshop (OAW) is designed to teach participants how to be champions for oceans and the environment. Join us on March 31 – April 2 at The Summit Conference Center at Haw River State Park for a two-day workshop to learn about local and state issues and how to become an environmental champion through social media, civic action, and political engagement.
Sponsored by the North Carolina Wildlife Federation, University of North Carolina Greensboro's Sustainability Environment Program, the UNCG Green Fund, National Wildlife Federation, and Plastic Ocean Project, participants will be able to network with environmental advocacy professionals, learn how plastics, overfishing & wind energy are affecting NC communities, and DEI in conservation.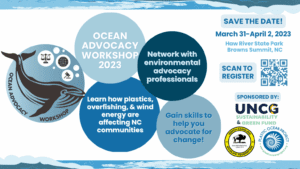 Poster Session
New this year is the OAW poster session! People from all disciplines – from sciences to humanities to community organizations – are welcome to submit abstracts that aim to educate OAW attendees on local and state-wide environmental issues, as well as highlight strategies for addressing these issues through multi-stakeholder engagement and advocacy.
The deadline to submit an abstract for the Ocean Advocacy Workshop poster session is February 22, but if you need an extension let us know by email at: [email protected]. The abstract review committee will notify presenters of acceptance via email by 1 March. All presenters must register for the workshop and attend the in person poster session (there is no virtual presentation option).
Speakers, Presenters, and Moderators
Plenary Speakers
Offshore Wind Energy: Amber Hewett – Northeast Regional Campaign Coordinator, National Wildlife Federation.
Wood Pellet Industry: Anita Cunningham – Program Director, NC Climate Solutions Coalition.
Plastics: Bonnie Monteleone – Founder & CEO, Plastic Ocean Project, NCWF Board of Directors.
Fisheries: Rocky Carter – leader of NC chapter of the Coastal Conservation Association, NCWF Board of Directors.
Advocacy & Civic Engagement:
Attila Nemecz – Marketing and Public Relations Director for Beaufort Community College, Environmental Alliance and LGBT+ Club.
Drew Ball – Southern Regional Director, Appalachian Trail Conservancy, former State Director of Environment North Carolina.
Jennifer Skvarla-Alligood – board of directors for Plastic Ocean Project, Inner Banks Wildlife Chapter of North Carolina Wildlife Federation, Secotan First Nation People and New Era Agriculture.
Karley Kranich – Director at Golin, helping companies communicate about their environmental goals.
Fisheries Expert:
Dr. Wilson Laney – emeritus faculty, served as an Adjunct Assistant Professor at Department of Applied Ecology at NC State University.
Registration Details

Registration: The event is geared toward students, but the general public is also invited to attend. Early Bird registration for students and faculty is only $40 (a $275 value) and includes lodging, meals, and a Certificate of Completion, which can be added to your resume. Community members – including NCWF Chapter Leaders – are also welcome and encouraged to attend (see registration page for details). NCWF chapter leaders also receive a special registration discount – reach out to Tara Moore for details.
Note: This is an amazing value since we have been very busy raising money to keep costs low. Head to the OAW website to see the low registration rates, find links to register, donate, or to submit an abstract for a poster. You can also find the draft agenda and expanded speaker bios. For additional information contact [email protected].
Wanna see the responses to the event last year? Watch this 2 minute video.