Volunteers Needed for Fontana Lake, Largest Trash Cleanup Event in a National Park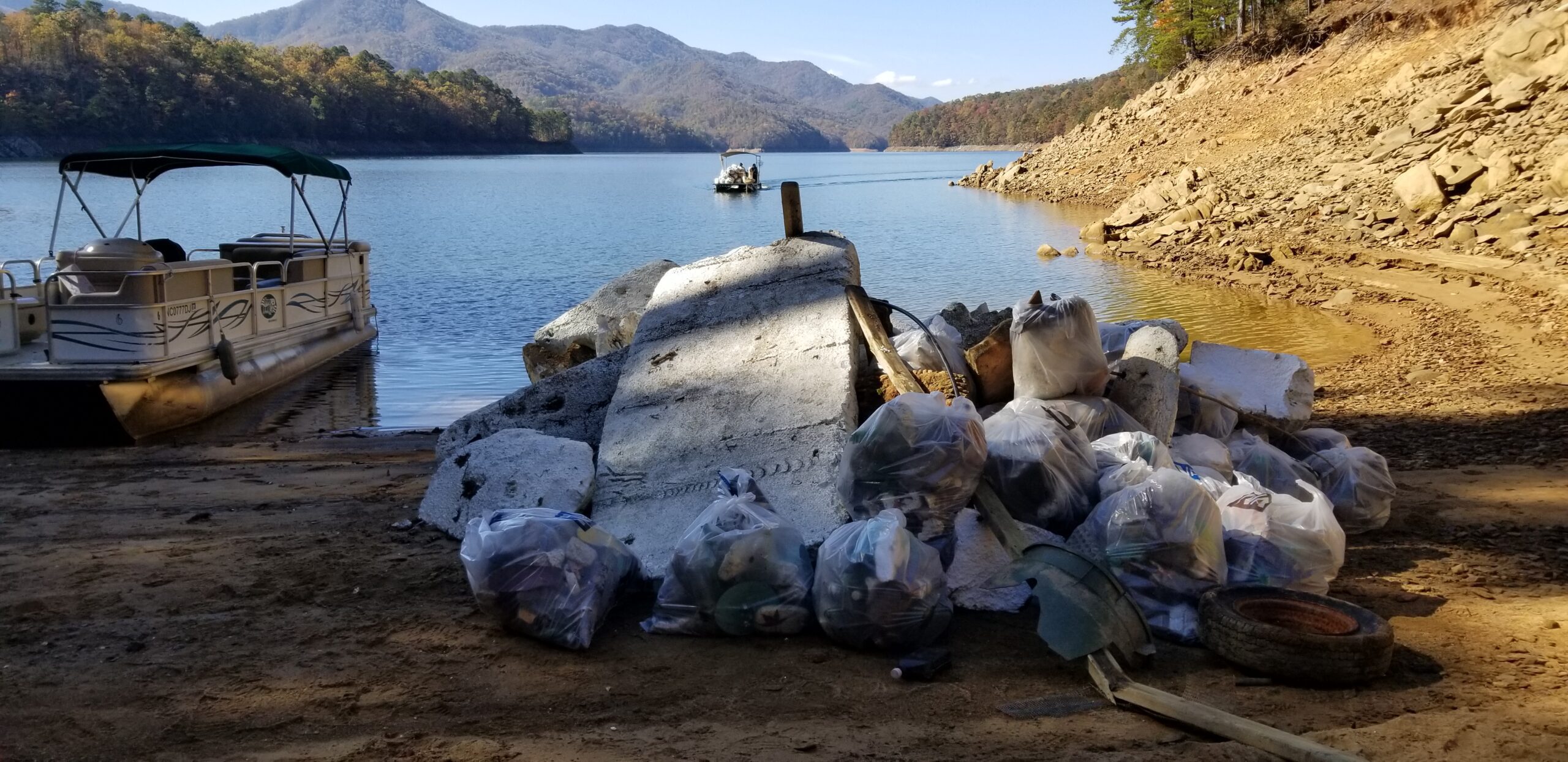 In a remote area of western North Carolina, surrounded and protected by the Great Smoky Mountains and Nantahala National Forest, sits the cold, deep and emerald waters of Fontana Lake. 
Spanning 10,230 acres and reaching depths of 400 feet, the artificial finger lake is home to one of the most diverse fisheries in the country – from striped largemouth bass to wild brook trout to three-of-a-kind pike. 
Fontana Lake's 238 miles of shoreline provide a natural landscape and unique habitats for wildlife such as black bears, bobcats, foxes, bald and golden eagles, ospreys, otters, turkeys and deer. 
Visitors love experiencing Fontana Lake's natural beauty, rich cultural heritage and abundant outdoor opportunities. Boaters and anglers come for the spectacular fishing while campers and hikers explore the wilderness or Appalachian Trail footpath that crosses the lake's dam.
Unfortunately, Fontana Lake is also a gathering place for garbage that's dumped (both accidentally and knowingly) or collected from other water networks that carry the trash downstream. 
Left in the lake, the litter leaches deadly toxins into the environment reducing the quality of Fontana Lake and the Little Tennessee River. Aquatic and terrestrial wildlife suffer as well when they ingest or get caught in the litter.
Fontana Lake cleanup set for Nov. 5-7
Since 2019, staff and volunteers from the North Carolina Wildlife Federation, Mainspring Conservation Trust, Tennessee Valley Authority, National Park Service and Smoky Mountain Hiking Club have removed more than 100,000 pounds of litter from Fontana Lake through volunteer cleanup efforts. The 4th annual Fontana Lake Shore Cleanup event is scheduled for 9 a.m. to 5 p.m. Nov. 5-7. 
Volunteer for the Fontana Lake cleanup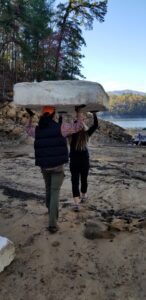 "We've collected all sorts of garbage – massive chunks of styrofoam, pieces of glass, rotted car tires and hundreds of bottles and other single-use plastics," said Tara Moore, NCWF's director of conservation partnerships. 
"By eliminating trash from Fontana Lake's waters, islands and shoreline, we have cleaner water feeding the Little Tennessee River, improved wildlife habitat and more inviting natural areas for everyone to enjoy."
Volunteers needed for largest trash cleanup event in a national park
"Fontana Lake is the country's largest trash cleanup event in a national park and NCWF's most significant collaborative habitat restoration effort," Moore said. "For every 25 pounds of trash collected, we'll plant a native tree, plant or shrub to promote healthy wildlife habitat."
Most Fontana Lake volunteers come from Swain and Graham counties, but any conservation-minded individuals are welcome to help. "This cleanup event would not be possible without our dedicated partners and volunteers who donated an astounding $32,600 worth of labor last year."
The annual gathering involves at least 10 pontoon boats and six large dumpsters to transport and remove the trash. This year's goal is to remove 50,000 pounds of litter with support from at least 100 volunteers who can commit 12 hours over three days. 
Financial support from the Appalachian Trail Conservancy and Bill Staton, in honor of Novare Capital Management, made it possible to appropriately dispose of the litter and recycle more than 20 tires from last year's clean-up. 
"What's great about the Fontana Lake event and our Keep it Clean, Make it Green projects is the benefits are immediate and long-lasting," Moore said. "We're removing toxins from the environment, restoring visual aesthetics and maintaining the area's cultural heritage, so it continues to be a beautiful natural resource for wildlife and outdoor enthusiasts to enjoy and explore."
Sign up to volunteer for the Fontana Lake cleanup, Nov. 5-7
For more information about the lake cleanup or other NCWF events to help restore habitat and save wildlife, contact Tara Moore, director of conservation partnerships, at [email protected] or 704-332-5696.