Grab a Rod and Head Outdoors on July 4 for Free Fishing Day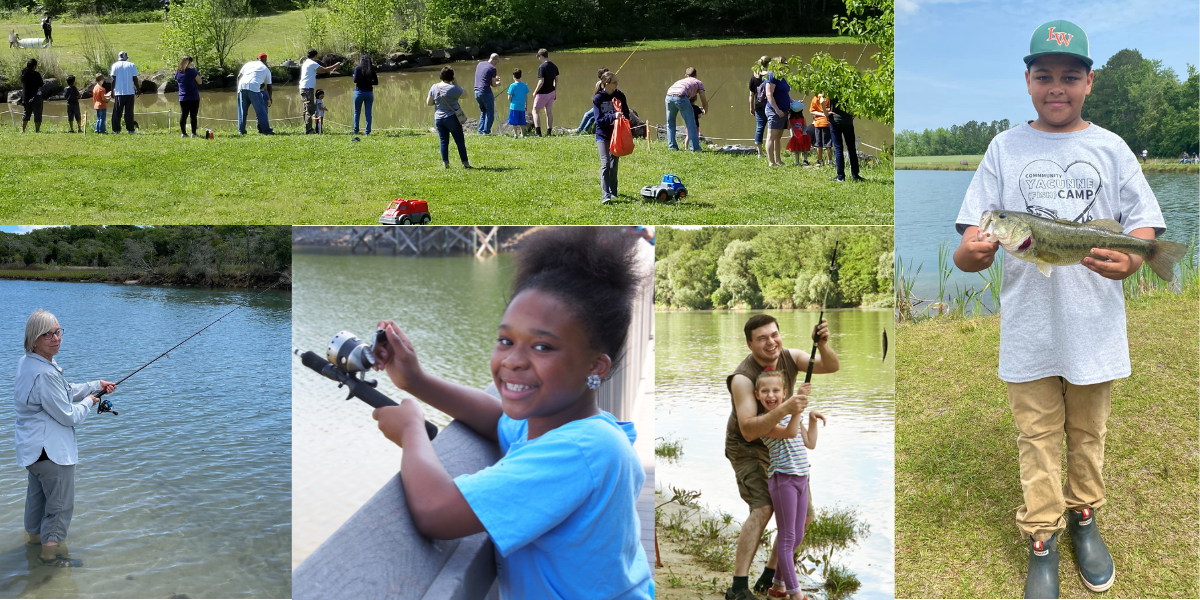 July 4 is Free Fishing Day in North Carolina
From pier and surf fishing along the coast to freshwater fishing in lakes, ponds and streams, the places to cast a line in North Carolina are as diverse as the fish you hope to hook. And on Independence Day, anglers of any age or residency status can fish for free without a license. 
Authorized by N.C. General Assembly in 1994 and sponsored by N.C. Wildlife Resources Commission, Free Fishing Day is held annually on July 4 to promote the sport of fishing. Anglers must follow fishing regulations, such as length, daily possession limits, and bait and tackle restrictions. 
"It's an opportunity for families to try an outdoor recreational activity that is relatively inexpensive and available to anyone, no matter their age or skill level," said Christian Waters, the agency's chief of the Inland Fisheries Division. "It's an excellent way to enjoy quality time together, relaxing by the water."
And with more than 500 publicly accessible places stocked with a variety of fish, North Carolina offers many spots to enjoy some of the best fishing in the country. While anyone can fish for free on July 4, a fishing license is required for people age 16 and older on all other days of the year for both inland and coastal waters in North Carolina. 
WRC's interactive fishing and boating map lists fishing and boating areas open to the public, including many that are free. Boating areas will be crowded over the busy holiday weekend, and wildlife officials urge boaters to be patient and follow boat ramp etiquette.
Tackle Loaner Program Offers Free Fishing Gear
Through the WRC's Tackle Loaner Program (TLP), North Carolinians and visitors) can borrow rods, reels and other fishing gear free of charge. Funded by the federal Sport Fish Restoration program, TLP was created to introduce new anglers, especially children, to fishing and to encourage novice anglers to develop their skills. The program operates just like a library system. Anglers register at a participating site and receive a TLP ID card to check out fishing gear. First-time TLP participants under 16 will receive a free mini-tackle box with basic fishing essentials.
Adaptive Gear for Anglers with Disabilities
Some TLP sites loan adaptive fishing gear to anglers with disabilities. Equipment includes wheelchair pole holders, a Velcro reeling system and assistive arm or hand pole holders/grips for those with limited or no hand function. If you're visiting or plan to visit a TLP site that doesn't have gear available, contact [email protected].
NCWF and Native Fish Conservation Areas
The Little Tennessee River system represents a biological and cultural treasure for North Carolina that also supports important recreational and economic activities. The collaborative efforts of NCWF and its conservation partners offer a promising strategy for sustaining the system and its resources for succeeding generations.
The Little Tennessee River Basin stretches from north Georgia, across the western counties of North Carolina and into Tennessee. It has long been recognized for the incredibly rich diversity of fish and wildlife found within the river and tributary streams. The basin is home to more than 100 species of fish, as well as mussels, snails, crayfish and aquatic plants, including a number of state and federally listed threatened or endangered species.
Learn more about our work with native fish conservation.
Read: Conservation Conversations: Talking "Little T" with Fred Harris