Join NCWF's Great Outdoors University for Kids in Nature Day Events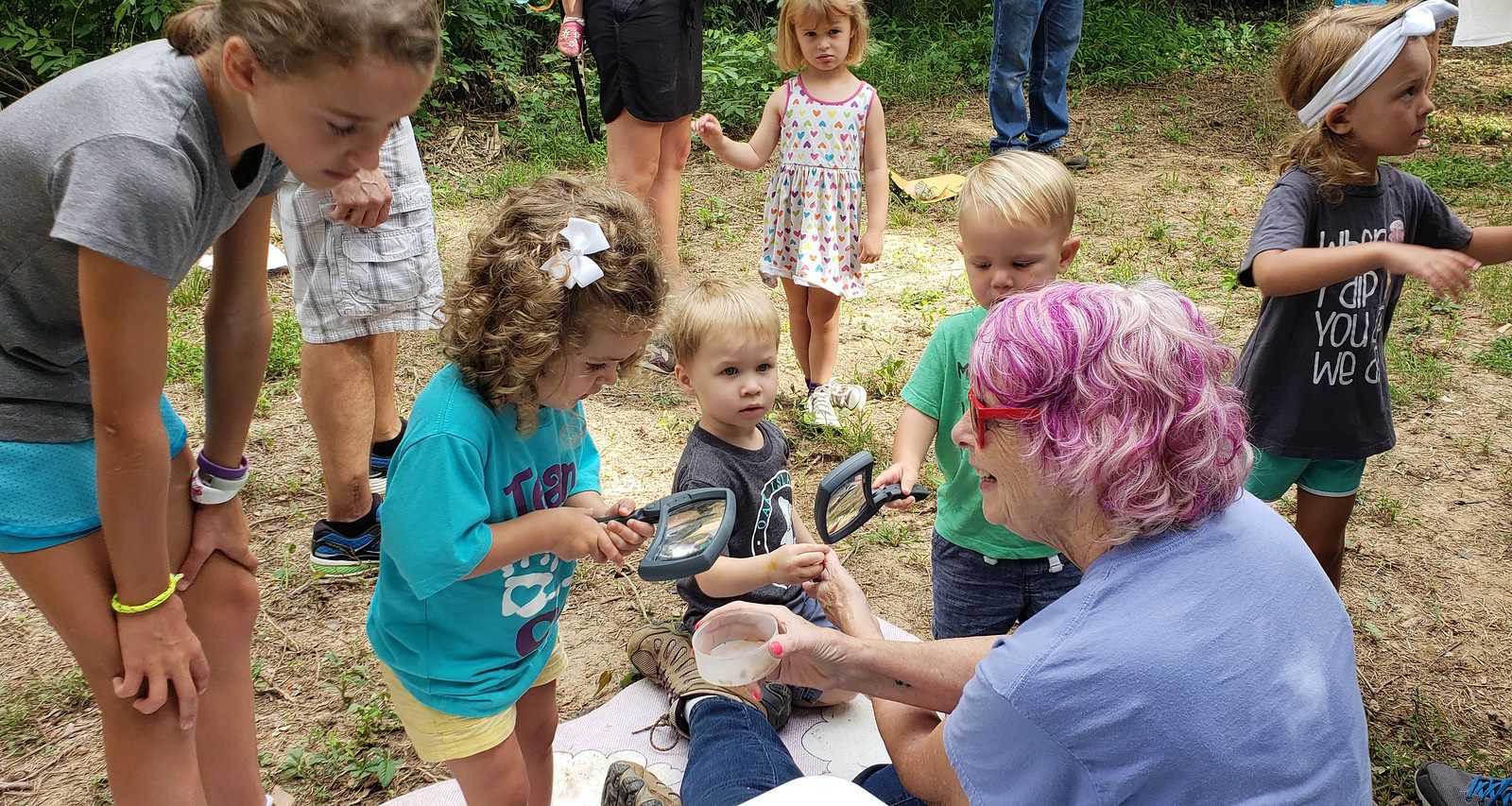 NC Wildlife Federation's Kids in Nature Day events engage kids and their families in outdoor adventures and expose them to the wonders of nature. Research shows kids who explore the natural world and experience learning and playing outdoors are more likely to become the conservation leaders who are crucial to our environment and future.
This fall, NCWF's Great Outdoors University has several events planned in partnership with our Community Wildlife Chapters. 
Charlotte Wildlife Stewards – Kids in Nature Day
Sunday, Sept. 19 from 2-5 p.m. 
Join Charlotte Wildlife Stewards and NCWF's Great Outdoors University for Kids in Nature Day at Reedy Creek Park in Charlotte! This is a free, fun-filled adventure where kids will have up-close experiences with nature. Hands-on activities will include meeting animal ambassadors, making seed balls, hiking, fishing, relaxing with Animal Yoga, nature crafts, stories with Mother Nature, and more. This fun, family event is sponsored by HoneyBee Real Estate in partnership with Great Outdoors University and Mecklenburg County Parks and Recreation. Register or volunteer.
South Wake Conservationists – Eco Kids: Nature Seek & Find
Sunday, Sept. 19 from 1:45-3:30 p.m. 
Join the South Wake Conservationists as they kick off their brand new Eco Kids Program for a special kids-oriented hike at Bass Lake Park in Holly Springs! They will meet on the deck in front of the Nature Center at 1:45 p.m. on Sunday, Sept. 19 for a brief orientation, followed by an interactive "Seek and Find" hike on the 2-mile trail around Bass Lake. The hike should conclude no later than 3:30 p.m. Families with kids of all ages are invited. Materials for the activity will be provided. RSVP to attend. 
Concord Wildlife Alliance – Kids in Nature Day
Saturday, Sept. 25 from 9 a.m.- noon
Kids in Nature Day (KIND) is a free yearly event held the last Saturday in April from 9 am to noon at ​Woodland Discovery located at 8755 Poplar Tent Rd, Concord NC. It takes a lot of volunteers to run this event so be sure to let us know if you can help. There are many activities and educational opportunities available for children of all ages, including hiking, fishing, play areas, educational booths and games. Register. 
South Wake Conservationists – Bass Lake Day at Sugg Farm
Saturday, Oct. 2 from 1-4 p.m. 
Join South Wake Conservationists as a partner at Bass Lake Day, an annual nature and environmental festival held at Bass Lake Park. In addition to interactive exhibits, live music, games and live animals, chapter leaders will help participants make bee houses, butterfly fans and other pollinator activity favorites. More information here.
Lake Norman Wildlife Conservationists – Hooked on Cornelius
Saturday, Oct. 9 from 10 a.m. – noon
We are partnering with Lake Norman Wildlife Conservationists and North Carolina Wildlife Resources for this year's fall edition of our free fishing event! Parents/guardians are encouraged to participate with their children. Fishing rods will be available for participant use during the event. Register and learn more.
Habitat and Wildlife Keepers (HAWK) – Fall Into Nature at Kids In Nature Day in Matthews
Saturday, Oct. 16 from 10 a.m.- 1 p.m.
The return of this annual Fall family event is located at Squirrel Lake Park (1631 Pleasant Plains Road) in Matthews. Bring the kids to enjoy a fun Fall day at the park. From fishing, nature hikes, scavenger hunts to crafts and games the kids are guaranteed to have a great time. Also, new this year is a special area devoted to showing parents how to turn their own backyards into a Certified Wildlife Habitat. A Certified Wildlife Habitat not only benefits local wildlife, it provides teaching moments for kids and is pure family entertainment right in your own backyard. To volunteer or participate email us at [email protected]. Register.