Forage for Fungus with NCWF on Wild Mushroom Walk, June 25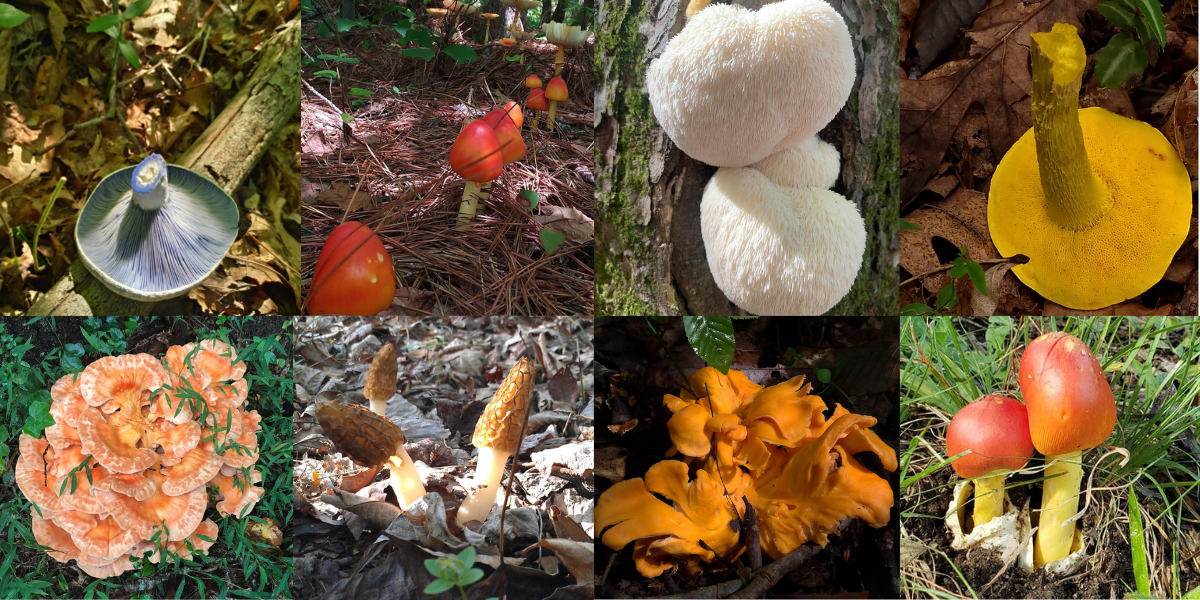 Fungus Among Us: Wild Mushroom Walk
Chanterelles. Maitake. Shaggy Mane. Chicken-of-the-Woods. Morels. Destroying Angel. Jack o'Lantern. False Parasol. Deadly Galerina. Just as North Carolina's habitat spanning the mountains to the sea is diverse, so is the variety of wild mushrooms in our state.  
Join North Carolina Wildlife Federation on June 25 to learn the basics of foraging wild mushrooms, including when and where to look for them, what to avoid, mushroom life cycles, and identifying and distinguishing mushrooms. 
Guide Jon Wall will also discuss types of edible wild mushrooms and how to prepare and preserve harvested mushrooms. He'll be pointing out edible mushrooms along the way, so participants should bring a basket or bag for their haul.
Wall, an attorney with Higgins Benjamin, PLLC, is an amateur mushroom forager and NCWF board director. In 2012, he started Piedmont Mycological Association, a Facebook page where members share information about local mushrooms — except where to pick them. From the first morel of the season to favorite mushroom recipes, the group hopes to share helpful information about the mushrooms found in Central North Carolina. 
Fungus Among Us: Wild Mushroom Identification Walk will be held from 10 a.m. to noon Saturday, June 25, in Reidsville. The event is appropriate for ages 12 and up. Pre-registration is required and space is limited.
Upcoming Walks on the Wild Side
Unique wildlife and habitat opportunities like Fungus Among Us are the inspiration behind N.C. Wildlife Federation's Walks on the Wild Side events. They're a way for people of all ages to engage in outdoor adventures with experts and mentors who enjoy sharing their passion and excitement for the wonders of the natural world. Upcoming events include:
9-11 a.m. Saturday, Aug. 27. Come to Pilot Mountain State Park to learn about native butterfly species with Ranger Maggie Miller. You will walk a mowed path that is part of the Rosalyn Carter Butterfly Trail (approximately 1.0-miles each way). This path is an exceptional place to see native grasses, wildflowers and six-legged species.
Spend the walk learning to identify insects and about an extraordinary migrator, the monarch butterfly. Ranger Maggie is the Interpretation and Education Ranger at Pilot Mountain State Park. Her passion lies in protecting public lands, the wildlife that calls them home and providing education to visitors. Register here.
10 a.m. to noon Friday, Nov. 4. In the middle of Pisgah National Forest lies 100 private acres that have been protected for nearly 80 years. The property owner will take us on a walk that showcases the efforts of an individual who has devoted his life to protecting and restoring wildlife habitat. This hike is appropriate for ages 10 and up.
Over a mile of pristine waters have been carefully managed so that, once again, people may have the opportunity to see wild salmonids create their redds in a streambed. Mountain bogs were also commonplace for early pioneers but are now considered one of the most endangered ecosystems in the country. An elevated walkway allows visitors access to explore one of these sensitive areas, and there is an ongoing effort to restore the native flora and fauna within.
Along our path, we will also view century-old conifers in the surrounding forest, relax in a peaceful meadow, tour a historic log cabin (circa the 1850s), and enjoy many other special features unique to this property. Our guide, Chris Holler has a degree in fish and wildlife management and is a lifetime member of Trout Unlimited, N.C. Wildlife Habitat Foundation (lifetime), an N.C. Lifetime Sportsman and member of the National Speleological Society. Register here.