Go Clean & Green with NC Wildlife Federation's Neighborhood Cleanup Challenge, April 4-15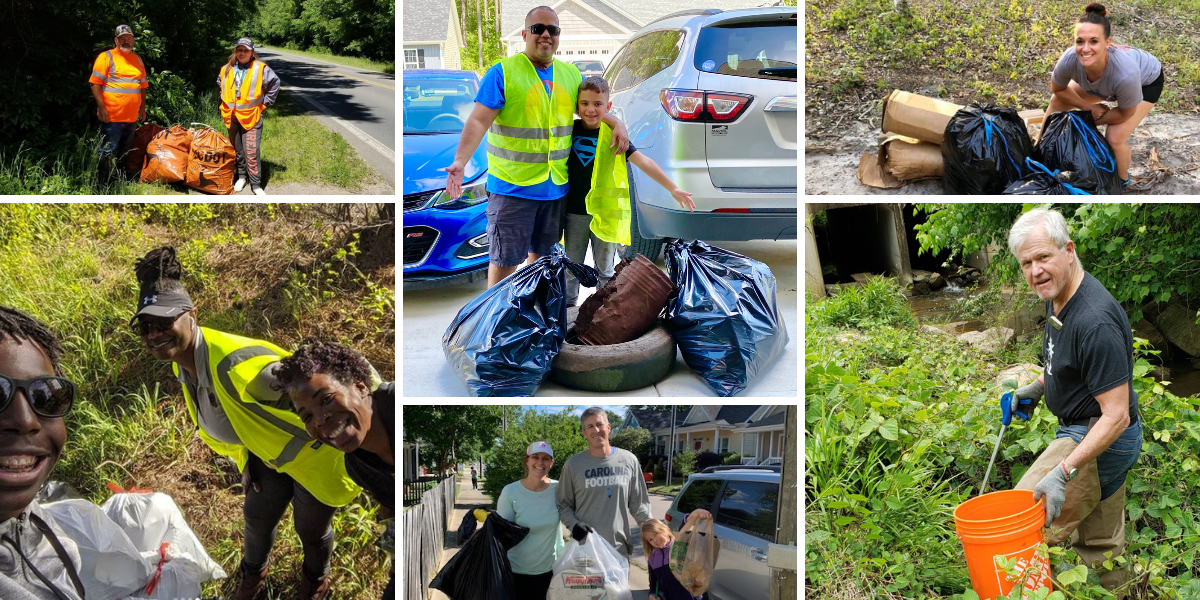 It's time for some spring cleaning! But instead of wiping window sills and dusting ceiling fans, we're headed outside for a Neighborhood Cleanup Challenge, April 4-15, to remove litter from the environment and prevent harm to wildlife. 
As part of North Carolina Wildlife Federation's habitat restoration work, our Community Wildlife Chapters from across the state will host cleanup events to collect debris from neighborhoods and communities. NCWF will plant one native tree for every 25 pounds of trash removed from communities. 
"The Neighborhood Cleanup challenge is part of a larger effort to impact and improve the habitats for all of the wildlife species and habitat in the state," said Tara Moore, director of conservation partnerships. "It's a way for people to take action and raise awareness about litter in the environment and its impacts on wildlife, water quality and neighborhood aesthetics."
Plastic and other litter in the environment harm marine and terrestrial wildlife in many ways – it collects by busy roads, shopping centers and parking lots and ends up in creeks, streams and eventually oceans. Eliminating trash is critical to making a difference and preventing more harm to wildlife on land and in the water.
"Removing what doesn't belong and replacing it with what does helps increase tree canopy, enhances habitat, improves neighborhood appeal and property values, and strengthens communities by preserving wildlife and wild places for future generations," Moore said.
During last year's Neighborhood Cleanup Challenge, more than 250 volunteers from across North Carolina collected 8,040 pounds of trash, mostly styrofoam, cigarettes and plastic bags, food wrappers and bottles. NCWF then planted 320 trees and shrubs over the next six months throughout the state. 
Keep it Clean, Make it Green
Plastics look, smell and feel like food to marine species. At least 180 species have been documented consuming plastic, from plankton to whales. With more than 12.7 million tons of plastics entering the oceans every year, it's understandable that animals confuse plastics with food. 
Creatures such as sea cucumbers scoop sediment into their mouths to extract edible matter, often taking in plastics as well. Other examples of harmful plastics are fishing lines ingested by birds and marine species and pellets that resemble fish eggs. Trash also impacts mammals, birds and reptiles through suffocation, consumption, entanglement and poisoning.
By 2050, the World Economic Forum estimates oceans will contain more trash than fish. North Carolina spends millions of dollars annually to clean up litter. According to the North Carolina Department of Safety, heavily littered neighborhoods have reduced property values and experience more vandalism and other crimes.
The goal: 5,000 pounds for $25,000
We encourage you to safely pick up trash with a grabber while wearing gloves as you walk outdoors in your local community. Each bag collected is estimated to hold 15 pounds of trash and will contribute towards collecting 5,000 pounds during the challenge. For every 25 pounds of trash gathered and reported to us, we'll plant a tree or shrub. 
Get your friends and family involved by asking them to sponsor your cleanup efforts. Together, you can help raise $25,000 to protect, conserve and restore wildlife and their habitats. An anonymous NCWF donor will match every dollar up to $25,000. If more than 300 people participate, collect a bag of trash each, and raise $85 each, we'll reach the goal!
When you register, you'll receive an email with more information on how to help raise the matching gift funds through your own crowdfunding campaign or a  personal donation towards the effort. However, no donation is required to participate.
"We've all seen online videos showing heroic people saving wildlife from being entangled, impaled and strangled by plastic bags, six-pack rings, straws and other trash. This 10-day event is a perfect time to get outside with family and friends and clean up the trash we inevitably see," Moore said. 
"Whether you participate every day or just one day that week, you'll help prevent trash from hurting wildlife, littering communities and flowing into waterways."