NC wildlife and nature enthusiasts: We need your photos for a one-of-a-kind mosaic project!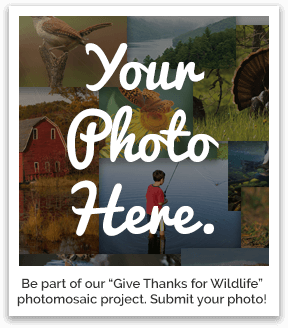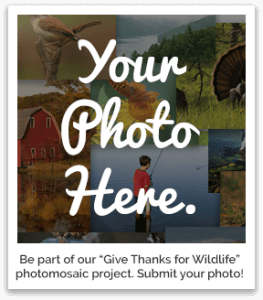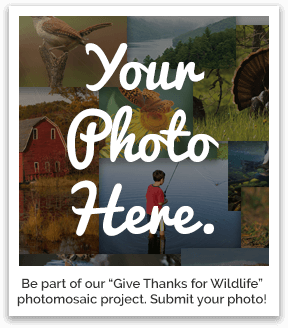 North Carolina Wildlife Federation is inviting anyone who loves North Carolina's wildlife and wild places to be part of our "Give Thanks for Wildlife" photomosaic project. This statewide community project is a chance for all nature enthusiasts, anglers, birders, hunters, gardeners, paddlers and hikers to showcase the many ways in which you enjoy the outdoors of North Carolina – from the Great Smoky Mountains to the Outer Banks.
Participating in this unique art project is free and simple! Just email your digital photos and we will handle the rest. Be sure to read the guidelines and rules below. Submitted photos will be joined together to create a one-of-a-kind mosaic in the shape of our great state of North Carolina. The photomosaic will be on display on Nov. 19 at the Give Thanks for Wildlife event, where it will be raffled off with all proceeds benefitting NCWF. We'll also be selling items with the final image that will make great holiday gifts!
Don't miss this chance to be part of a unique art project that celebrates the wildlife and wild places of NC. Whether it's hiking a trail, gardening in your backyard, paddling on a lake or fishing in a stream, we hope you'll help us celebrate the season of gratitude and giving by emailing your photo today.
Deadline for submitting photos is Friday, Oct. 21, 2016.
Submission Guidelines
Specs: JPG format, 72 dpi, 3MB maximum file size per image.
Add "GTFW photo submission" in the email subject line and your first and last name in the body of the email.
Images can be old or new, color or black and white, with or without people in them – as long as they were taken in North Carolina.
All photos must be emailed by midnight, Oct. 21, 2016, to

[email protected]

.
No more than 3 photo submissions per person.
You do not need to attend the Give Thanks for Wildlife event in order to participate in the photomosaic project.
Participation Rules
Any image submitted for this project must be the property and copyright of the individual emailing. By doing so, you give your approval for the images to be used in this project.
All photographs submitted will be stored and used solely for the purposes of inclusion in the Give Thanks for Wildlife photomosaic. By emailing, you agree to your image being used in the artwork. NCWF will not use your images for any other purpose without your permission.
The finished artwork will be placed on display in a public place and on the NCWF website.
The finished artwork will be reproduced in printed form.
NCWF will make every attempt to ensure each image submitted will be used in the photomosaic at least once; however, we cannot guarantee that every image will be included.
NCWF reserves the right to reject any image deemed inappropriate.
Due to the large number of photos that will be included in the project, NCWF is unable to acknowledge receipt of photos.
Questions? Send an email to [email protected].