NCWF Challenges Communities to Swap Trash for Trees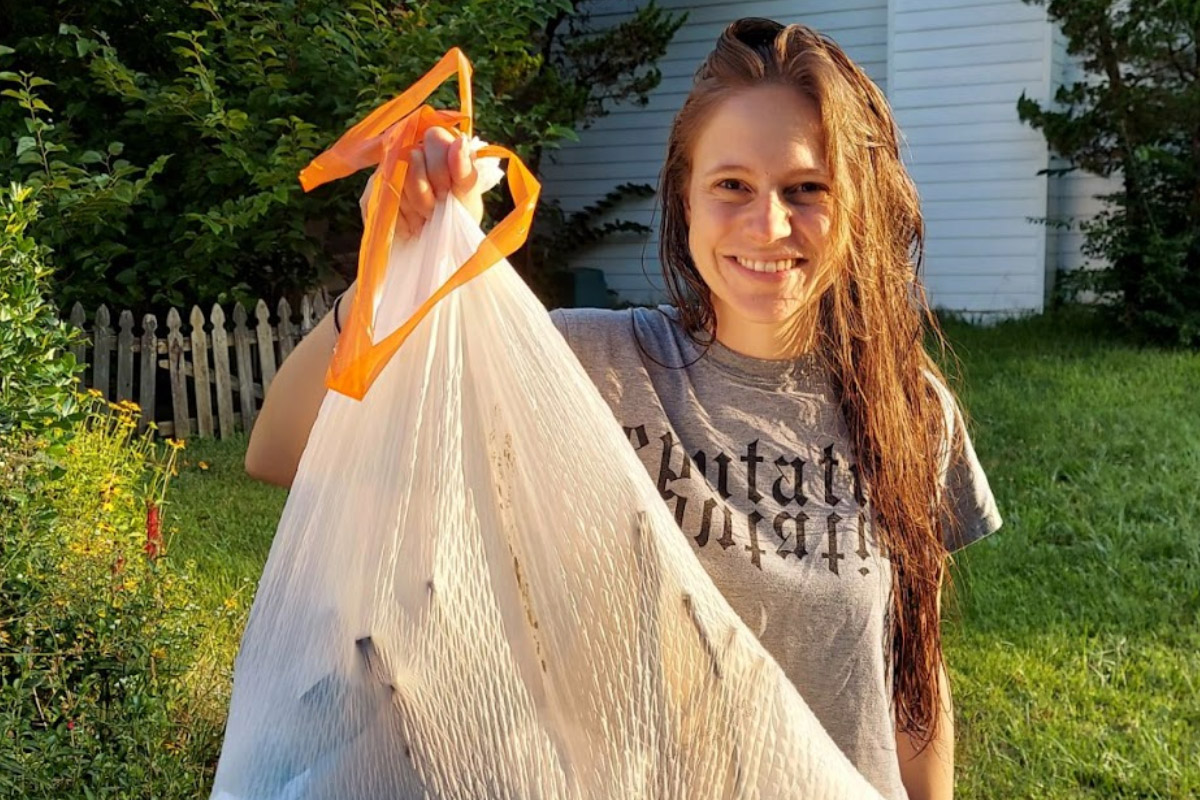 People love a challenge – whether it's the ALS Ice Bucket Challenge, 22-Pushup Challenge or North Carolina Wildlife Federation's Neighborhood Cleanup Challenge. As we head into fall, we're keeping the cleanup momentum with the Trash Tag Challenge. Participation is easy: Remove trash from your community and tag your friends and family on social media to do the same.
Trash entangles, suffocates and poisons animals and aquatic life, and leaches toxic chemicals into waterways and drinking water. The goal is for 500 North Carolinians to pick up at least one bag of trash of any size over the month in their neighborhood to remove 12,500 pounds of trash.
As part of NCWF's habitat restoration work, we'll plant one native tree for every 25 pounds of trash removed from communities. Clearing out the trash will make room for tree seedlings.
"This challenge is part of a larger effort to really impact and improve the habitats for all of the wildlife species and habitat in the state. It's a way for people to take action and raise awareness about litter in the environment and its impacts on wildlife, water quality and neighborhood aesthetics," said Tara Moore, director of conservation partnerships.
She added, "Removing what doesn't belong and replacing it with what does helps increase tree canopy, enhances habitat, improves neighborhood appeal and property value, and strengthens communities by preserving wildlife and wild places for future generations."
The high cost of litter
By 2050, the World Economic Forum estimates oceans will have more trash than fish. And since the pandemic, more people have been spending time outdoors which has led to an increase in outdoor trash.
North Carolina spends millions of dollars annually to clean up litter. According to the North Carolina Department of Safety, heavily littered neighborhoods have reduced property values and experience more vandalism and other crimes.
"It's sad that there's so much trash out there, but on a positive note, participants have already picked up about 80,000 pounds of trash across the state," Moore said. "This is a great time for us to get outside with family and friends and clean up the trash we inevitably see on a walk outside."
She added, "If more folks get on board with this challenge, we can reach our very doable goal of picking up over 100,000 pounds of trash."
How to participate in the Trash Tag Challenge
Pick up one bag of trash over the next month.
Post an image of yourself with the trash collected or before-and-after pictures. Be sure use the hashtag #NCWFTrashTag.
Copy and paste the text below to include with your image.
Tag five of your friends or family to pick up trash.
Track your trash and make a donation toward tree planting.
Trash harms wildlife through suffocation, strangulation, ingestion and more. Terrestrial, aquatic and avian species are all negatively affected by trash in our environment and so are we! As part of @NCWildlifeFederation's habitat restoration project, I participated in cleaning up at least 1 bag of trash. For every 25 pounds of trash removed from the environment, 1 tree will be planted. I now challenge the 5 people below to pick up 1 bag of trash and post a photo with their trash. If you were tagged here (tag, you're it!) please copy and paste this post and tag 5 of your own friends to clean up a bag of trash.
Feel free to send before and after pictures or other images of trash collected to [email protected] or tag NCWF on Facebook (@ncwildlifefederation) and Instagram (@ncwildlifefed).