Falls Lake Habitat Restoration Workday
April 23, 2023 @ 9:00 am - 12:00 pm
North Carolina Wildlife Federation and the Friends of the Mountains to Sea Trail are joining forces to restore a section of trail in need of a litter sweep. Falls Lake serves as a regional water supply, prevents flooding, and helps protect water quality downstream of the lake during droughts. The lake offers numerous outdoor recreation opportunities for the region's residents. Seven different areas around the lake offer opportunities for activities such as boating, fishing, swimming, picnicking, camping, hiking, and biking. In addition, about 13,600 acres of land are designated to serve as wildlife habitat around the lake. This area is worth protecting!
Volunteers will split up into teams and tackle areas rich in plastic debris. The majority of the cleanup effort will take place in the woods where volunteers can enjoy the serenity of nature and the satisfaction of giving back to the trail and the surrounding ecosystem. All cleanup tools will be provided but please bring an extra water bottle and clothes/shoes that you don't mind getting dirty! Parking is available at the gravel trailhead along the side of Possum Track Road near the bridge. Exact parking details will be provided in the confirmation email after registration. Big thanks to the NC State students who have bravely agreed to join the effort!
Please click below to register and receive the full details including a site map.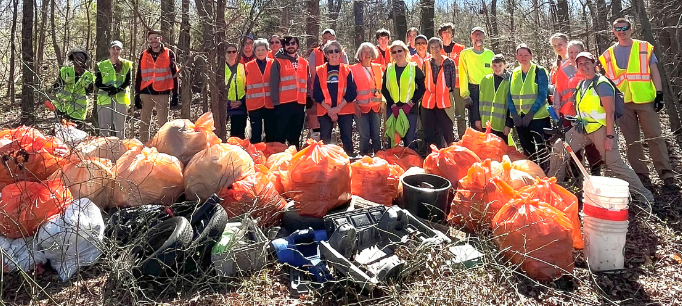 Wake Forest, NC
Organizer: NCWF

If you synced the NCWF Events Calendar with your calendar and the events are not appearing, please click the "Subscribe" button above to refresh the connection. We are happy to help with any technical issues by email at [email protected].