Urban Ecology: Nature Tour and Conversation
May 9, 2023 @ 6:30 pm - 8:00 pm
Join the Triad Wild! chapter of NCWF for a walking tour and conversation about the ecology of an urban neighborhood and how our decisions about landscaping, turf, mosquito control, and management of leaf and debris affect habitat, wildlife and the quality of water, soil, and air in communities, impacting the food web and our entire local ecology. The event will be a combination of conversation about these topics and a walking tour of some of the gardens in the park and neighborhood to evaluate different approaches to landscaping and how those impact our environment.
Please click below to register and receive the full event details. The event will be held as an indoor presentation if rain spoils the walk.
Our guide, Robin Davis is a local resident and Triad Wild! board member who is a passionate environmentalist. She is working to align the perspectives of her neighbors and the city parks and recreation team responsible for managing Sunset Hills' two parks with a more nature-based approach to traditional perspectives on what landscapes "should" look like. Robin is quick to point out this is all a relatively new perspective for her, too. Her yard was filled with invasive plants of no ecological value to wildlife until she discovered Dr. Doug Tallamy's book, Bringing Nature Home: How You Can Sustain Wildlife with Native Plants. And so, her journey began.
Recommended reading before or after the event: Any of Dr. Doug Tallamy's 4 books! There are many recorded videos online of talks that he has given across the country on this topic available at HomeGrownNationalPark.org, or view his talk with NCWF's HAWK chapter on Nature's Best Hope.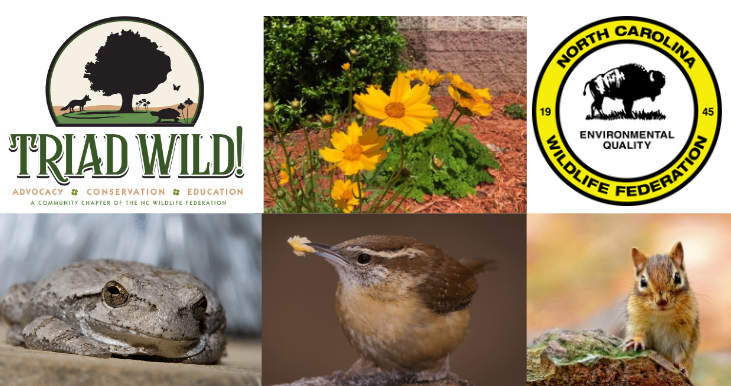 Greensboro, NC
United States


Organizer: Triad Wild!

If you synced the NCWF Events Calendar with your calendar and the events are not appearing, please click the "Subscribe" button above to refresh the connection. We are happy to help with any technical issues by email at [email protected].