Butterfly Highway Pollinator Pitstop Seeds
Check back in late September to purchase Butterfly Highway seeds.  This is the time that  native perennial seeds should be planted.  
The Butterfly Highway is proud to offer our very own custom pollinator friendly seed mixes. Ernst Conservation Seeds has helped us to create a set of seed mixes to that can be used to enhance areas from backyard gardens to large meadow spaces using plants native to North Carolina.
This mix contains mostly NC native perennial plant seeds, which are best planted September to December. Seed mix varies based on availability but may contain plants listed below.
Perennials
Common yarrow
Common milkweed
Butterfly milkweed
Smooth blue aster
Greater tickseed
Whorled tickseed
Purple coneflower
Joe Pye Weed
Oxeye sunflower
Blazing star/Spiked gay feather
Wild bergamot
Blackeyed susan
Roughleaf goldenrod
Ohio spiderwort
New York Ironweed (from the 'Suther' Prairie in NC)
Goldenmane tickseed
Annuals
Indian blanket
Partridge pea
Crimson clover
Please contact Angel Hjarding if you would like information about custom seed for large projects.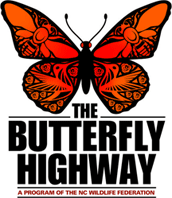 Support the North Carolina Wildlife Federation
Gather your family and friends and plan your next outdoor adventure for one of North Carolina's many unforgettable natural destinations. Help NCWF preserve wildlife and wild places for our children and future generations to come.