Prey for the Pack: Habitat Improvement Program Benefits Private Landowners and Wildlife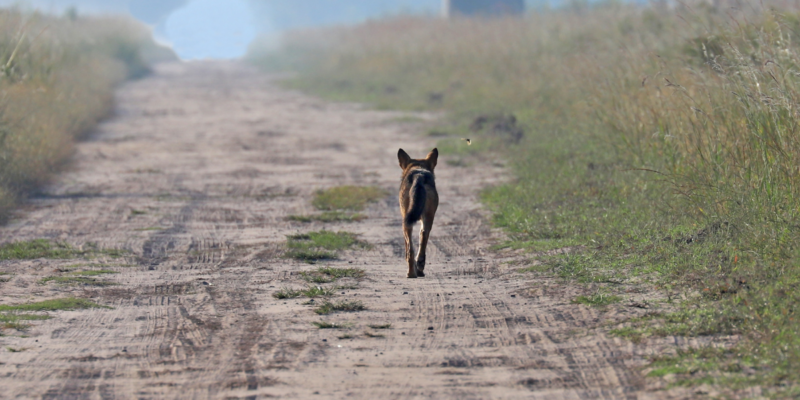 Prey for the Pack
Conservation of wildlife begins with habitat. With the majority of land in North Carolina being privately owned, it's vital to form conservation partnerships with landowners to prevent the loss of habitat and wildlife. And when it comes to threatened or endangered species such as red wolves, conservation partnerships are even more critical. 
Prey for the Pack engages private landowners in programming that results in impactful, on-the-ground habitat work in eastern North Carolina, more specifically in the Albemarle-Pamlico Peninsula. It's an opportunity for landowners to support wildlife on their property while also meeting their land management goals.
North Carolina Wildlife Federation collaborates with U.S. Fish and Wildlife Service's Partners for the Fish and Wildlife Program to provide technical and financial support to promote and implement habitat improvement projects that benefit both the landowner and wildlife. 
To be considered for enrollment in the cost-share program, private landowners must be committed to improving wildlife habitat. Properties of all sizes are eligible to apply as long as they are located within the current recovery area of wild red wolves (Beaufort, Dare, Hyde, Tyrell and Washington counties). 
Habitat, connectivity essential for red wolf survival 
"North Carolina is the only place in the world with wild red wolves, making accessibility to habitat vital to the endangered species' survival, " said Dr. Liz Rutledge, NCWF's director of wildlife resources. 
Examples of habitat project work may include creating or maintaining early successional forested or riparian habitat, prescribed burning, native vegetation plantings, or wetland enhancement. 
Prey for the Pack also supports ongoing efforts to reduce wildlife-vehicle collisions along Highway 64 outside of Columbia. Staff and volunteers routinely assess and report the maintenance needs of the structures and collect data to evaluate which species use the crossings. Earlier this month, USFWS placed four electronic wildlife crossing message boards on Highway 64 and U.S. 264 to help reduce red wolf and other wildlife mortality.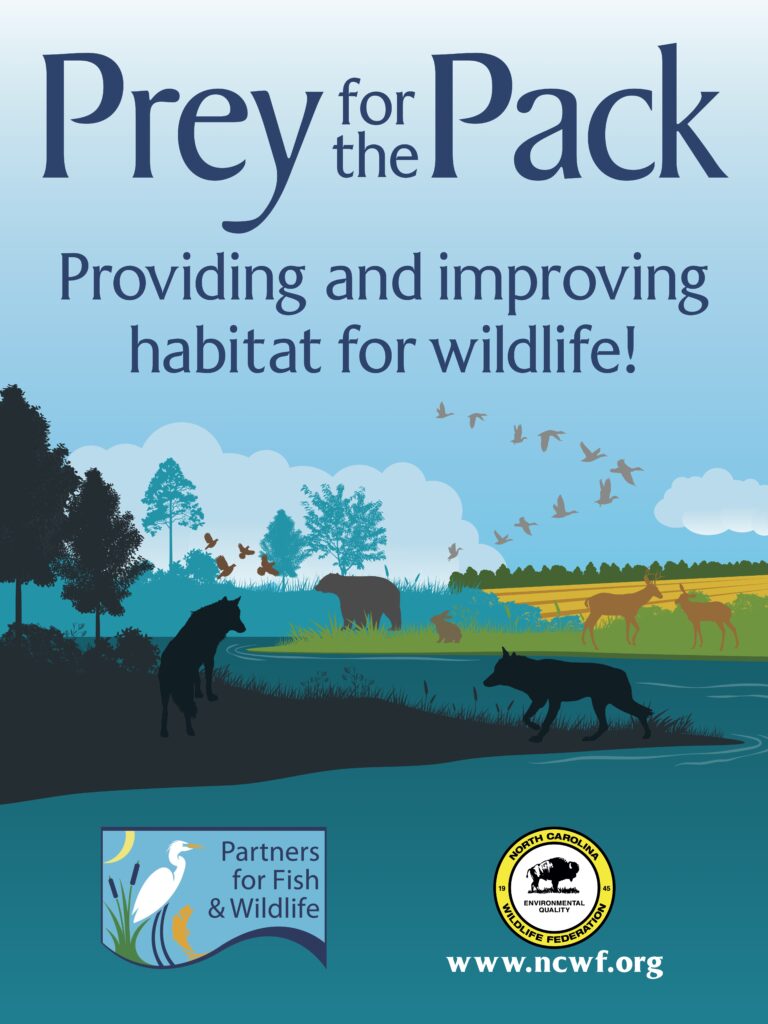 Prey for the Pack: A win for wildlife and landowners
Participating landowners will help determine how the program is incorporated into their land management objectives and may participate in Prey for the Pack in conjunction with other conservation programs. Once the habitat improvement project is completed, the habitat must remain in the improved condition for 10 years. As of 2022, Prey for the Pack has approximately 1,000 acres enrolled in habitat improvement and management, with each contract valid for a 10-year period.
"As an avid hunter and owner of hunting property, I know that habitat improvements aren't a single species endeavor. I joined Prey for Pack and couldn't be happier. I've made significant improvements to my property and have seen fantastic results and all on a timeline that would have been impossible if not for Prey for the Pack assistance," said landowner Nick Glasgow.
"Joining the P4P program has been the best single decision I've made since buying my hunting property. Habitat improvements have not only strengthened an endangered species' chance of survival but increased the deer and bear numbers using my property." 
The percentage of financial cost-share provided to landowners varies depending on their selected level of project involvement: Habitat improvements only (50-percent cost-share) or habitat improvements and routine monitoring for canids (65-percent cost-share). USFWS staff conduct the monitoring, including ground surveys, trapping, collaring and camera traps. 
Landowners who don't currently have habitat improvement projects can still support Prey for the Pack by installing a trail cam on their property and permitting program staff to monitor and document wildlife sightings and behavior. 
Additionally, there is a zero-cost agreement offered to landowners who want to support red wolves and other wildlife species but do not participate in the cost-share aspect. Program staff will provide a Prey for the Pack Supporter sign on the landowner's property.
"As an organization that values biodiversity and the benefits individual species provide to ecosystems, we've prioritized the red wolf as a species deserving of our resources and expertise," Rutledge said. "Prey for the Pack is one way we help combat the population's continual decline while giving landowners a great opportunity to learn about wildlife while achieving their habitat and management objectives."
To learn more about Prey for the Pack, contact Luke Lolies, fish and wildlife biologist with the Partners for Fish and Wildlife Program, at [email protected] or 252-256-3676. Complete this brief survey to find out if your property is eligible for Prey for the Pack.
Other ways to support wildlife and habitat in your community
5 steps for Prey for the Pack success
Select habitat to improve.

Habitat types include forested wetlands, pine stands, native grasslands, riparian areas and agricultural land.

Develop a habitat project plan with program staff.

Work may include early successional, forested or riparian habitat improvement, prescribed burning, native vegetation plantings and wetland enhancement.

Sign a habitat project agreement.

Tailored to each landowner, the agreements outline responsibilities and project details but do not infringe on property rights or permanently impede future property developments. All agreements must include a commitment to be tolerant of red wolves on the property. 

Implement and complete habitat project.

Landowners are responsible for project execution and upfront costs and will submit receipts for cost-share reimbursement upon project completion. Program staff will provide technical assistance, habitat recommendations, project planning and wildlife monitoring. All efforts, including accessing land, are coordinated with landowners and completed in cooperation with all parties.

Gain the benefits.

Better understand the wildlife and habitat on your property. Make your land more attractive to wildlife while increasing related recreational opportunities. Receive financial and technical assistance to support your land management goals.