Site Preparation
To prepare an appropriate seedbed, the area will need to be cleared of all grass and other plant material. Soil should be compacted for a firm seedbed.
Seeding
Seeding is best done September – February. Mix the seeds with damp sand or saw dust and distribute evenly over area. Ensure seeds are in direct contact with soil. Do not cover with straw or mulch. Watering is not required if seeds are planted in fall or winter.
The NCWF Butterfly Highway seed mix contains mostly perennial seeds that will need to overwinter so they can germinate the following spring and summer. Most perennial seeds need to be exposed to this cycle of cold and wet to break their dormancy. For example, perennial seeds planted in March 2017 will not grow into plants and flower until the 2018 growing season. The NCWF Butterfly Highway seed mix contains a few annuals that pollinators love such as partridge pea, clover, and indian blanket that will bloom in the summer if planted in the spring. The wait will be worth it as native perennial plants will bloom for years with minimal care.
It could take up to 3 years for all seeds to sprout and produce flowers. Patience is key to growing a great meadow!
For information about preparing large sites for seeding, please contact Please contact Angel Hjarding for more information.
---
Disclaimer: North Carolina Wildlife Federation www.ncwf.org is pleased to offer technical guidance and assistance to members in order to best assist landowners with meeting conservation objectives. Following the laid out protocols and management guidelines as best management practices will lead to positive sustainable stewardship of lands realizing of course that nature is the unknown variable with regards to guaranteeing growth of seed and plant materials.
All proper arrangements and permissions must be made with the landowner ahead of site preparation and planting.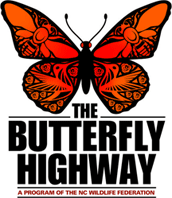 Support the North Carolina Wildlife Federation
Gather your family and friends and plan your next outdoor adventure for one of North Carolina's many unforgettable natural destinations. Help NCWF preserve wildlife and wild places for our children and future generations to come.