Native Pollinator Plants
Recommended Native Plants for the Butterfly Highway
This is a list of suggested plants native to each of the major North Carolina regions. Most of the plants listed can be found in all three regions. This list is not intended to be comprehensive and only highlights a selection of plants that many nurseries and gardens centers are likely to carry. For more comprehensive lists of native plants, see links to additional resources below.
North Carolina Mountains
Trees and shrubs:
Oaks Quercus sp.
Red Maple Acer rubrum
Black cherry Prunus serotina
native Blueberries Vaccinium sp.
Pine Pinus sp.
Spruce Picea sp.
Annual and perennial flowers:
Aster Symphyotrichum sp.
Iris
Butterfly Milkweed Asclepias tuberosa
Bee Balm Monarda
Cardinal Flower Lobelia cardinalis
North Carolina Piedmont
Trees and shrubs:
Oaks Quercus sp.
Pussy Willow Salix discolor
Spicebush Lindera benzoin
Pawpaw Asimna triloba
Annual and perennial flowers:
Butterfly Milkweed Asclepias tuberosa
Common Milkweed Asclepias syriaca
Phlox
Black-eyed Susan Rudbeckia hirta
Native honeysuckle
Purple coneflower Echinacea purpurea
Indian blanket
Tickseed Coreopsis sp.
New England Aster Symphyotrichum novae-angliae
North Carolina Coastal Plain
Trees and shrubs:
River Birch Betula nigra
Oaks Quercus sp.
Laurel cherry Prunus caroliniana
Annual and perennial flowers:
New York Ironweed Veronia noveboracensis
Seaside Goldenrod Solidago sempervirens
Butterfly Milkweed Asclepias tuberosa
Coral honeysuckle Lonicera sempervirens
Blanket flower Gaillardia pulchella
Spotted beebalm Monarda punctata
For additional native plant resources visit:
North Carolina Native Plant Society
Bringing Nature Home – Douglas Tallamy
NC Cooperative Extension – Native plant finder
North Carolina Botanical Garden
NC Audubon – Bird Friendly Plant lists
Xerces Society – Mid Atlantic Native Plant List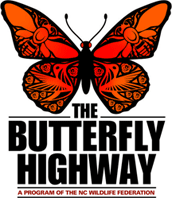 Support the North Carolina Wildlife Federation
Gather your family and friends and plan your next outdoor adventure for one of North Carolina's many unforgettable natural destinations. Help NCWF preserve wildlife and wild places for our children and future generations to come.