The Butterfly Highway is a statewide conservation restoration initiative that aims to restore native pollinator habitats to areas impacted by urbanization, land use change and agriculture across North Carolina. From backyard Pollinator Pitstops to large-scale roadside habitat restoration, the project is creating a network of native flowering plants to support butterflies, bees, birds and other pollen and nectar dependent wildlife.
History
The Butterfly Highway began with several communities in Charlotte, NC, that wanted to beautify their environment through planting gardens. Through the Butterfly Highway, these communities are transforming community gardens, backyard gardens, public spaces and park fragments into new pollinator and wildlife habitats. No garden is too small to make an impact and all together they are a part of the Butterfly Highway.
In the News
Charlotte Observer Feature on Butterfly Highway
Charlotte Observer- Vanishing of the Bees
UNC Charlotte Magazine Feature
Plaza – Shamrock Neighborhood News
The News and Observer (Raleigh, NC)
Tarheel State a Flutter about the Butterfly Highway (Public News Service)
Pollinators Find Salvation, Friends Along the Butterfly Highway (Charlotte Observer)
Carolina Country - November 2016
Carolina Country - January 2017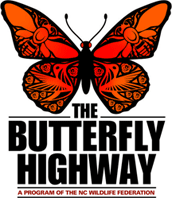 Support the North Carolina Wildlife Federation
Gather your family and friends and plan your next outdoor adventure for one of North Carolina's many unforgettable natural destinations. Help NCWF preserve wildlife and wild places for our children and future generations to come.