Large Scale Pollinator Habitat Restoration Projects
Sometimes it is best to let nature take over
Did you know that seeds can survive in soil for 20-30 or more years? Before spending money on seeds, consider letting an area go back to nature and see what might grow up out of the seed bed. Areas with trees or invasive plants may need to be cleared first. A prescribed fire burn could be just what a field needs to get growing again! North Carolina Wildlife Federation is pleased to offer technical guidance and assistance to members in order to best assist landowners with meeting conservation objectives. If you would like assistance with a large scale pollinator habitat restoration project, please contact tara@ncwf.org.
Watch this video to learn how a rancher and his wife turned a pasture into a perfect monarch habitat!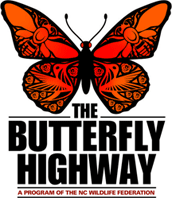 Support the North Carolina Wildlife Federation
Gather your family and friends and plan your next outdoor adventure for one of North Carolina's many unforgettable natural destinations. Help NCWF preserve wildlife and wild places for our children and future generations to come.