Need Seeds?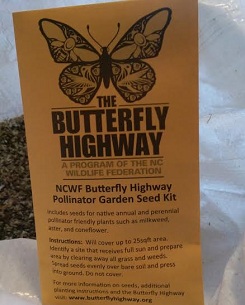 When planted, one packet provides as many as 10 different kinds of native flowering plants for monarchs and other pollinators and 25 square feet of habitat, adding to the more than 30,000 acres of habitat that have been pledged to protect pollinators through the North Carolina Wildlife Federation Butterfly Highway program. You are also helping NCWF engage communities in large scale pollinator habitat restoration on private property, along state highways and interstates, under power lines and around solar panels, as well as on agricultural lands. You are also helping engage a national network of pollinator conservation organizations to make an impact on local and national policy directly effecting pollinators such as pesticide use and habitat management.
Needless to say, you are buying more than just seeds.
Planting Instructions:
One seed packet will cover an area up to 25 square feet. Identify a site that receives full sun and prepare area by clearing away all grass and weeds. Spread seeds evenly over soil and use hand to gently press into ground. Do not cover seeds with mulch, straw, or soil.
Support the North Carolina Wildlife Federation
Gather your family and friends and plan your next outdoor adventure for one of North Carolina's many unforgettable natural destinations. Help NCWF preserve wildlife and wild places for our children and future generations to come.