Add Your Pollinator Pitstop to the Butterfly Highway
Butterfly Highway Pollinator Pitstops can be any size or place! By adding your site to the Butterfly Highway, you are helping North Carolina Wildlife Federation show support in numbers for pollinators, and track pollinator habitat and action across the state. For that, we thank you!
There is no cost to be a part of the Butterfly Highway. By adding your site, you are committing to providing a safe place where pollinators and their young can live and thrive.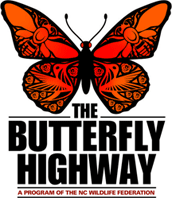 Support the North Carolina Wildlife Federation
Gather your family and friends and plan your next outdoor adventure for one of North Carolina's many unforgettable natural destinations. Help NCWF preserve wildlife and wild places for our children and future generations to come.