Fellowship Actions Impacting the Habitat (FAITH)
North Carolina Wildlife Federation's Fellowship Actions Impacting the Habitat (FAITH) program recognizes and certifies places of worship of all denominations that meet the requirements for a wildlife-friendly habitat. The certification celebrates the beauty and importance of nature and focuses on shared responsibility of wildlife stewardship.
Help protect wildlife while providing your congregation with a place of beauty and tranquility. Form a team from your congregation, select a team leader and let your inspiration guide you:
Use native plants to create a perfect garden for hummingbirds, butterflies and song birds.
Create a meditation or prayer garden.
Make a nature trail with nesting boxes and feeding stations for wildlife.
"Trinity Presbyterian Church of Charlotte is blessed with many assets, not the least of which is a beautiful and spacious campus. In a vibrant, fast-paced city, the Trinity campus offers an increasingly needed sanctuary from the hustle and bustle, not only for people but for a great variety of wildlife. An oft-used symbol of Trinity is the picture of a pair of red tail hawks that regularly perch on the steeple."

Rev. Dr. William Cockrill, Trinity Presbyterian Church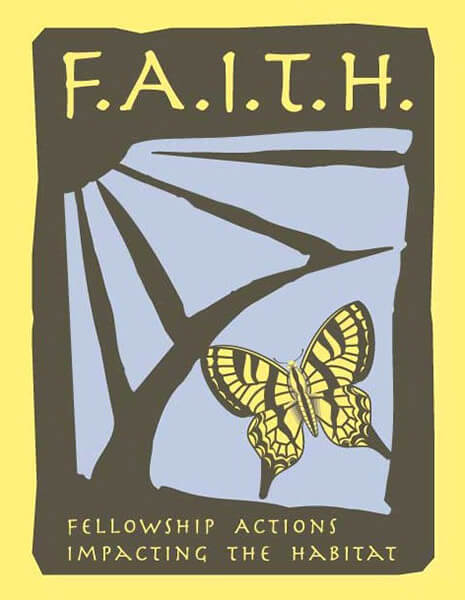 St. Lukes Catholic Church
The campus of St. Luke Catholic Church in Mint Hill was declared a certified FAITH site, but this certification goes beyond saving souls. The N.C. Wildlife Federation's FAITH (Fellowship Actions Impacting the Habitat) designation means the church is also looking out for neighboring wildlife.
The church has taken special care to ensure wildlife near its campus have the four things needed for survival -- food, water, shelter and a place to raise their young. They've stocked the gardens with native perennials that provide seeds and berries for the birds so the pair don't have to stock bird feeders. Flowers include verbena on a stick, black-eyed Susans, echinacea and cleome. Boy Scouts have put up birdhouses around the campus.
"The FAITH program takes the backyard habitat concept and provides all those elements in a place of worship," said parishioner Debbie Foster. "I knew that we had most of those elements in place at St. Luke's anyway; it was really a matter of getting the paperwork done."
Foster said there have been at least two dozen birds seen there, including red-tailed hawks and blue herons. Folks have also seen raccoons, opossums, lizards, rabbits, deer, snakes, foxes, fish, crawfish, butterflies, bees and more.
With the native flowers out front, the pond and creek to the side, and the woods surrounding the church, wildlife have found a place of refuge from the development all around.
"The whole idea follows right along with the spirituality of St. Francis of Assisi," Hawker said. "He was respectful of all creation. He saw the presence of God in all creation, and if he were alive today, he would be an environmentalist."
St. Therese Catholic Church
The latest effort of the Lake Norman Wildlife Conservationists (LNWC), a NCWF chapter, has resulted in certifying the 24-acre grounds of St.Therese, the largest Catholic church in Iredell County, as a wildlife habitat under the Federation's Fellowship Actions Impacting the Habitat, or FAITH, program. FAITH is a non-denominational initiative designed to recognize and certify places of worship that meet certain requirements for a wildlife-friendly habitat.
This accomplishment was a result of LNWC member Eric Peterson's desire to create a wildlife corridor along the Reeds Creek Wetland, an area within the city of Mooresville newly mitigated with state and local funds to help protect the watershed of this rapidly developing region. Because the back portion of St. Therese's heavily wooded property edges the wetland on Lake Norman, it made perfect sense to approach church members with our plan. And as a Habitat Steward volunteer who lives along the wetland, I wanted to help Eric achieve his goal.
Therefore it was a happy surprise to learn from Father Vincent Curtin that his congregation had been searching for a theme around which to base their Earth Day celebration. Not only did they want to make their church more "green," they also wanted to honor Father Bill Lynch, their 91-year-old priest who is a longtime ecologist.
From there, it was practically a cakewalk. The church had already formed an Earth Day Committee, ably led by member John Donohoe of Davidson, which wove the threads of habitat certification into their plans. A troop of local Boy Scouts was tapped to build a Habitat Trail leading to a meditation area on church property. With a choir of birds singing praises in the background, the FAITH project was sanctified at an outdoor Mass held April 25. Now that our chapter has the help of this 5,000-plus congregation, we are ready to expand the corridor of protection into surrounding neighborhoods.
Join the Cause and Make an Impact
Help NCWF preserve wildlife and wild places for our children and future generations. Learn More.