Osprey Conservation Program
Your support for osprey conservation is making a huge difference.
Your gift of $50-$250 funds routine checks to keep existing platforms in good repair, site survey trips and vetting new nesting platform sites.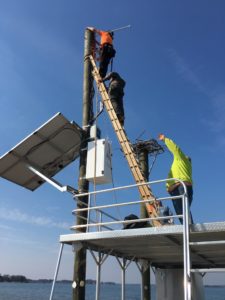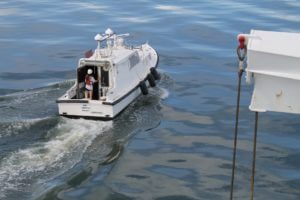 Your gift of $10-50 provides supplies for repairs and community education programs on conservation of habitats for Ospreys and other North Carolina wildlife.



Your gift of $500-$2000 offsets the costs of the live stream hardware and technology, and EarthCam streaming fees.


Your gift of $2000 or more supports the construction and installation of new nest platforms by barge.

About the Osprey Conservation Program
For more than a decade, NCWF has worked with local chapters like Lake Norman Wildlife Conservationists and Gaston PAWS to protect crucial habitats for aquatic life through community education and habitat enhancement programs, like the Osprey nest platforms. To date, more than 7 dozen nesting platforms have been installed, providing homes for Osprey broods, which range from 2-5 eggs annually.
Protective measures, such as the ban of chemicals like DDT that compromised the reproductive success of many water-dependent birds in previous decades, and the installation of nesting platforms in safe areas, have allowed Osprey populations to rebound.
Why are nesting platforms important?
Ospreys return to the same nest each year, and unfortunately any high-reaching post will do. Utility poles and industrial lights often become sites for Osprey nests, making the flight in and out of the nest dangerous for the adult birds, putting the young Ospreys at risk, and interfering with routine maintenance on these poles. The good news is that Ospreys typically return to the same nest every year, so the installation of nesting platforms in proximity to the more-risky poles is successful in keeping the Ospreys safe and the populations rising.
Support the North Carolina Wildlife Federation
Gather your family and friends and plan your next outdoor adventure for one of North Carolina's many unforgettable natural destinations. Help NCWF preserve wildlife and wild places for our children and future generations to come.