First CWD-Positive Deer in North Carolina; Emergency Response Plan Initiated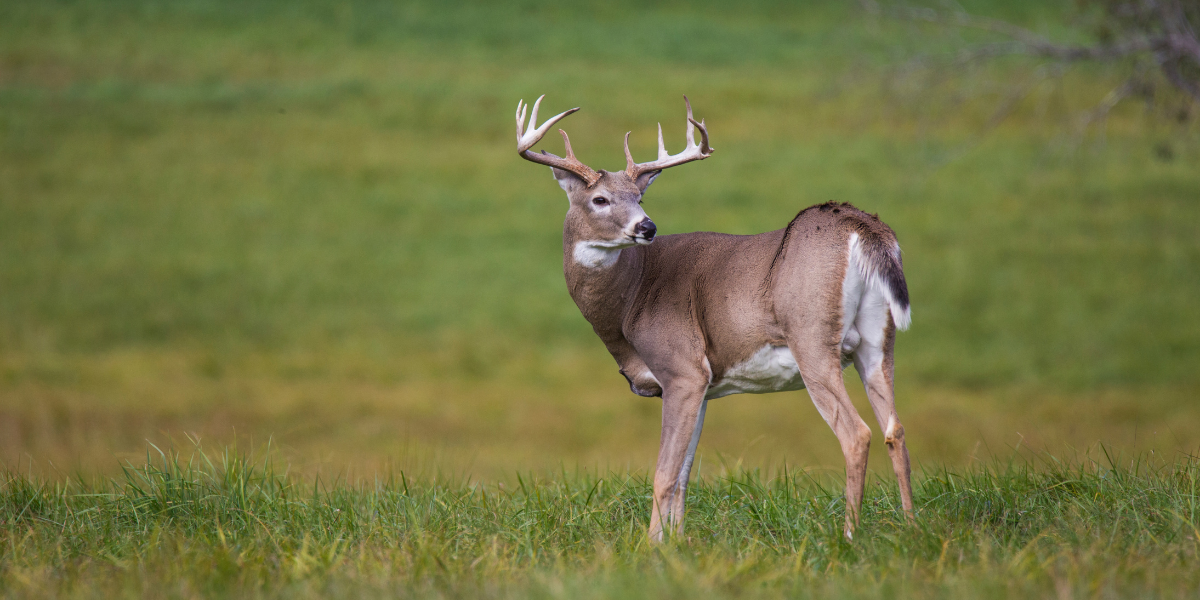 In the wake of North Carolina's first confirmed case of Chronic Wasting Disease (CWD), NC Wildlife Resources Commission (WRC) activated a CWD Emergency Response Plan to help detect and isolate CWD in Yadkin and Surry counties and surrounding areas. 
CWD is a fatal and transmissible disease affecting cervids, including white-tailed deer and elk. Abnormal proteins, called prions, spread through the animal's nervous system slowly, eventually causing spongy holes in the brain that lead to death. The disease spreads among deer through direct and indirect contact from infected saliva, urine or feces of live deer, carcasses, and body parts. 
North Carolina's first CWD positive case was detected in northern Yadkin County last December after a sample from a hunter-harvested white-tailed deer was sent to and confirmed by the National Veterinary Services Laboratory in Ames, Iowa. 
"It's unfortunate news, but not surprising, given the steady spread of this disease across America," said Dr. Liz Rutledge, North Carolina Wildlife Federation's Director of Wildlife Resources. "We will provide our full support to the WRC as it will take us all – hunters, processors, researchers and wildlife advocates – to combat this disease."
WRC staff ramped up testing this past season and collected over 7,200 samples from cooperators and hunters due to discovering a CWD-positive deer 33 miles away from the North Carolina border last year in Montgomery County, Virginia. 
Because of the positive deer there, WRC initiated a CWD Emergency Response Plan for Alleghany, Surry, Stokes and Rockingham counties. With a positive detection verified in North Carolina, WRC staff will continue following the plan in collaboration with the NC Department of Agriculture and Consumer Services. 
"People hunt white-tailed deer more than any other game species in our state, and they're one of the most popular, adaptable and recognizable wild animals," said Tim Gestwicki, NCWF CEO. "By properly managing deer hunting, we've helped prevent their overpopulation. But sadly, with CWD discovered just across the border, it was inevitable this untreatable, fatal disease would make its way into North Carolina despite the risk reduction policies in place."
CWD Emergency Response Plan highlights:
Establishment of Surveillance Areas:

Primary Surveillance Area (PSA): Surry County East of US 601, South of NC. 268 and West of Quaker Church Road and the Ararat River; and Yadkin County East of US 601, North of NC. 67, West of Shoals Road to the intersection with Shady Grove Church Road and West of Fairground Road.

Secondary Surveillance Area (SSA): Surry County, Yadkin County, Davie County, Forsyth County, Stokes County, Alleghany County East of US 21 and NC 18, Wilkes County East of NC 18 and NC. 115, and Iredell County East of NC. 115 and North of Interstate 40.

Suspension and prohibition of rehabilitation of white-tailed deer fawns within and from the Surveillance Areas.

Prohibition of transportation of white-tailed deer, dead or alive, out of the Surveillance Areas except for carcass parts that conform to 15A NCAC 10B .0124, or as otherwise permitted by the Wildlife Commission.

Prohibition of the disposal of white-tailed deer carcasses taken or found inside of the Surveillance Areas outside of the Surveillance Areas, unless permitted by the Wildlife Commission.

Prohibition of placement of bait, food, food products, mineral or salt licks to purposefully congregate wildlife from Jan. 2 – Aug. 31 inside of the Surveillance Areas, except for bird feeders, hunting during the urban archery season in participating municipalities and other activities specifically permitted by the Wildlife Commission. 

Requirement of mandatory CWD Testing: 

Mandatory testing of all white-tailed deer taken in the PSA during the blackpowder and all lawful weapons deer hunting seasons.

Mandatory testing of all white-tailed deer taken in the SSA during the blackpowder season.
"It was imperative that we worked quickly to enact Emergency Powers once CWD was detected in North Carolina, but we wanted to take the time to determine the best approach," said WRC Executive Director Cameron Ingram. "We are confident in our plan and look forward to working with hunters, cooperators and partners to help slow the spread of this terrible disease while preserving our deer herd and deer hunting tradition."
NCWF helps address CWD challenges 
NCWF is actively advocating for the passage of a bill in Congress that would authorize both research and management programs by funding state and tribal wildlife and agriculture agencies to manage and mitigate CWD outbreaks and fund research institutions to study mechanisms for containment and testing. 
Testing will be imperative because it's nearly impossible to tell if a deer has CWD by observation unless the CWD is in a significantly progressed state. The slow incubation period, ease of transmission, and lack of a vaccine, treatment or cure make CWD a looming threat to the state's deer and elk herds. 
"Signs of illness may not be apparent for 16 months or more after infection," Gestwicki said. "NCWF will advocate for all resources WRC needs from the General Assembly to meet the challenges CWD presents in wildlife enforcement, testing needs, education and resources for containment."
NCWF chapter offers CWD testing support
South Wake Conservationists, an NCWF Community Wildlife Chapter, hosts an official testing drop-off site for hunters to voluntarily submit deer heads for CWD testing – whether they donate the deer or not. 
WRC provides a small freezer for hunters to drop heads in 24/7 and help promote our site online and in publications. Hunters complete a short form that's attached to the bags provided. 
Chapter members can then process the sample themselves or leave it in the freezer for WRC biologists to pick up. The WRC pays $5 for every deer head picked up, or $15 for every sample processed, which takes less than 10 minutes.
"Beyond being a valuable community service, it's a great way to get the word out about the NCWF donation site and offers peace of mind that if CWD is in our area, we will likely be some of the first to know," said Judy Gardner, SWC chapter member. 
CWD resources
NC Wildlife Resources Commission will hold a KNOW CWD public forum in District 7 the first week of May so community members can learn more about the disease and North Carolina's response. WRC will also adopt temporary rules for the affected area and host a public hearing at 7 p.m. May 12. 
Visit KNOW CWD for updates, regulations, FAQs and resources.  
Watch KNOW CWD: A Silent Killer, a 5-minute video on how CWD is spread, measures taken to slow the spread and monitoring efforts.