Life on the Highway: Providing Pitstops for Pollinators on NCWF's Butterfly Highway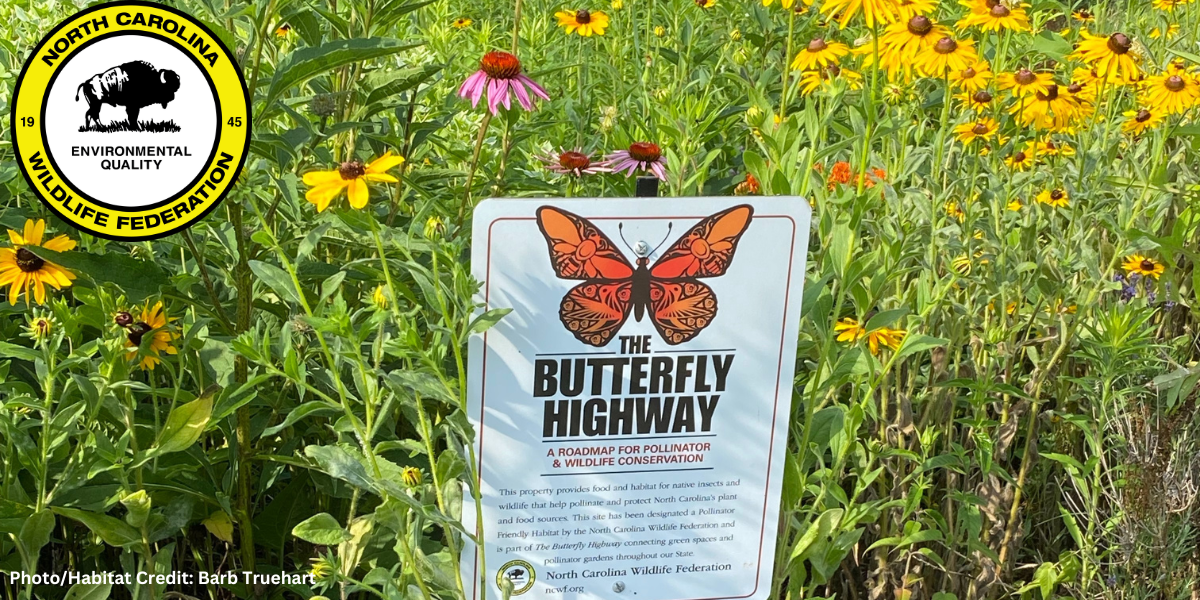 As much of the land across the country is dominated by urban sprawl, turfgrass, and land choked out by invasive plant species… pollinators are in trouble. Pollinators are the workforce behind the vast majority of both native and food-producing plant life. Their decline is concerning, with broad implications for the future of plant, animal, and human life.
Their decline comes as a result of habitat loss, pesticide and fungicide use, and the prevalence of parasites and diseases, all pollinators are facing decline; and this is no less true of the migratory monarch butterfly, which travels up to 2,500 miles each year – with increasingly lacking areas for food, water, and rest. Despite a recent boom in population numbers, monarch butterflies remain well below their historic numbers; with much work to be done in order to facilitate the rebounding of the population.
That's where NCWF's Butterfly Highway comes in!
The Butterfly Highway is a statewide conservation restoration initiative that aims to restore native pollinator habitats to areas impacted by urbanization, land use change and agriculture across North Carolina. From backyard Pollinator Pitstops to large-scale roadside habitat restoration, the project is creating a network of native flowering plants to support butterflies, bees, birds and other pollen and nectar dependent wildlife.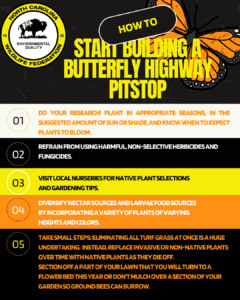 Just this year, The Butterfly Highway registered 3,000 Pollinator Pitstop sites, building a solid network of pollinator-friendly habitats across the state. But your contribution to the Highway is still needed! Registering your yard as a Pollinator Pitstop not only helps connect pollinator corridors, it also boosts the natural beauty of your garden.
You can convert your yard or garden container to a registered Pollinator Pitstop by taking a few simple measures to provide critical habitat for butterflies and other pollinators:
Contact Conservation Coordinator Luke Bennett at [email protected] for more info!
Written by: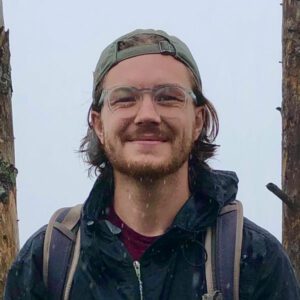 – Written by Bates Whitaker, NCWF Communications & Marketing Manager