John Robbins Elected as First North Carolinian to Chair National Wildlife Federation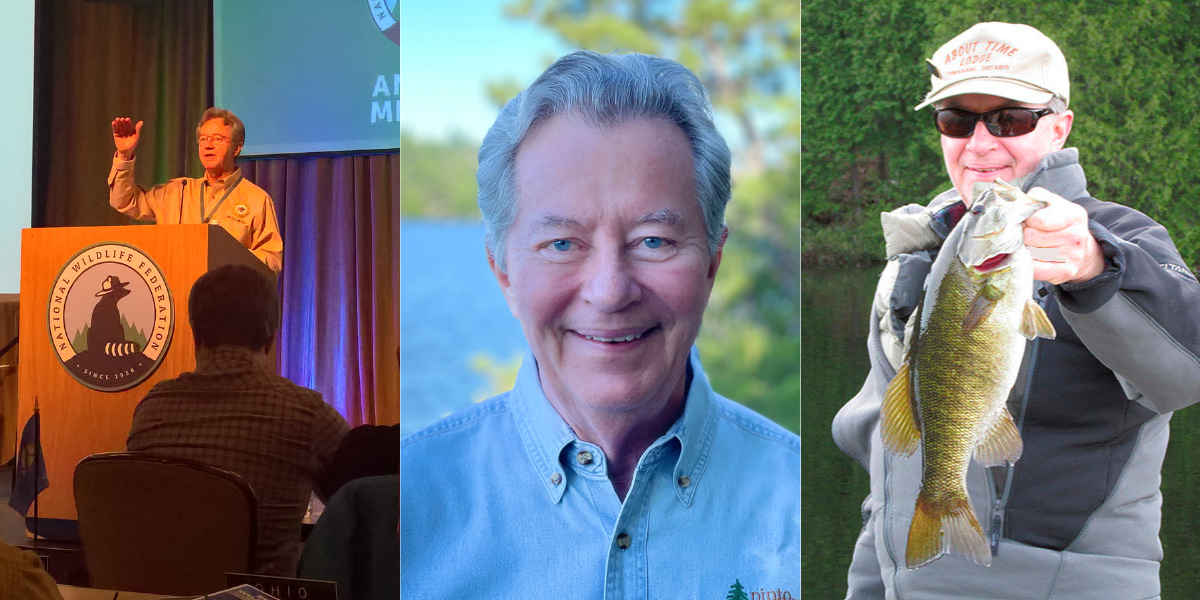 Lifelong conservationist and outdoorsman John Robbins, former chair of North Carolina Wildlife Federation, is the first North Carolinian elected to lead the National Wildlife Federation's Board of Directors.  
The National Wildlife Federation (NWF) is the country's largest private, nonprofit conservation education and advocacy agency. Six million members and supporters from 52 state and territorial affiliated organizations – including North Carolina Wildlife Federation (NCWF) – make up the organization. Robbins was elected at NWF's 86th annual meeting and will serve for one year as chair-elect and assume the chair role in June 2023.
"I'm honored to be elected as Chair and look forward to working with NWF and its affiliates across the country as we continue our crucial work to ensure current and future generations can enjoy the outdoors while addressing the increasing challenges faced by wildlife and habitat, and as a result, all of humanity," Robbins said.
An ally of inclusiveness, diversity and equity 
Robbins has served on the NWF board since 2017 and was elected eastern vice-chair in 2019. He played a lead role with pioneering conservationist Dr. Mamie Parker in launching the Creating Safe Spaces series. The multiyear initiative centers on the unique challenges and barriers Black people face in safely accessing and enjoying outdoor green spaces, and addressing institutional and systemic obstacles through program and policy initiatives.
"John brings decades of management, strategic experience, and a passion for conservation and the outdoors to the federation family. He has been instrumental in helping advance our strategic plan and supporting our efforts to become a 21st-century organization that prioritizes equity, justice and conservation," said Collin O'Mara, president and CEO of the National Wildlife Federation.
Additionally, Robbins helped develop North Carolina's IDEA (Inclusiveness, Diversity, Equity and Awareness) committee. He also introduced Earl B. Hunter, Jr., founder and president of Black Folks Camp Too, to board members and staff, which led to Hunter's invitation to speak at NCWF's annual meeting in 2021. 
A long history of conservation and love of the outdoors
After retiring from a 28-year career with Accenture, a global strategy, technology and consulting firm, Robbins now spends most of his time working towards the mission described above: striving to conserve, protect and restore wildlife and its habitat, and to help make the outdoors accessible and safe for the benefit and enjoyment of everyone.
He also loves to be outside, enjoying North Carolina's natural beauty and public trust resources, including fishing, paddling, hiking, bird watching, scuba diving and maintaining his pollinator garden.
Since joining NCWF's board in 2009, Robbins has remained active with multiple conservation, wildlife and habitat initiatives and committees. For the last decade, he's served as chair of NCWF's Charlie Shaw Society of supporters who annually contribute $1,000 or more toward NCWF's work and programs. 
Additionally, Robbins serves on the board of directors for Asheville Greenworks, an NCWF Affiliate. The volunteer-led environmental and conservation organization in Buncombe County hosts education programs, river cleanups, trash cleanups, planting projects and much more. 
Previous work includes helping launch Concord Wildlife Alliance, NCWF's 2021 Community Wildlife Chapter of the Year. Robbins also worked on a joint initiative with N.C. Wildlife Resources Commission and American Society of Landscape Architects to develop a Wildlife Friendly Development prototype in North Carolina to safeguard wildlife habitat in real estate development. Robbins also served for many years on the board of N.C. Sound Economy is an organization whose mission is to protect North Carolina's precious sounds and estuaries.
Through his strategic planning work, Robbins helped set the direction for NCWF in 2014-15 and NWF in 2016-17, with mission, goals, objectives and substantive plans lasting many years for each organization.
In 2020, Robbins worked with Concord-hailed musician Scott Avett of the Avett Brothers to script and record the song "This Land is Your Land" and a message about the protection and access of public lands.
"I've had a very rewarding tenure on the NCWF board, including great board and staff member working relationships and, in particular, working in lockstep with CEO Tim Gestwicki on many issues," Robbins said. "All those experiences will serve me well at the national level. I'm proud to be the first chair in National Wildlife Federation's history to hail from North Carolina."
Added O'Mara, "We look forward to John's leadership and collaboration for our crucial mission of bringing together all Americans to conserve and enjoy the outdoors."