NC Wildlife Federation Announces 58th Annual Governor's Conservation Achievement Award Recipients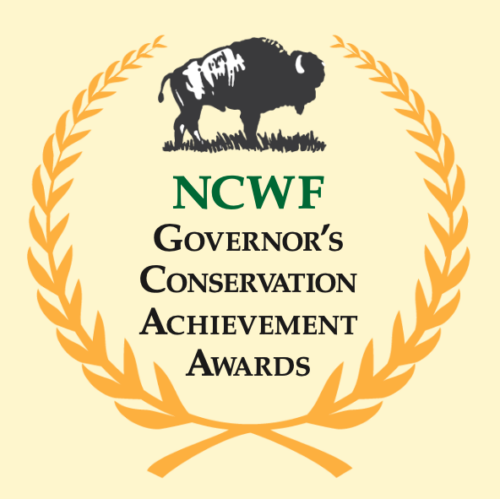 North Carolina Wildlife Federation has announced the winners of its 58th Annual Governor's Conservation Achievement Awards. Honorees for 2022 include agency professionals, elected officials, volunteers and organizations committed to North Carolina's wildlife, habitat and natural resources.
N.C. Wildlife Federation will honor the 19 award recipients, including the to-be-announced wildlife enforcement and marine patrol officers of the year, at a banquet on Saturday, Sept. 10, in Cary.
"For nearly 60 years, the awards program has been bringing together conservationists from across the state working to protect wildlife, air, water and land. This year's conservation heroes are land stewardship champions, water advocates and leaders in preserving unique ecosystems," said T. Edward Nickens, awards committee chair.
"The annual awards are a chance to highlight positive wildlife conservation efforts around the state while inspiring others to become more active in protecting North Carolina's natural resources for future generations."
2022 Governor's Conservation Achievement Award Recipients
Conservationist of the Year – Dr. James F. Parnell, professor emeritus, University of North Carolina Wilmington, Biological Sciences, Wilmington, NC
Wildlife Conservationist of the Year – Jeff Hunter, senior program manager, National Parks Conservation Association, Southeast Regional Office, Burnsville, NC
Sportsman of the Year – Wes Seegars, commissioner, N.C. Wildlife Resources Commission, Goldsboro, NC
Land Conservationist of the Year – Eric Hiegl, director of land protection & stewardship, Blue Ridge Conservancy, Boone, NC
Marine Conservationist of the Year – Tom Roller, founder, owner and operator, Waterdog Guide Service, Beaufort, NC
Forest Conservationist of the Year – Alton Perry, director of the sustainable forestry and land retention program, Roanoke Electric Cooperative, Aulander, NC
Environmental Educator of the Year – Lauren Daniel, water education program manager, N.C. Division of Water Resources, Swansboro, NC
Young Conservationist of the Year – Lauren Zuravel, Terry Sanford High School, Fayetteville, NC
Conservation Organization of the Year – North Carolina Urban Forest Council, Raleigh, NC
Legislator of the Year — Senator Jim Perry, North Carolina General Assembly, Kinston, NC
Business Conservationist of the Year – Maxie B's Bakery, Robin Davis, founder and CEO, Greensboro, NC
Natural Resources Scientist of the Year — Todd Ewing, program coordinator, Southeast Aquatic Research Partnership, former assistant chief, Inland Fisheries Division, N.C. Wildlife Resources Commission, Fuquay-Varina, NC
Wildlife Volunteers of the Year – Herb and Pat Amyx, Wake Forest, NC
Public Lands Conservationist of the Year – Gretchen Smith, president, Friends of the Lower Haw River State Natural Area, Chapel Hill, NC
NCWF Chapter of the Year – Island Wildlife Chapter, Lower Cape Fear Region, Wilmington, NC
NCWF Affiliate of the Year – Mainspring Conservation Trust, Franklin, NC
Conservationist of the Year, Dr. James F. Parnell (Wilmington)
Devoting the last six decades to studying, understanding and protecting nesting waterbirds along North Carolina's coast has earned Dr. James Franklin Parnell a lasting reputation as a coastal bird expert and global leader in waterbird conservation.
The University of North Carolina Wilmington biology professor's teaching, research and fieldwork have spurred innovative conservation and wildlife management practices and led to discoveries in ornithology, ecology and biology.
Dr. Parnell's involvement with a coast-wide population count of more than 20 species of nesting waterbirds helped preserve and restore flocks of native coastal birds, including the once-endangered brown pelican.
Additionally, his assessment of nesting habitats for waterbirds revealed the benefits of using dredged sand to create and restore nesting habitats, leading the U.S. Army Corps of Engineers to modify its dredged-material disposal methods.
Other contributions include mentoring many of North Carolina's most eminent conservationists and collaborating on dozens of articles, chapters and books on indigenous winged and mammalian wildlife.
Wildlife Conservationist of the Year, Jeff Hunter (Burnsville)
Jeff Hunter spent 20 years in telecommunications before an Appalachian Trail thru-hike inspired him to follow a new career path in wildlife conservation.
As a senior program manager with the National Parks Conservation Association, Hunter uses road ecology projects and wildlife mortality research to create wildlife passages and corridors that preserve the integrity and connectivity of Western North Carolina's natural landscapes.
Hunter's leadership is instrumental to Safe Passage, a public-private collaboration between local, state, tribal and federal agencies, land managers, conservation organizations and community members. The initiative helps increase wildlife corridors, reduce wildlife-vehicle collisions, improve driving conditions, and build climate resiliency through restored wildlife connections.
The group recommends ways the North Carolina Department of Transportation and other agencies can support free wildlife movement and improve habitat connectivity without compromising conventional highway project funds. Ecological highway solutions include wildlife-only structures and overpasses, modified bridge replacements, and acquiring land near highways to stabilize wildlife areas.
Sportsman of the Year, Wes Seegars (Goldsboro)
Outdoor experiences seamlessly weave throughout Wes Seegars' personal and professional life. The avid and lifelong sportsman and 25-year commissioner of N.C. Wildlife Resources Commission has a deep passion for the outdoors and commitment to wildlife conservation — from hunting to fishing to boating.
He works with diverse stakeholders and interests to ensure all hunters, anglers, boaters and outdoor enthusiasts have opportunities to enjoy wildlife-associated activities while also supporting ethical engagement in natural resources, safeguarding the state's hunting heritage.
Additionally, he's played a vital role in enhancing small game populations and habitats on public and private lands, conserving black bears, white-tailed deer and wild turkeys, and expanding waterfowl hunting opportunities.
As owner and manager of properties in Wayne and Hyde counties, Seegars welcomes guests ranging from skilled game species hunters to casual wildlife watchers while providing opportunities for youth, people with disabilities and new hunters.
Land Conservationist of the Year, Eric Hiegl (Boone)
From ecologically significant mountains to working farms in the valleys, Eric Hiegl loves exploring North Carolina's diverse landscapes. His commitment to conserving the state's natural resources guides him in his role as director of land protection and stewardship for Blue Ridge Conservancy.
Hiegl's deep knowledge of the high country, strong relationships with landowners, and passion for protecting critical tracts have led to numerous land protection successes.
Grandfather Mountain, Elk Knob, Three Top Mountain and Pond Mountain are among North Carolina's treasures known for their spectacular views. Hiegl was instrumental in protecting these significant natural resources – and dozens of tracts along the Blue Ridge Parkway – through land acquisitions and easements.
His seven-year pursuit and purchase of Paddy Mountain was filled with twists and turns but ended in conserving 152 acres. Hiegl also played a pivotal role in creating the Middle Fork Greenway, a multi-use trail that connects Boone and Blowing Rock.
Forest Conservationist of the Year, Alton Perry (Aulander)
Growing up on a family farm in Franklin County, Alton Perry learned first-hand the importance of thriving food systems, protecting biodiversity and conserving natural resources. That understanding and passion for conservation and forest management led him down a career path of helping other family forest owners in diverse communities become successful stewards of their own natural resources.
As director of sustainable forestry and land retention, Perry helps Black families and landowners in Roanoke Electric Cooperative's seven-county service area manage their woodlands to enhance quality of life and build family legacies. He also serves on the boards of several conservation organizations, including the North Carolina Tree Farm Program, Sustainable Forestry Initiative and American Forest Foundation.
While leading Conservation Trust for North Carolina's land protection committee over the last seven years, Perry supported efforts to adopt a "whole communities" approach and applied a racial equity lens to land protection and stewardship programming.
Marine Resource Conservationist of the Year, Tom Roller (Beaufort)
For Tom Roller, being a conservationist isn't just about protecting coastal marine resources for future generations. It's also about having practical fisheries management processes to ensure fish stocks remain healthy and abundant for ecotourism, personal consumption, catch and release, and anyone who uses public trust resources.
As owner and operator of Waterdog Guide Service, Roller spends about 200 days a year on the Crystal Coast, where he takes people fishing, teaches them how to be better anglers and educates them about the importance of conservation.
The working waterman also has extensive knowledge of North Carolina's aquatic species, coastal ecology and waterways, and state and federal fisheries policies and issues. He serves on numerous finfish and shellfish committees for the North Carolina Division of Marine Fisheries and the Mid-Atlantic and South-Atlantic Fisheries Management Councils.
Additionally, he's worked with panels and councils related to bluefish, cobia, mackerel, southern flounder and blue crab fisheries management, and biological and habitat monitoring.
Environmental Educator of the Year, Lauren Daniel (Swansboro)
Former North Carolina science teacher Lauren Daniel loves educating others about the importance of clean water for people, ecosystems and wildlife. In her current role as water education program manager for N.C. Division of Water Resources, Daniel provides public education and water resources outreach, educator professional development, and water conservation activities.
While Daniel works in partnership with many agencies and organizations, she's the only educator on staff in her division. As such, her work reaches hundreds of teachers and nonformal educators and thousands of North Carolina students.
In April, she coordinated an Earth Day celebration stream cleanup with Wake County Big Sweep for N.C. Department of Environmental Quality employees at John Chavis Memorial Park in Raleigh. During the event, Gov. Roy Cooper, state leaders and volunteers removed 3,018 pounds of trash in and near the stream running through the 28.87-acre site and downtown Raleigh.
Young Conservationist of the Year, Lauren Zuravel (Fayetteville, NC)
Lauren Zuravel is a high school junior whose dedication to helping North Carolina's declining Eastern box turtle population spans her home and school life.
The conservation-minded teen is dual-enrolled at Terry Sanford High School and Fayetteville Technical Community College and is also part of a research team at Fayetteville State University. Additionally, she used the money she made babysitting to start a turtle-focused nonprofit.
While working toward her Girl Scout Gold Award, Zuravel led Eastern box turtle tagging, education and conservation programs for Carver Creek State Park and Clark Park & Nature Center. Her university research involves engineering hard bioplastic materials to make disposable cutlery rapidly and safely degrade in water and landfills. The goal? Eliminate plastic cutlery, the second-deadliest plastic for sea turtles, birds and marine animals.
This year, the teenager launched her nonprofit – N.C. Turtle Research & Rescue Foundation – to support turtle conservation efforts through donations and turtle-themed gift and product sales.
Conservation Organization of the Year, North Carolina Urban Forest Council (Raleigh)
By focusing on advocacy, education and tree planting programs, North Carolina Urban Forest Council supports sustainable development of urban forests. The council's efforts help ensure communities have healthy trees that will survive for decades, benefiting both people and wildlife.
This year, the organization teamed up with N.C. Wildlife Federation, N.C. State Extension and N.C. Forest Service on a pilot program to eradicate invasive Bradford pear trees from the Southeast. Bradford pears threaten the balance of environmental biodiversity by outcompeting native grasses, wildflowers, shrubs and young trees that wildlife and pollinators depend on.
Through the Bradford Pear Bounty NC program, the council helped distribute 250 native trees to replace the Bradford pears homeowners removed. Council members used the bounty program to educate communities on the importance of planting a diversity of native species to support wildlife populations. They also plan to expand the program to other parts of the state.
Legislator of the Year, Sen. Jim Perry (Kinston)
After coming into office in 2019 as an appointee, it wasn't long before Sen. Jim Perry made his mark on North Carolina's General Assembly as a champion for his district and eastern North Carolina.
While his background is in health care management, Sen. Perry strongly advocates for farmers, agriculture and agribusiness in rural communities. The retired businessman who grew up in Kinston has supported measures to use North Carolina's natural systems and resources to protect communities from flooding and other challenges.
As the primary sponsor of the Flood Resiliency and Prevention Act, Sen. Perry partnered across the aisle to ensure a budget bill that made historic investments in community-centered disaster recovery and resiliency measures.
Perry also supports preserving family land, whether it's a generations-held farm or town lot. To protect landowner rights, he sponsored legislation that would allow North Carolinians to implement procedures to better support the ability of families to participate in decision-making that impacts their lands.
Business Conservationist of the Year, Maxie B's Bakery (Greensboro)
It's not just slices of homemade pie or quiche customers savor at Maxie B's; they also delight in the pieces of natural paradise found just outside. Owner Robin Davis transformed the bakery and dessert cafe's patio into a Certified Wildlife Habitat to connect customers to the natural world. Surrounded by a sea of pavement, the patio is an oasis of native plants and habitats that attracts birds, butterflies and other pollinators.
A founding member of Triad WILD! community wildlife chapter who volunteers with several committees, Davis also donates baked goods to nature and environmental events, hosts a native plant festival, advocates for removing invasive plant species, and supports the "Lights Out" campaign for birds and other wildlife during migration periods.
Additionally, Davis helped educate government officials on the importance of native plants in communities. She was instrumental in Greensboro's adoption of a proclamation for Native Plant Week – the first city in North Carolina to have its own.
Natural Resources Scientist of the Year, Todd Ewing (Fuquay-Varina)
For the last 14 years, Todd Ewing has been swimming in efforts to conserve and manage North Carolina's rare and imperiled aquatic species. Until his retirement this year, he led N.C. Wildlife Resources Commission's Aquatic Wildlife Diversity Program and served as assistant chief of the Inland Fisheries Division.
In those roles, Ewing worked on updating the listing process for N.C.'s protected animals, directed a partner coalition to develop safe harbor and conservation agreements for 22 aquatic species, and helped expand and reintroduce rare fish and mussel species.
Most recently, he collaborated with U.S. Fish and Wildlife Service in developing an innovative approach to augmenting and reintroducing stocks of federally threatened and endangered aquatic species to facilitate their eventual recovery and delisting.
As program coordinator for the Southeast Aquatic Research Partnership, Ewing now works with natural resource and science agencies and conservation organizations to strengthen aquatic resources in the Southeast.
Wildlife Volunteers of the Year, Herb and Pat Amyx (Wake Forest)
Whether counting birds, removing invasive plants, conducting tree species inventories or tending gardens, Herb and Pat Amyx blend volunteering and conservation into their daily lives.
The former research scientist and teacher's aide lead the Neuse River Hawks community wildlife chapter in Wake Forest. Additionally, they help co-manage the Forest Ridge Wildlife Garden, lead Native Plant Society nature walks and participate in Falls Lake bird counts and species inventories.
However, their most significant volunteer work has been for the N.C. Department of Agriculture's Plant Conservation Program. For the past decade, they've worked as preserve stewards for the Friends of Plant Conservation, monitoring and caring for five rare plant preserves.
During that time, they significantly augmented the federally and state endangered smooth purple coneflower population by growing it from seed at home, then planting those plants back into the preserves where the seeds originated.
Public Lands Conservationist of the Year, Gretchen Smith (Chapel Hill)
After retiring from a 37-year career in health care management, Gretchen Smith now volunteers her time and effort to help protect and improve public lands conservation in Chatham County's Haw River corridor.
As co-founder and president of Friends of Lower Haw River State Natural Area since 2016 and an active member of multiple conservation organizations, Smith has written and applied for grants resulting in infrastructure improvements at public river access sites, kiosks with educational signage, shade shelter with nature murals, and improved pathways.
Recently, Smith was the catalyst for forming the Haw River Trail Steering Committee, representing town and county governments, state agencies, land trusts, and trail and paddle organizations. She also helped secure a grant for a trail corridor feasibility study and economic impact analysis. The project will lay the groundwork for constructing a Haw River Trail in Chatham County that connects to a regional Haw River Trail network.
NCWF Chapter of the Year, Island Wildlife Chapter, Lower Cape Fear Region (Wilmington)
What started as a community petition to help struggling turtles navigate hardened structures around Carolina Beach Lake has evolved into a fully engaged community wildlife chapter dedicated to preserving habitat and wildlife throughout the Lower Cape Fear region.
Earlier this year, volunteers broke ground at Carolina Beach State Park on a carnivorous bog garden to restore Venus flytrap habitat, educate visitors about the federally threatened species, and reduce plant poaching. Chapter members also helped restore the shoreline around Carolina Beach Lake through native planting and trash removal projects.
Additionally, Island Wildlife collaborated with the town and local elementary school students to install educational signs featuring student art and information on native species, wetlands and wildlife habitats.
Other chapter successes included a carnivorous plant workshop, supporting a Waccamaw Siouan Tribe youth fish camp, initiating a community science pod to track bird mortality, and hosting webinars on migratory birds, great white sharks, opossums and diamondback terrapins.
NCWF Affiliate of the Year, Mainspring Conservation Trust (Franklin)
Mainspring Conservation Trust is dedicated to conserving land, forest and farms, restoring water, and connecting people to the heritage and natural resources of the Upper Little Tennessee and Hiwassee River Valleys.
Through partnerships with federal, tribal and state agencies and affiliations, Mainspring has helped conserve more than 29,000 acres in this nationally significant region. The partnerships support ecosystems and native aquatic species that help provide clean water, outdoor recreation and a stable economic base for watershed citizens. In 2021, Mainspring partnered with NCWF on two significant stream restoration plantings to increase shore stabilization and wildlife habitat.
Mainspring helps farmers improve their pastures and benefit the fish and ecosystems that rely on them by facilitating restoration complexities. In 2021, the organization conserved 1,200 acres, including five new conservation easements, and restored 1,600 feet of streambank by planting shrubs and trees. The trust also held 43 hands-on educational and community activities, including trash cleanups, fish-based biomonitoring surveys, snorkeling events and other programs to help kids experience their natural surroundings.