Must See & Read: Conservation Achievement Awards Banquet Highlights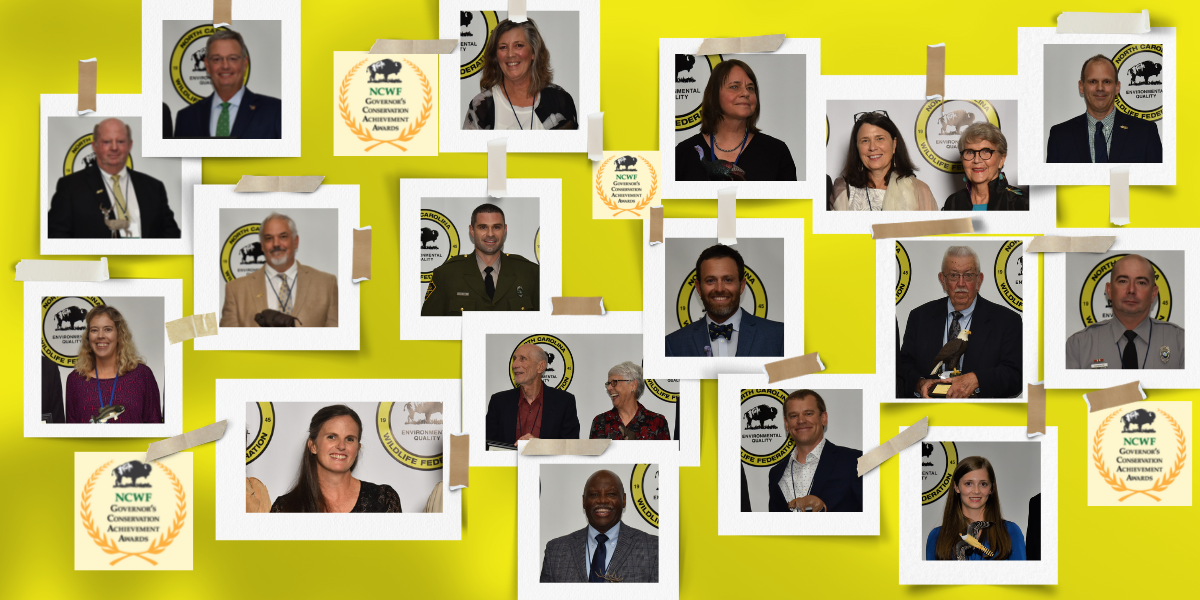 Awards Banquet Highlights
*Scroll to end for awards banquet photo gallery*
Conservation works, but it takes work to turn issues understanding into stewardship and stewardship into meaningful action. And the 58th Annual Governor's Conservation Achievement Awards banquet was the place to honor 19 notable citizens of all ages and backgrounds who have done just that.
More than 250 people gathered on Sept. 10 at the Embassy Suites in Cary to hear uplifting stories of conservation heroes in their quests to learn more, do more, protect more, work hard and fight harder for North Carolina's wild lives and wild places. 
First presented in 1958, the Governor's Conservation Achievement Awards are the highest natural resource honors given in the state. The annual program brings together diverse conservationists to highlight wildlife conservation achievements and inspire others to take a more active role in protecting North Carolina's natural resources for future generations.
"It's always one of our favorite events of the year – a chance to celebrate the beauty of nature and the shared commitment of those working every day to protect, conserve and restore North Carolina's wildlife, habitat and natural resources," said Tim Gestwicki, NCWF CEO. "This year's honorees are helping ensure we sustainably manage our state's bountiful flora and fauna for future generations – North Carolinians who demonstrate promise and possibility while making great strides in preserving unique ecosystems and species."
NCWF Board Chair John Hairr and Deputy Secretary Jeff Michael with the North Carolina Department of Natural and Cultural Resources presented honorees with custom-made wildlife statuettes. "As I look at the list of award winners – and the communities and organizations they represent – I see a microcosm of the many partners and stakeholders across this great state who make our work at the department possible," Michael said. "Thank you for your extraordinary commitment to conservation in this state we all love." 
"We have unique wildlife and resources here in our state, and it's important we protect them. [North Carolina Wildlife Federation] does a fantastic job, and I'm grateful for their work and for sponsoring tonight's event. But this isn't just about the beauty of our state. It's about our transition to a clean energy economy and protecting land and water across our state so we can be more resilient. North Carolina is better off because of your dedication and work. Thank you for your commitment to our state's environment." Gov. Roy Cooper, in a video message to banquet attendees
Below we share highlights from banquet emcee and award chair T. Edward Nickens and some remarks from award recipients.
*Scroll to end for awards banquet photo gallery*
Neil Kendrick, Marine Patrol Officer of the Year (Onslow County) 
Officer, Division of Marine Fisheries
"Onslow County has some of the most diverse waterways of any other North Carolina county. The Intracoastal Waterway runs the entire southeastern edge of the county, with multiple inlets supporting access to the open ocean. Patrolling all that water—all those kinds of water—takes someone who knows how to run shallow and deep through winding marsh creeks and across pounding seas.
Officer Neil Kendrick's incredible range of duties and skill sets seem perfectly suited for such a place. In addition to performing seafood dealer and license inspections, boating safety checks, and enforcing size and creel limits and fishing gear regulations, Kendrick regularly trains newly hired officers and mentors officers through the North Carolina Training and Standards division. Officer Kendrick is also a leader on the Marine Patrol Team, a voluntary position, and has pursued instruction to become a tactical, medical first responder to train other officers in the future.
It's a lot of water and hats to wear on any given shift, but Kendrick is a dedicated officer who consistently meets or exceeds requirements in all performance categories. He leads the district in enforcing boating safety and takes great pride in educating the public to keep the waterways safe."
Brandon S. Lyon, Wildlife Enforcement Officer of the Year (Advance)
Master Officer, North Carolina Wildlife Resources Commission
"Officer Brandon Lyon seems to like the hard stuff. Sure, he'll write you up for hunting without a license, littering, or boating while impaired. But what really gets his attention are the tough cases. Last year he helped work a 20-year-old major cold case investigation in Stokes County. With the information provided by the detective and gained through a social media search by Officer Lyon and his trainee, four wildlife officers, nine Stokes County detectives, two Rockingham County detectives and one Henry County, Virginia detective executed a search warrant that resulted in two individuals being charged with 14 wildlife violations, during which two stolen firearms were recovered, and one individual was arrested on Virginia felony warrants.
That same month, Officer Lyon had clocked out after a full shift but was immediately called out to Belews Lake, where five children had gone missing on paddleboards after dark. Upon arrival, Officer Lyon and his trainee launched their patrol boat on a ramp covered with ice and joined in the search, braving freezing temperatures and high winds. The 3.5-hour search ended just after 10 p.m. when all five children were located on a remote section of shoreline where the wind had pushed them off course. They were brought to safety and medically treated for cold weather exposure. 
He also does an outstanding job in public outreach. In 2014, he and his wife created a program called Science & Safety, which they implemented in 5th grade Yadkin County classrooms to allow Officer Lyon to discuss hunting/outdoor safety and build community relations. And he is one of 10 members of the Peer Support Team, a group within N.C. Wildlife Commission dedicated to helping and providing professional assistance to officers who have experienced work-related traumatic events."
Mainspring Conservation Trust, NCWF Affiliate of the Year (Franklin)
"It was a famous cartoon in the 19th Century and gave rise to one of the most common sayings in America: The carrot or the stick, reward or punishment. Folks have argued over which works better for centuries. For the Mainspring Conservation Trust, moving forward is all about the carrot. People will do the right thing when they're educated about why the right thing is right in the first place. Mainspring is dedicated to conserving land, forest and farms and connecting people to the heritage and natural resources of the Upper Little Tennessee and Hiwassee River Valleys. The group has helped conserve more than 29,000 acres in this nationally significant region. In 2021, Mainspring partnered with NCWF on two significant stream restoration plantings to increase shore stabilization and wildlife habitat.
Mainspring helps farmers improve their pastures and benefit the fish and ecosystems that rely on them. In 2021, the organization conserved 1,200 acres, including five new conservation easements, and restored 1,600 feet of streambank. And Mainspring makes sure that folks have a chance to learn about the right thing. The group held 43 events, including four trash pickups, 27 fish biomonitoring surveys, and eight snorkeling events. That's a lot of carrots. But there's much at stake in such a fragile and fabulous ecosystem as these mountain river watersheds."
Island Wildlife, NCWF Chapter of the Year (Wilmington)
"What started as a community petition to help turtles navigate hardened structures around Carolina Beach Lake has evolved into a fully engaged community wildlife chapter dedicated to preserving habitat and wildlife throughout the Lower Cape Fear region. Earlier this year, volunteers broke ground at Carolina Beach State Park on a carnivorous bog garden to restore Venus flytrap habitat, educate visitors about the federally threatened species, and reduce plant poaching. Chapter members also helped restore the shoreline around the lake through native planting and trash removal projects. They helped install signage featuring elementary school student art and information on native species, wetlands and wildlife habitats. They've initiated a community science pod to track bird mortality and hosted webinars on migratory birds, great white sharks, opossums and diamondback terrapins.
In one of its most intriguing projects, Island Wildlife supported the Waccamaw STEM Studio's second year of their community Yaccune (Fish) camps. The event was tribe-led and intergenerational and was designed to affirm native identity and culture. Kids who caught their first fish learned how to prepare it to eat, often from an elder or community leader who connected the process to their tribal values. More than 300 people from the local tribal community attended the events. Island Wildlife shows what it's like to put your time, talent and treasure to work for wildlife." 
Gretchen Smith, Public Lands Conservationist of the Year (Chapel Hill)
President, Friends of the Lower Haw River State Natural Area
"The Haw River runs for 110 miles through the Piedmont of North Carolina. Nearly one million people live in the Haw River watershed, and there was a time you wouldn't have stuck the tip of your pinkie toe into the Haw River. While the river still has challenges, its transformation from a dumping ground to a forest-lined green jewel has been dramatic. And for the last six years, much of the success of turning the Haw River into a sort of long, thin Central Park for the Piedmont has been due to the tireless work of Gretchen Smith.
After retiring from a 37-year career in healthcare management, Smith turned her attention to protecting and improving public lands conservation in Chatham County's Haw River corridor. As co-founder and president of Friends of Lower Haw River State Natural Area and an active member of multiple conservation organizations, she has written grants resulting in infrastructure improvements at public river access sites, kiosks with educational signage, shade shelter with nature murals, and improved pathways.
Recently, Smith was the catalyst for forming the Haw River Trail Steering Committee, representing town and county governments, state agencies, land trusts, and trail and paddle organizations. She also helped secure a grant for a trail corridor feasibility study and economic impact analysis. The project will lay the groundwork for constructing a Haw River Trail in Chatham County that connects to a regional Haw River Trail network."
Dr. and Mrs. Herb and Pat Amyx, Wildlife Volunteers of the Year (Wake Forest)
"It's easy to love the famous places—the Smokies, the Outer Banks, the national parks and marquee preserves of North Carolina. It takes special people, with a special kind of commitment, to love the unknown and the overlooked. Dr. Herb Amyx and his wife, Pat, have had that kind of commitment for many years. As Preserve Stewards for the Friends of Plant Conservation, the couple monitors five rare plant preserves owned by the N.C. Department of Agriculture around Durham. They care for the plants, remove invasives, watch out for the properties, and even grow rare plants, such as the endangered smooth purple coneflower and the narrow leaf smooth aster, at their home and then transplant the wildflowers back to the preserve.
The couple is rooted deeply in wildlife volunteerism. Three times a year, they take part in the Falls Lake Bird Count, as well as in Bio-Blitzes for N.C. State Parks and Wake County Parks. They've traveled to mountains for tree species inventories and led plant identification workshops for state park rangers. They have been very active in the Native Plant Society, and the Amyxes are also very active in the Neuse River Hawks, the Wake Forest area chapter of N.C. Wildlife Federation. Pat currently serves as the president of the River Hawks and is past secretary. Together, they manage the River Hawks and Raleigh Parks partnership in caring for the Forest Ridge Wildlife Garden." 
Todd Douglas Ewing, Natural Resources Scientist of the Year (Fuquay-Varina)
Former Assistant Chief of Inland Fisheries Division, North Carolina Wildlife Resources Commission
"For the last 14 years, Todd Ewing has been up to his ears in efforts to conserve and manage North Carolina's rare and imperiled aquatic species. Until his retirement this year, he led N.C. Wildlife Resources Commission's Aquatic Wildlife Diversity Program and served as assistant chief of the Inland Fisheries Division. In those roles, Ewing worked on updating the listing process for N.C.'s protected animals, directed a partner coalition to develop safe harbor and conservation agreements for 22 aquatic species, and helped expand and reintroduce rare fish and mussel species.
Most recently, Ewing collaborated with U.S. Fish and Wildlife Service in developing an innovative approach to augmenting and reintroducing stocks of federally threatened and endangered aquatic species. He retired from the state in 2022, but not from working for wildlife. As program coordinator for the Southeast Aquatic Research Partnership, Ewing now works with natural resource and science agencies and conservation organizations to strengthen aquatic resources in the Southeast."
Robin Davis, Business Conservationist of the Year (Greensboro)
Founder and CEO, Maxie B's Bakery
"At Maxie B's, Davis transformed the bakery and dessert cafe's patio into a Certified Wildlife Habitat to connect customers to the natural world. Surrounded by a sea of pavement, the patio is an oasis of native plants and habitats that attracts birds, butterflies and other pollinators, and it's a hub of conservation support activity. Davis donates baked goods to dozens of conservation organizations, including a two-day NCWF-sponsored Ocean Advocacy Workshop that saved organizers more than $500. She serves on the City of Greensboro Sustainability Food Council Food Waste Task Force to pursue diverting food waste away from landfills. She works with Leadership Greensboro as a Mayor's Food Waste Challenge coach. Triad WILD!, an NCWF community wildlife chapter, was founded by a team that Robin assembled. She is on the Board of Directors for the T. Gilbert Pearson Audubon Society and is a North Carolina Native Plant Society member. Davis hosted the first Native Plant Fest at Maxie B's in October 2021. She helped found the Sunset Hills Environmental Affairs Group in her neighborhood and chaired the Stewards Committee. Robin is helping create a 'Most Wanted List' of invasive plants to educate neighbors so they can look for them on their properties.
Additionally, Robin is a member of the Sunset Hills Garden Club, one of Greensboro's oldest yet most progressive clubs. She is an active speaker in the community on topics ranging from sustainability models for business to food waste prevention and composting to native plants." 
Sen. Jim Perry, Legislator of the Year (Kinston)
North Carolina General Assembly
"Jim Perry grew up in Kinston, North Carolina, a city that nurtures strong and historical ties to both farm country and the nearby Neuse River. So when Perry came into legislative office in 2019 as an appointee, it wasn't long before the Senator made his mark on North Carolina's General Assembly as a champion for his district and eastern North Carolina. And as the state's urban-rural divide continues to grow, Perry has become one of the go-to voices to help people understand rural regions' needs and benefits. He has become one of the storytellers for eastern North Carolina.
As the primary sponsor of the Flood Resiliency and Prevention Act, Sen. Perry partnered across the aisle to ensure a budget bill that made historic investments in community-centered disaster recovery and resiliency measures. Perry also supports preserving family land, whether it's a generations-held farm or town lot. To protect landowner rights, he sponsored legislation allowing North Carolinians to implement procedures to better support families' ability to participate in decision-making that impacts their lands."
Added Michael, "Special thanks to Sen. Perry and his colleagues in the legislature for joining Governor Cooper in making more money available over the past two years for the N.C. Land & Water Fund and the Parks and Recreation Trust Fund than we've seen in more than a decade. That includes $15 million last year for flood risk reduction projects awarded next March, so we are truly grateful to have your support of that important work."
North Carolina Urban Forest Council, Conservation Organization of the Year (Raleigh)
"Every city should be a city of oaks, a city of maples, a city of longleaf pine and sassafras and hickory. By focusing on advocacy, education and tree planting programs, the North Carolina Urban Forest Council supports the sustainable development of urban forests. The council's efforts help ensure communities have healthy trees that will survive for decades, benefiting both people and wildlife.
And over the last year, the Urban Forest Council teamed up with N.C. Wildlife Federation, N.C. State Extension Service and N.C. Forest Service on a pilot program to eradicate invasive Bradford pear trees from the Southeast. A literal bounty was placed on these trees, which threaten the balance of environmental biodiversity by outcompeting native grasses, wildflowers, shrubs and young trees that wildlife and pollinators depend on. Bradford pears put out tons of edible fruits, which birds eat, and then poop the seeds out on what appears to be every corner of the continent.
Through the Bradford Pear Bounty NC program, the council helped distribute 250 native trees to replace the Bradford pears homeowners removed. Council members used the bounty program to educate communities on the importance of planting a diversity of native species to support wildlife populations, with plans to expand the program to other parts of the state. It's an awesomely imaginative program from an awesomely committed group of conservationists."
Lauren Gail Zuravel, Young Conservationist of the Year (Fayetteville)
Terry Sanford High School 
"Lauren Zuravel doesn't seem to have much in common with the Eastern box turtle. The box turtle moves slow. You wouldn't say that about Zuravel, a conservation-minded teen dual-enrolled at Terry Sanford High School and Fayetteville Technical Community College. Box turtles probably don't think about the future too much, but as a high school junior, Zuravel is already working on university-level studies with a research team at Fayetteville State University, studying how to engineer hard bioplastic materials to make disposable cutlery rapidly and safely degrade in water and landfills. The goal? Eliminate plastic cutlery, the second-deadliest plastic for sea turtles, birds and marine animals.
But for all their differences, Zuravel and box turtles share one trait: They both know that you must stick your neck out to get anywhere. And this Fayetteville high school student has her sights set on making a difference. While working toward her Girl Scout Gold Award, Zuravel led Eastern box turtle tagging, education and conservation programs for Carver Creek State Park and Clark Park & Nature Center. She's used the money she made babysitting to start a turtle-focused nonprofit – N.C. Turtle Research & Rescue Foundation – to support conservation efforts through donations and turtle-themed gift and product sales.
Zuravel has known since she was in the sixth grade that she wanted a career advocating for wildlife and the environment. To get there, she's combined the turtle's methodical approach to perseverance with the hare's sense of urgency."
Lauren Daniel, Environmental Educator of the Year (Swansboro)
Water Education Program Manager, North Carolina Division of Water Resources
"We are so fortunate to have folks like Daniel at the helm of so much of the critical, nitty-gritty work of conservation and environmental education. In her current role as water education program manager for N.C. Division of Water Resources, Daniel is state coordinator and facilitator trainer for North Carolina Project WET; state coordinator for the 'It's Our Water' high school curriculum; state coordinator for NC Stream Watch; co-coordinator of the N.C. Climate Education Network; creator and coordinator of N.C. Water Education Virtual Coffee Talks; and coordinator and contact for North Carolina Creek Week Network.
Just this past April, there was an Earth Day celebration stream cleanup with Department of Environmental Quality employees at John Chavis Memorial Park in Raleigh. Gov. Roy Cooper, state leaders and volunteers removed 3,018 pounds of trash in and near the stream running through the 29-acre site and downtown Raleigh."
Alton Perry, Forest Conservationist of the Year (Aulander)
Director of the Sustainable Forestry and Land Retention Program, Roanoke Electric Cooperative
"Alton Perry spent 40 years with the N.C. Forest Service, and retired in 2012, but he wasn't quite ready for the golden years. That same year he started work as director of sustainable forestry and land retention for the Roanoke Electric Cooperative. Perry now helps African-American families and landowners in a seven-county service area manage their woodlands to enhance quality of life and build family legacies. He also serves on the boards of several conservation organizations, including the North Carolina Tree Farm Program, Sustainable Forestry Initiative and American Forest Foundation.
In some of the nominating materials for Perry, a colleague wrote of his love for his upbringing on a North Carolina farm. 'It seems he has carried that enthusiasm with him throughout his career,' the nominator wrote, 'and leveraged it for the common good—protecting natural resources and aiding families with being good stewards of their natural resources just like his family was.' Perry represents and advocates for North Carolina families with natural resources locally … across the state through board leadership at Conservation Trust for North Carolina and as part of the North Carolina Heirs Property Coalition …. nationally in the Forest Climate Working Group … and even internationally through his role in the U.S. Council of a Trillion Trees. Alton Perry has never forgotten how a piece of farmland molded and shaped who he is and what kind of legacy he wants to leave." 
Tom Roller, Marine Conservationist of the Year (Beaufort) 
Owner and Operator, WaterDog Guide Service
"Tom Roller has operated WaterDog Guide Service out of Beaufort for 20 years, and he has dedicated his career to fighting for North Carolina's beleaguered marine resources. Since 2013, he's been on advisory committees focusing on bluefish, cobia, mackerel, flounder and blue crab. 
He's served on both the Mid-Atlantic and South-Atlantic Fisheries Management Councils, and next year he will begin his second term on the North Carolina Marine Fisheries Commission. He's a founding board member of the American Saltwater Guides Association and a former executive board member, and current Life Member of the Coastal Conservation Association of North Carolina. And as a fishing guide, Roller is committed to passing along a conservation ethic. For him, that's just as important as teaching an angler how to tie a double uni knot or set the hook on a sheepshead.
And Roller does all of this as a volunteer. Every hour and every day spent in committee meetings is a day he's not on the water—which means that it's an hour or a day that he's not on the time clock. So Roller's commitment isn't his alone. His family is a part of his dedication, as well." 
Eric Hiegl, Land Conservationist of the Year (Boone)
Director of Land Protection & Stewardship, Blue Ridge Conservancy
"Some people pursue wild fish, the perfect photograph of a soaring hawk, or that moment when a bird dog locks up on the scent of quail. Eric Hiegl hunts for the unprotected vistas, the corridors that connect wild land parcels, and the possibilities of protecting North Carolina mountain land forever. From ecologically significant mountains to working farms in the valleys, Hiegl searches for those remaining places that will function as a trove of open space and biodiversity. And then, he searches for ways to convince landowners that they can nurture unique places that will only grow in value if they remain special forever. That's the commitment to conserving the state's natural resources that guides him in his role as director of land protection and stewardship for Blue Ridge Conservancy.
Hiegl is known for his visionary understanding of landscape conservation and how to identify the missing links of at-risk lands that need to be knitted together to create wildlife corridors and viewsheds that will inspire generations. Grandfather Mountain, Elk Knob, Three Top Mountain and Pond Mountain — Hiegl was instrumental in protecting these significant natural resources – and dozens of other tracts along the Blue Ridge Parkway – through land acquisitions and easements.
From Tynecastle Peak to Bear Paw State Natural Area, from Paddy Mountain to Elk Knob to the Middle Fork Greenway, a multi-use trail that connects Boone and Blowing Rock, Eric Hiegl sets his sights on critical, unprotected jewels of North Carolina natural heritage—and he doesn't stop working until they are a part of North Carolina's forever future."
Wes Seegars, Sportsman of the Year (Goldsboro) 
Commissioner, North Carolina Wildlife Resources Commission
"Wes Seegars has worked tirelessly to ensure that North Carolinians without access to a farm or land have places to hunt and fish. Seegars has spent 25 years as a North Carolina Wildlife Resources Commission commissioner. He's served two terms as chairman, three terms as vice chairman, and has either chaired or vice-chaired the Executive, Big Game, Rules, Fisheries, Legislative and Endowment Fund committees. It is an incredible and perhaps unmatched record of service for wildlife in North Carolina.
Beyond his efforts as a volunteer civil servant, Seegars donates time, funding and hunt access to organizations from Cross Trail Outfitters to Seymour Johnson Air Force Base to The Independence Fund, which empowers catastrophically wounded or ill veterans to overcome physical, emotional and mental wounds incurred in the line of duty. He has served on the local and state chapters of Ducks Unlimited, hosts Youth Day duck hunts, and more. Seegars knows that a future of abundant wildlife and wild places doesn't come from wishful thinking, but hard work and commitment." 
Jeff Hunter, Wildlife Conservationist of the Year (Burnsville)
Senior Program Manager, National Parks Conservation Association
"Jeff Hunter spent 20 years in telecommunications before an Appalachian Trail thru-hike inspired him to follow a new career path in wildlife conservation. As a senior program manager with the National Parks Conservation Association, Hunter uses road ecology projects and wildlife mortality research to create wildlife passages and corridors that preserve the integrity and connectivity of Western North Carolina's natural landscapes.
Hunter's leadership is instrumental to Safe Passage, a public-private collaboration between local, state, tribal and federal agencies, land managers, conservation organizations and community members. The group recommends ways the Department of Transportation and other agencies can support obstacle-free wildlife movement and improve habitat connectivity without compromising highway project funds. These solutions include wildlife-only structures and overpasses, modified bridge replacements, and acquiring land near highways to stabilize wildlife areas. Jeff Hunter was bold enough to take a sharp turn off the road he was traveling. Ever since, he's been on a mission to preserve those ancient pathways known only to the bobcat and the bear, the elk and the deer." 
Dr. James F. Parnell, Conservationist of the Year (Wilmington)
Professor Emeritus, University of North Carolina Wilmington
"The islands along the Lower Cape Fear, along the edges of the Intracoastal waterway, and behind Oregon Inlet on the Outer Banks are called "spoil islands." They're made of sands and sediments sucked up by massive dredges to deepen waterways and inlets and make them safe for human passage. But if you are a royal tern, an ibis, or an oystercatcher, there is nothing wasted or ill-used about those islands. They may be the only place you have to rest or nest for miles. And we know that largely due to a man whose commitment to coastal North Carolina conservation has been as sure as the tides.
Dr. James Parnell has spent six decades studying, marveling, protecting and educating about the nesting waterbirds along North Carolina's coast. From the University of North Carolina at Wilmington, his reputation has spread globally. And his research on the incredible value of coastal islands—natural and manmade—for a vast community of nesting waterbirds has literally reshaped the North Carolina coast to be a more bird-friendly landscape. 
He is a prolific writer. Birds of the Carolinas, Mammals of the Carolinas, Virginia, and Maryland, and Freshwater Fishes of the Carolinas, Virginia, Maryland and Delaware are all titles he helped bring to publication. As an educator, he has sparked the imaginations and research and careers of untold numbers of scientists and educators whose love of the wild was kindled in his classes and labs and field trips.
Some of our Governor's Conservation Award recipients are noted for their devotion to a single cause. Others for how they step above and beyond their job descriptions. But for honorees like Dr. Parnell, recognition comes from a lifetime of the seamless integration of occupation and avocation. No aspect of his life is not informed by a love of wild things and wild places." 
Event Sponsors Support Conservation Heroes 
Thank you to the following partners, businesses and individuals for helping us honor and celebrate North Carolina's top-notch conservation leaders of 2022. 
Platinum sponsor: Duke Energy/Piedmont Natural Gas

Gold sponsors: Bill and Debbie Dusch, Grady-White Boats, Jordan Lumber, North Carolina Electric Membership Cooperative, John Robbins

Silver sponsors: Truist, Uwharrie Capital Corp.

Bronze sponsors: Armstrong McGuire & Associates, Higgins Benjamin, PLLC, Knight Consulting, The LDH Group, Martin Marietta, Parker Poe, The Rutledge Family
5 Ways to Support Wildlife & Habitat 
Conservation Achievement Awards Banquet Photo Gallery