Land of the Giants: The Inspiring Comeback of North Carolina Elk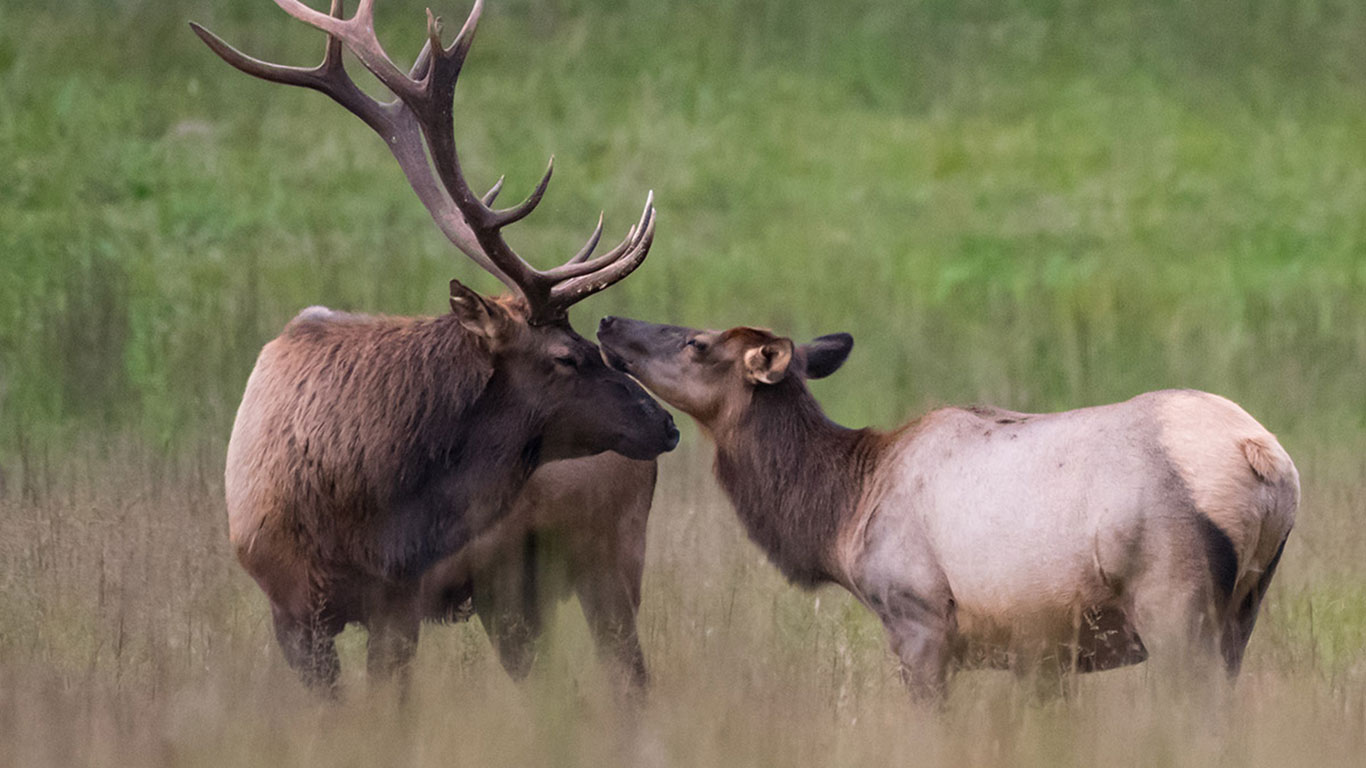 At this moment, more elk roam the North Carolina mountains than at any time over the last 200 years. The return of this majestic species to its native Southern Appalachian habitat is nothing short of triumphant. It is a wildlife success story, and one that is still being written today. It's a story with deep roots in North Carolina, trailing out over decades, involving private citizens and public agencies, scientists and activists. It all began in 2001 and 2002, when 52 elk were brought to North Carolina from Land Between the Lakes National Recreation Area in western Kentucky and Elk Island National Park in Alberta, Canada.
Those animals were released into Cataloochee Valley located within the western boundary of Great Smoky Mountains National Park. Biologists with the National Park Service (NPS) equipped all the elk with radio collars to collect as much data as possible about these new
residents. The initial proposal was classified as an experimental release with a goal to evaluate how, and if, elk could make it in this region. Years were spent documenting elk movements, survival rates, calf production, and evaluating habitat use. Flash forward now to 2017 and the answer to that initial question is a resounding YES. And elk can not only survive, but flourish, in the mountains of western North Carolina.
Most elk seem to travel relatively little if their biological and social needs are satisfied. However, a few individuals have traveled up to 45 miles from Cataloochee either looking for other elk or exploring new territories. Since 2001, elk have expanded their range from Cataloochee Valley to now include smaller resident herds in and around the areas of Cherokee, Balsam Mountain, Maggie Valley, and Waynesville. Calf production now occurs in all those areas, which has bolstered geographic expansion and population growth for North Carolina's herd. Current goals vary between managing agencies, which have increased in number as elk have become established outside of the national park. Collectively, elk are cooperatively managed by the NPS, N.C. Wildlife Resources Commission, and Eastern Band of the Cherokee Indians. Cooperative monitoring continues among respective herds using radio collars, GPS, and even DNA technology.
To date, 16 years of data show that elk have adapted very well to these mountains. So much so, in fact, that in February of 2016 the Wildlife Commission approved a proposal to establish the framework for a permitted hunting season for elk. That action, in conjunction with removal of elk from the state list of special concern species, is a testament to the health of this growing herd. Two critical components to this success has been the ability of elk to successfully locate and take advantage of quality forage habitat, while generally avoiding areas of high human density. Those behaviors have played a major role in meeting recovery goals for positive population growth, while minimizing potential for human-related conflicts. Managing agencies are beginning a cooperative research project to estimate population size for the elk herd in western NC. When completed, those research efforts will help to guide management efforts for years to come.
North Carolina is blessed with a significant opportunity to restore the impressive elk to the mega-fauna of western North Carolina that will give us and generations to come the chance to see and hear these magnificent animals in their natural habitat. We must all commit to ensuring that this opportunity is realized.
Keeping Up with the Wapiti
Bringing back the elk was hardly easy, from either a biological or political perspective. Initially, state veterinarians in North Carolina and Tennessee were resistant to the idea. Gov. James Hunt set a goal of having the animals reintroduced before he left office in early January of 2001. He persuaded N.C. Commissioner of Agriculture Jim Graham to allow the reintroduction to go through. While Hunt couldn't make his initial deadline, elk were released in Cataloochee Valley just two days after he left office—a victory nonetheless.
After introducing elk back into their ancestral range on the Great Smoky Mountains National Park in 2001, the Park Service declared the stocking a success and turned over management of all elk residing off the Park's boundary to the Wildlife Resources Commission in 2008. The estimated number of elk outside the Park boundary was estimated at about 80 animals. Elk are wanderers and somewhat migratory, moving with the influence of season and food supply. Elk are opportunist grazers, as well, consuming a wide variety of vegetation including pasture grasses, hay, crops, and ornamental plants. That puts them in potential conflict with many of the land uses in western North Carolina.
To develop a management plan consistent with the capabilities of the available habitat and the interests of the local people, the Wildlife Commission undertook an extensive study of the elk, its positive contributions, and its problem behaviors. These are some of the findings.
The presence of elk has a significant positive impact on the economy of North Carolina that is driven by additional tourism spending by visitors coming to see the animals. Estimated increases in wildlife-viewing tourism, however, have the potential to add substantially to economic activity in North Carolina, including statewide increases in output, employment, and labor incomes. The additional jobs created ranged from 82 to 409 based on the low and high scenarios for visitation. Statewide economic output is estimated to increase by approximately $9.6 to $48.1 million per year, depending on the scenario considered.

In virtually all scenarios and all study areas, benefits of the elk herd are estimated to exceed the costs of the elk herd throughout the 25-year study period. Benefits are projected to be experienced by a relatively large number of individuals; costs, however, are higher on a per-incident basis and are incurred by a relatively small number of individuals, who have farms located near areas that elk favor or drivers who have a collision with an elk. The greatest cost factors are vehicle collisions and fence damage.

A Human Dimension Survey found that the majority of landowners in western North Carolina support wild, free-ranging elk. However, support for elk within 5 miles of their property diminished with landowners who owned greater than 15 acres in areas where elk were more highly populated. Small landowners generally supported the elk introduction citing opportunities to view the elk and returning the animals to their ancestral home.

Population growth models yielded information about the feasibility of special permit hunting. The result was that hunting would depress the growth of elk populations and would not add significantly to the economic benefits of introduction. Hunting is not generally considered until the core population reaches 200.

WRC discovered a strong tendency on the part of some landowners to destroy marauding elk under the depredation laws that allow such action when wildlife is encountered in the act of destroying private property. To discourage that practice and to document its extent, a Rule was passed to require persons killing an elk with or without a depredation permit to report the occurrence to WRC within 24 hours.
An Eye Full of Elk
When readers imagine the sound of a breeding elk bugle cutting through the fall air, or picture the sight of two mature bulls battling for dominance, most envision a backdrop reminiscent of the western Rocky Mountains. Most outdoor enthusiasts have little idea just how visible elk are in the Great Smoky Mountains National Park. If you have even the slightest interest in seeing wild elk, the Smokies is the place to be to witness this wildlife success story. Not only are elk visible throughout the year, but the Park offers what might be the most consistent and accessible opportunity to see elk throughout their entire Southern Appalachian range. There are two primary locations where visitors can view elk on an almost daily basis. The first is the original release site at Cataloochee Valley in the southeast portion of the Park. The most direct route is by taking exit 20 from Interstate 40, then travelling 0.2 mile to Cove Creek Road on the right. Follow Cove Creek Road for approximately 11 miles into the Park, and this will lead you directly into Cataloochee Valley.
The second highly recommended location is the area surrounding the Oconaluftee Visitor Center in the Park. This location can be easily reached from Cherokee by travelling north on U.S. 441 for approximately 3 miles. When you reach the fields along the right, you are in elk country, so keep your eyes open!
Throughout the year, the best times to view elk are in the early morning and late evening. While elk are readily visible in the national park, remember that these are wild animals and behaviors can be unpredictable. Use binoculars for an up-close experience, and never approach elk in the fields. Doing so could ruin the experience for other viewers, while putting you in danger. If you're looking for a truly memorable experience, make certain to plan an elk viewing trip during September when bugling and rutting activity is at its peak. It is nothing short of unforgettable.
Careful Crossings
With the success of the elk re-introduction program in Great Smoky Mountains National Park, the issues of wildlife corridors and habitat fragmentation are real and present. Providing safe passage for elk and ensuring sufficient habitat en route is the key to a new collaborative. The immediate goal of this project is to use GPS-collared elk to help identify key places along major roads adjacent to GSMNP that could be targeted for wildlife road crossing structures (or other mitigation activities). Such structures could significantly reduce the risk of dangerous and costly elk-vehicle collisions, and could greatly improve the degree of connectivity for elk living inside and outside of the national park, in addition to likely benefits for many other species that would use the crossings.
Imagine you're zooming down Interstate 40 west of Asheville, and as you start your descent down the steep and narrow Pigeon River gorge on your way to the Tennessee line, suddenly a 1,000-pound bull elk steps onto the highway in front of your car! It's not a pretty picture—collisions between elk and vehicles rarely end well for either party. With the elk population continuing to grow in western North Carolina, this could become an issue for public safety and wildlife conservation.
Fortunately, there are proven solutions for helping wildlife cross highways safely. The North Carolina Wildlife Federation, Wildlands Network, National Parks Conservation Association, the National Park Service, and the N.C. Wildlife Resources Commission are all working together in the early stages of a project designed to find the best ways to help elk get across major roads near the Great Smoky Mountains National Park.
One of the best techniques available for reducing wildlife-vehicle crashes is to install special bridges and overpasses. Many Americans have seen pictures of such structures from Banff National Park in Canada, and from various European countries as well, where the idea has really caught on. But wildlife crossings are also increasingly popular in the United States, particularly in the West where they have been shown to be highly successful in helping elk, mule deer, and pronghorn cross roads without getting hit. Here in North Carolina, there are a set of three prominent wildlife crossings along U.S. 64 on the way to the Outer Banks, and more than 30 crossing structures are due to be installed on that highway if the widening project from Columbia to Manteo eventually proceeds.
Back in the mountains, it seems like a no-brainer that we should think about installing wildlife crossings along I-40 as it wraps between the national park and the national forests.
There have also been several recent elk-vehicle collisions on U.S. 19 as it passes through Maggie Valley, so that highway is also of concern. But the question is where exactly to put the underpass or overpasses to have the maximum benefit for wildlife?
That's where the collaborative project comes in. We're working on a team effort to install GPS collars on a set of elk in and around the national park, to try to pinpoint where the animals are crossing or attempting to cross major roads. Two elk were recently collared in September, and another 11 collars are set to be deployed later this year. (Want to sponsor an additional collar for $3,000? Ask how at [email protected].) We hope the resulting data will be very informative as we seek to identify the key pathways for elk as these magnificent animals leave the national park and migrate to surrounding habitats across the North Carolina mountains.
Silver Linings
Since 2001, a small but growing population of elk has lived in Great Smoky Mountains National Park. As the number of elk increases, so does the need to ensure adequate habitat for these large animals to roam and thrive in western North Carolina.
In 2014, the N.C. Wildlife Resources Commission identified lands adjacent to the Great Smoky Mountains National Park and Blue Ridge Parkway in Maggie Valley that could provide habitat for elk and other wildlife species. With the WRC's priorities in mind, The Conservation Fund, a national non-profit conservation organization, got to work, along with its partners the North Carolina Wildlife Federation and the Rocky Mountain Elk Foundation (RMEF).
Together with local partner the Maggie Valley Sanitary District (MVSD)—winner of the 2016 Municipal Conservationist of the Year Governor's Conservation Achievement Award—The Conservation Fund engaged local conservation-minded landowners.
Since water security and wildlife habitat protection are compatible goals, the Fund and MVSD have teamed up to protect Maggie Valley's drinking water supplies in Jonathan Creek and Campbell Creek. In September 2014, the Fund acquired 561 acres valued at almost $2,700,000 on Sheepback Mountain. In 2015, the Fund conveyed the property to WRC with the support of grants from the Clean Water Management Trust Fund (CWMTF), Fred and Alice Stanback, Duke Energy Water Resources Fund, the Pigeon River Fund, and the Pittman-Robertson Fund.
The Fund acquired an additional 1,364 acres in 2015 and 2016, valued at almost $6,700,000 from the descendants of William Harvey Silver, including Thornton Hawkins, Sharon and Lynn Smith, and Robert Williams, Sr., and from local businessman Sammy Carver. These properties help protect Mashie Stomp Creek, Rough Ridge, Deep Gap Branch, Chestnut Ridge, and Indian Creek. With the transfer of these land to WRC—with the support of the CWMTF, Fred and Alice Stanback, Brad and Shelli Stanback, RMEF, Pigeon River Fund, and WRC funds—the William H. Silver Game Land was established.
Ongoing efforts to expand the new game land continue throughout 2017. In addition, the MVSD and the Fund have protected about 1,250 acres in the Jonathan and Campbell Creek watersheds across the valley from the William H. Silver Game Land that also provide additional habitat for the North Carolina elk to flourish. Partnerships are key to ensuring a healthy future for both wildlife and communities in western North Carolina.