Conserving Land Can Be a Profound Experience – Dave Cable, NCWF Charlie Shaw Society Donor and Board Member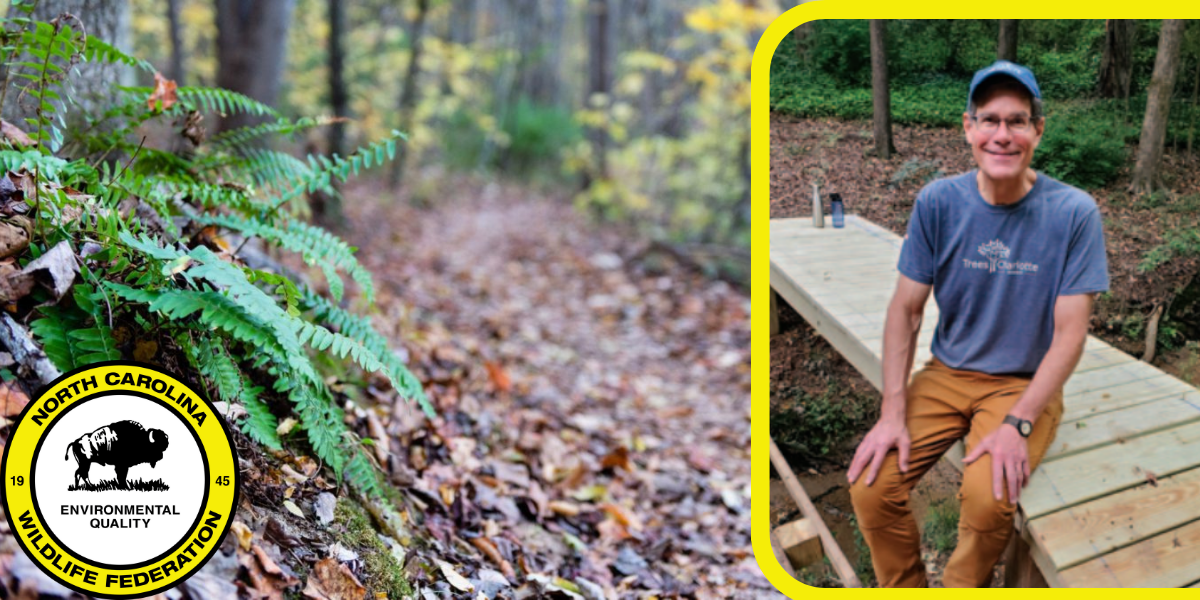 Is it surprising when your childhood serves as a compass for the direction you will go in life? Dave Cable, Davidson Lands Conservancy executive director and NCWF Charlie Shaw Society donor and board member, always felt a strong connection to the land, but he was surprised at how affirming it was to find a paper he wrote in 8th grade about farmland near his home and his idea to turn it into a park. The path to becoming a stalwart advocate for conservation wasn't always noticeably marked, however.
With two degrees –a BA in Geology and Environmental Studies from Bowdoin College, and an MS in Natural Resources from the University of Vermont–Dave worked for a bit with the state of Vermont on water resources and then "wandered into real estate," specializing in conservation land. About 25 years ago, Dave moved to Charlotte with his family to be closer to his aging mother following his father's death. He ended up working in capital markets for banks and loved the intellectual part of it but felt it wasn't really for him. In 2004, he took a leadership position with the Catawba Lands Conservancy and helped launch the Carolina Thread Trail in 2007. He quickly got interested in urban forestry and was presented with the opportunity to kick start and lead TreesCharlotte in 2011. "I agonized over leaving the Conservancy," he said, "but felt it was time."
Dave is grateful for the relationships and things he learned in the banking industry, and it solidified that conservation was more his calling. Dave recalled an influential geology professor who expanded the notion that 4.5 billion years since earth's beginning, man has managed to destroy much of its biodiversity and creation, in the blink of an eye. This inspires him to make a difference.
Seeing the impact of restoration efforts becomes a spiritual experience for Dave. "I'm not a religious guy but I am spiritual," he says, "and I get a great sense of community and place at my core given the permanence and impact of our work; it is profoundly aligning. I will keep doing this for as long as I can."
Dave is concerned about the impacts of a growing population and the risk we run of "trampling over everything." There needs to be more emphasis on the importance of taking the long view of our natural lands and of sustainability." Dave believes growth and climate change will put increasing demands on NCWF and is one reason why he strengthened his investment by joining the Charlie Shaw Society in 2019, after 20 years supporting the organization.
"NCWF's statewide footprint, the talent of the NCWF team, and its policy focus loyal to science, makes NCWF one of the best investments to address biodiversity loss and impacts of climate change in North Carolina," he says.
Dave knows the value of protecting, conserving, and restoring habitat for wildlife and people alike. It means improved water quality in our rivers, lakes, and streams and cleaner air to breathe and soil for growing food. This work happens most effectively at the federal and state legislation levels as well as on-the-ground, in community.
Dave's advice to others who want to make a difference is to "identify organizations that will give you the greatest return on investment locally. It is great to save the Amazon but for someone interested in making a real difference close to home, we have high impact groups in North Carolina, including NCWF." He also stresses the importance of getting out in the field to "study the magical and specialized relationships within nature. Walk on conserved land and really understand what it means to conserve property or restore habitat."
Biodiversity loss and climate change are two of the most pressing problems of our time and to address them effectively, Dave would like to see a greater unleashing of capital for conservation both privately and publicly and "that we drive toward a cultural shift to looking at our habitats and natural lands with a longer-term lens."
You can join Dave and other NCWF donors in the Shaw Society by donating $1,000 or more in a calendar year. Some people prefer to give a single gift in a year, others like to give monthly, and some give through stock, their IRA, donor advised fund, or estate plan.
To learn about all the ways you can join the Shaw Society and support wildlife and habitat in North Carolina today and for future generations, contact NCWF VP of Philanthropy Kate Greiner at [email protected].