A Community of Conservation: The Story of One Family's Deer Donation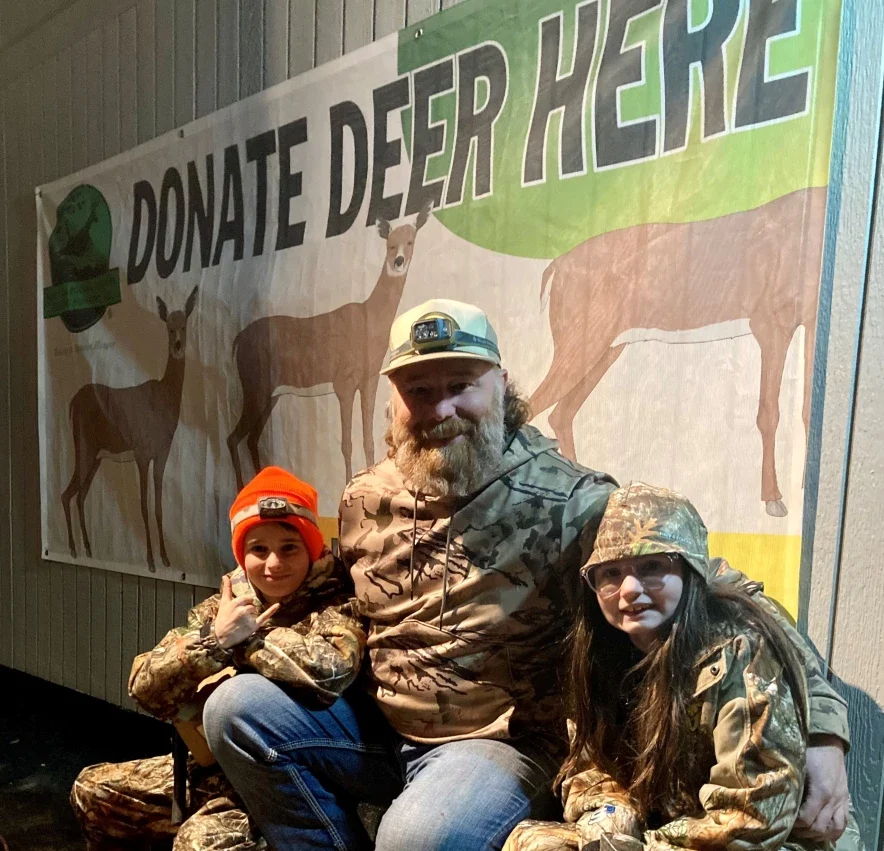 A true sign of a thriving community is the effort taken by those within it to bring about positive change in their sphere of influence. This is no less true for the vibrant community around conservation and outdoor engagement. 
A fantastic example of this virtue comes from the intersection between an NCWF community chapter, a charitable program, and a father and his children who put their convictions to work for the betterment of conservation values, wildlife, and those in need in their own neighborhood.
NCWF's Deer Donation Program brings together landowners, sportsmen, sportswomen, and community groups to sustainably manage white-tailed deer, reduce deer damage to crops, and provide hunter-harvested venison to local food pantries and shelters. Though the program operates state-wide, the South Wake Conservationists' (SWC) Harnett Area Deer Donation site recently saw a beautiful contribution on behalf of the Dalessio family. 
An avid hunter, Joey Dalessio has long been interested in introducing his children to responsible hunting. This past deer hunting season, he took his son and daughter on what would be his daughter's first-ever hunting trip.
"Our daughter came to us at the last minute while we were headed out of the door and said, 'Daddy, can I go hunting with you and Luca? I've thought a lot about it and I understand that hunting is more than just killing animals now.' I was shocked!" Says Dalessio, "On the drive out there I was thinking of a way to make this first hunt for her a special one. So, I explained the deer donation program and how it helped feed people within our community, and her eyes lit up!"
Fortunately, the Dalessio's hunt was a successful one by anyone's standards. Together, the Dalessio family harvested two deer and, while most people would rejoice at the accomplishment of obtaining high-quality meat to enjoy throughout the year, the Dalessio family ultimately chose to donate the venison to those in need in Harnett County.
SWC Harnett Area Deer Donation site managers Guy and Judy Gardner say that the deer donation program and donations like the one provided by the Dalessio family accomplish many things: an opportunity for service to the community, the chance to confront local food insecurity, a strong reinforcement of conservation values, and a source for research opportunities in the larger NC community.
"Local families in need are so grateful to receive this high-quality protein, which is widely enjoyed by patrons, many of whom had never tried wild meats before. As a healthy food option, venison is lower in fat and cholesterol, and higher in protein, and iron than beef," says Guy and Judy. "Additionally, as an official NC Wildlife Resources Commission Chronic Wasting Disease sample collection site, the SWC donation site serves not only to support herd health monitoring but also supports deer managers from 14 counties by collecting jawbones for aging and – when possible – deer heads are donated to University of North Carolina medical school for use in training medical students how to perform tracheotomies."
The Dalessios and their contribution are a huge part of an even greater conservation community endeavor. They are members of the Adams Road Hunting Club, a local hunting group who are enthusiastic participants in the Deer Donation Program. Together, these hunters donated enough meat in 2022 to serve more than 2,240 meals. Their participation not only lent the opportunity to get their families involved but was made in support of a deer harvest plan that they developed on their own, aimed at improving the health of the local deer herd. 
"Hunting lets us instill core values within our children of gratitude, mindfulness, and thankfulness to the Lord." Says Dalessio, "Coupling these opportunities with the ability to donate to the local deer donation program brings it full circle, as you get to demonstrate selfless service in assisting in providing food for folks in need. Building a stronger community is very important to us!"
The Gardners say this program is supported by the network of meat processors developed by the NC Hunters for the Hungry, an all-volunteer nonprofit whose mission is to establish a network of participating processors and raise the funds necessary to reimburse meat processors for their services.
This important community outreach could not be accomplished by any one organization or service group. Local businesses, countless individuals, municipal utility companies and townships come together each year to provide the financial support that SWC needs to both operate their donation site and cover all meat processing costs. 
"This donation serves as a wonderful example of people instilling values in their children that will last a lifetime:  valuing the natural environment, getting outdoors, ensuring sustainable wildlife populations, and helping families that don't have enough to eat," says SWC president Monty Morée. "Guy and Judy Gardner have done a wonderful job managing the SWC Deer Program in all respects, including promotion, fundraising, offering a variety of educational events, participation in disease research programs, and the hard work of accepting donated deer at the SWC donation site and preparing the deer for the processor.  We are proud to have this important program as part of our portfolio of South Wake Conservationists initiatives."
All venison donated and processed through the SWC Harnett Area Deer Donation site in 2022 was given to both the Harnett Food Pantry, serving needy families in Harnett County; and the Holly Springs Food Cupboard, serving needy families in the town of Holly Springs.