Durham Commits to Mayor's Monarch Pledge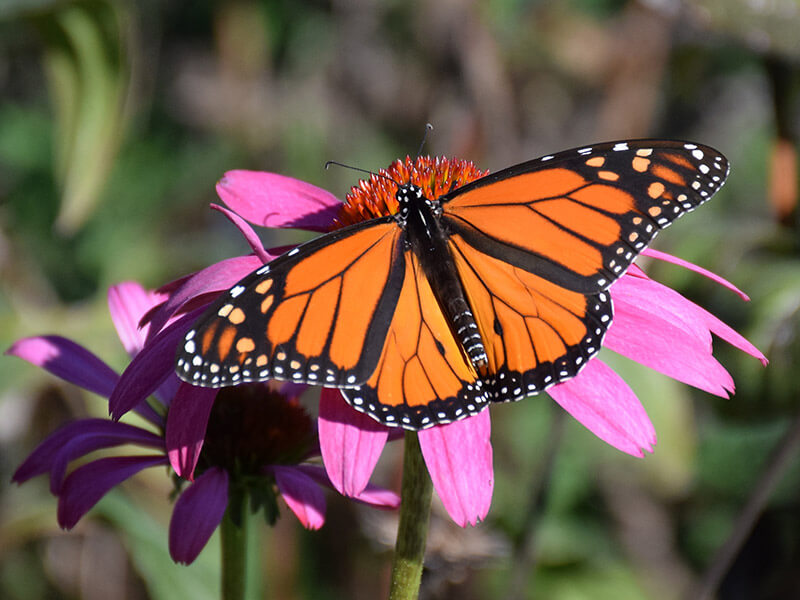 Durham Mayor Steve Schewel and the Bull City Trailblazers – a chapter of North Carolina Wildlife Federation – have signed the National Wildlife Federation's Mayors' Monarch Pledge, committing to take action to help save the declining monarch butterfly and other pollinators. Durham is now part of an expanding North American network of cities working to create habitat in public parks, public landscaping, vacant lots, roadsides, medians, green roofs, backyard gardens and open spaces throughout the entire community.
Mayor Schewel issued a proclamation committing to the project during the June 21 Durham City Council meeting. The pledge, which was accepted by Bull City Trailblazers, prioritizes conservation and education activities, with a specific focus on community and underserved residents.
Found across the United States, monarch butterflies numbered around 1 billion in 1996. Today, their numbers have declined significantly as a result of numerous threats, particularly the loss of habitat due to cropland conversion, urban development, and agricultural practices. Degradation of wintering habitat in Mexico and California has also had a negative impact on the species.
The Mayors' Monarch Pledge empowers cities and municipalities to commit to creating habitats and educating residents on how to make a difference at home or in their community.
Mayors who take the pledge commit to at least three of 30 action items to help save the monarch butterfly. These actions include creating a monarch-friendly garden at city hall, converting abandoned lots to monarch habitat, changing mowing schedules to allow milkweed to grow unimpeded, and 27 other possible actions.
"We are excited to be working with the various teams, departments and partners like the Bull City Trailblazers who are committed to keeping Durham a beautiful and thriving city," Mayor Schewel said. 
Durham's pledge for 2021 includes the following 3 goals:
Create a community-driven educational conservation strategy that focuses on and benefits local, underserved residents.
Earn or maintain recognition for being a wildlife-friendly city by participating in other wildlife and habitat conservation efforts (i.e., National Wildlife Federation's Community Wildlife Habitat program)
Host or support a monarch neighborhood challenge to engage neighborhoods and homeowners' associations within the community to increase awareness, support community unity around a common mission, and/or create habitat for the monarch butterfly.
Through the National Wildlife Federation's Community Wildlife Programs, cities, counties and towns across the United States are helping local wildlife by restoring and reconnecting habitat in urban and suburban areas while reconnecting people with nature. Durham is joined in the pledge by the neighboring cities and towns of Raleigh, Cary, Carrboro, Chapel Hill, Apex and Morrisville.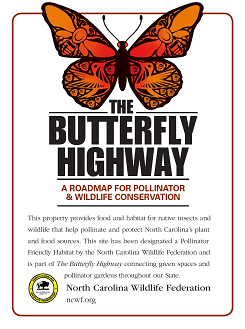 The North Carolina Wildlife Federation gives North Carolinians a chance to support native plants and pollinators in both urban and rural communities through the Butterfly Highway initiative. By planting native plants, pollinators are given a fighting chance against urbanization and habitat loss.
"The Bull City Trailblazers are one of the North Carolina Wildlife Federation's newest chapters, but they have already performed so many fantastic conservation-oriented events for the Durham community, including reaching out to the mayor to sign the Mayors' Monarch Pledge. Durham's dedication to creating and restoring habitat is apparent and inspiring," said Madison Ohmen, NCWF's Conservation Coordinator.
One of 19 chapters of the North Carolina Wildlife Federation, the chapter is focused on partnering with the city to clean its green spaces, hike its trails and build butterfly gardens to increase "Pollinator Pitstops" along the Butterfly Highway. The chapter conducts activities in 3 underserved communities, including public parks and schools, with the intent of engaging and amplifying diversity and equity in conservation. Updates from the chapter can be found on Facebook, Instagram and at bullcitytrailblazers.org.
North Carolina Wildlife Federation's community wildlife chapters are community-based organizations that together form a cohesive, statewide network of wildlife enthusiasts working for wildlife and habitat conservation.
These chapters are each uniquely designed to empower local wildlife enthusiasts – including conservationists, anglers, backpackers, birders, hunters, gardeners and hikers – to have a direct and effective impact on the conservation of wildlife in their local communities and across the state. Chapters host online and in-person nature programs, along with wildlife and habitat projects that positively impact communities.
This blog is based on an original article published by National Wildlife Federation.