Bull City Trailblazers Chapter President Naadii Salaam Earns Golden Trash Grabber Award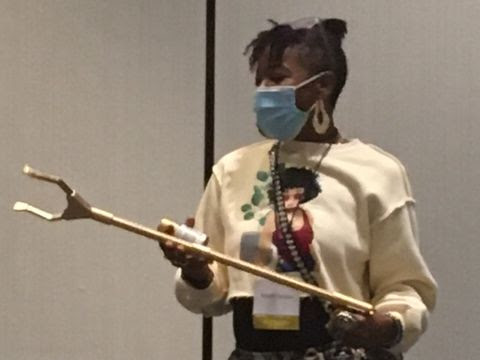 On any given day, you'll find Bull City Trailblazers President Naadii Salaam walking around her Durham neighborhood, picking up trash at nearby schools, parks and trails. When neighbors ask her who she works for, Salaam reminds them, "this is everyone's job."
During North Carolina Wildlife Federation's Neighborhood Cleanup Challenge held May 8-16, Salaam ramped up her cleanup game by collecting more than 600 pounds of trash – the most statewide.
For every 25 pounds of trash collected, NCWF will plant one native tree or 10 pollinator plants through our Clean & Green habitat restoration work. Thanks to Salaam's efforts alone, we'll plant 24 trees or 240 pollinator plants.
A longtime member of the Durham community, it's Salaam's leadership and wildlife and habitat advocacy that sparked other passionate residents to come together in 2020 to form the Bull City Trailblazers chapter. 
NCWF presented Salaam with the 2021 Golden Trash Grabber Award on Sept. 11 during the Community Wildlife Chapter caucus held the morning of our 57th Annual Governor's Conservation Achievement Awards banquet. 
"My goal was never the individual accolade, but rather to put the Bull City on the map as a place that cares about keeping its streets and natural spaces free from litter," she said.
Tips for trash cleanup and collection
Plastic, a non-biodegradable material, makes up more than 90 percent of trash. Debris that accumulates on roadsides attracts wildlife, which leads to increased wildlife injuries or death by passing vehicles. Preventing litter from entering our environment combats pollution in urban and natural areas and protects wildlife that may accidentally ingest or get entangled in the trash.
Even though the Neighborhood Cleanup Challenge is over, Salaam's wildlife and habitat restoration efforts continue. She uses the Durham one-call app to report trash accumulations on the side of the road. Salaam also offers the following equipment recommendations to help others keep their communities litter-free. 
Visit our Clean & Green Habitat Restoration pages to learn more about how you can help make a difference for North Carolina's wild lives and wild places.