Wild Wonders Captured in NCWF's 4th Annual Wildlife Photo Contest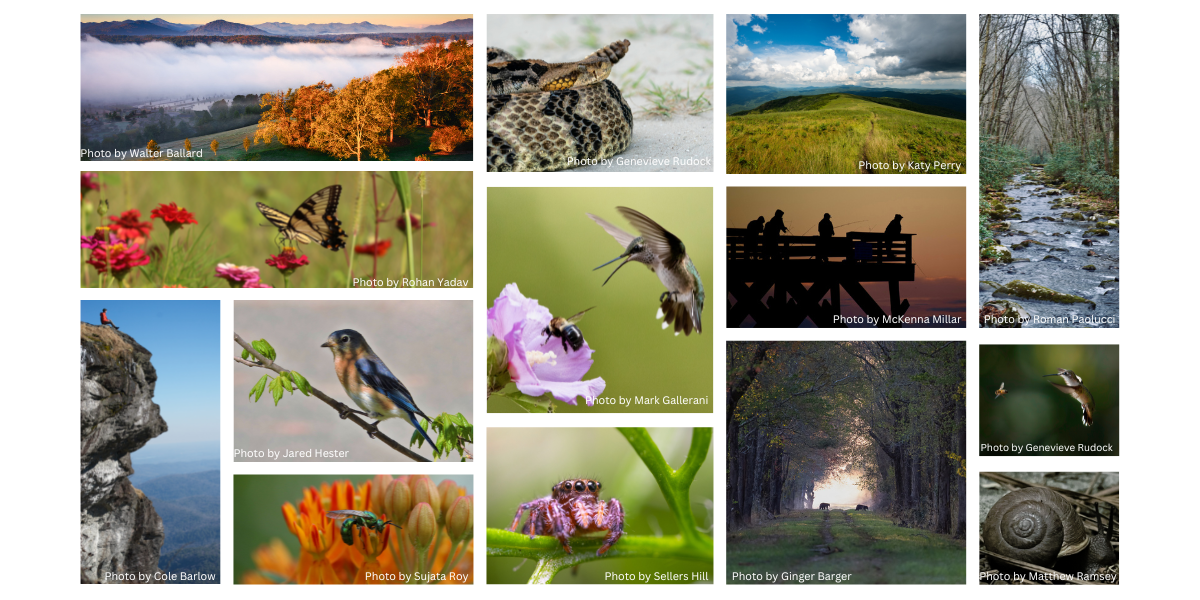 4th Annual Wildlife Photo Contest
Hummingbird and insect face-offs. Anglers casting fishing lines off the coast. A pair of black bears surrounded by sunrise mist. Shutterbugs perfectly captured the beauty and diversity of our state's natural resources for North Carolina Wildlife Federation's 4th Annual Wildlife Photography Contest. 
We received more than 1,000 submissions from professional, amateur and youth photographers highlighting North Carolina's nature, wildlife and recreational opportunities – from the coast to the mountains. Categories included Carolina Critters, People in Nature, Scenes of North Carolina and Pollinators & Insects.
"The photo contest judges were blown away by all of the incredible entries we received this year that depict our state's beautiful natural resources and how we enjoy them," said Tara Moore, director of conservation partnerships. "Thank you so much to the photographers across the state who beautifully captured and documented North Carolina's bountiful natural resources and helped raise more than $2,700 to support wildlife habitat conservation and restoration in our state." 
Winning contest photos and runners-up will be featured on the Federation's website, social media accounts, monthly Wildlife Wire newsletter, weekly Butterfly Highway newsletter and quarterly Wild Lives, Wild Places Journal.
Contest Winners for 2022
Critters Amateur: Sellers Hill (Wilmington)

Critters Professional: Genevieve Rudock (Bostic)

Critters Youth: Matthew Ramsey (Chapel Hill)

People Amateur: Cole Barlow (Elizabeth City)

People Youth: McKenna Millar (Hampstead)

Pollinators Amateur: Mark Gallerani (Greensboro)

Pollinators Professional: Genevieve Rudock (Bostic)

Pollinators Youth: Rohan Yadav (Morrisville)

Scenes Amateur: Ginger Barger (High Point)

Scenes Professional: Katy Perry (Troutman)

Scenes Youth: Roman Paolucci (Winston Salem)

Honorable Mention:

Jared Hester (Greensboro)

Honorable Mention: Walter Ballard (Cary)

Honorable Mention: Sujata Roy (Morrisville)

People's Choice: Nancy Cozart (Stanley)
Winning & Honorable Mention Images, Photographer Comments