Pioneering Third-Graders Help Save Monarchs, One Letter at a Time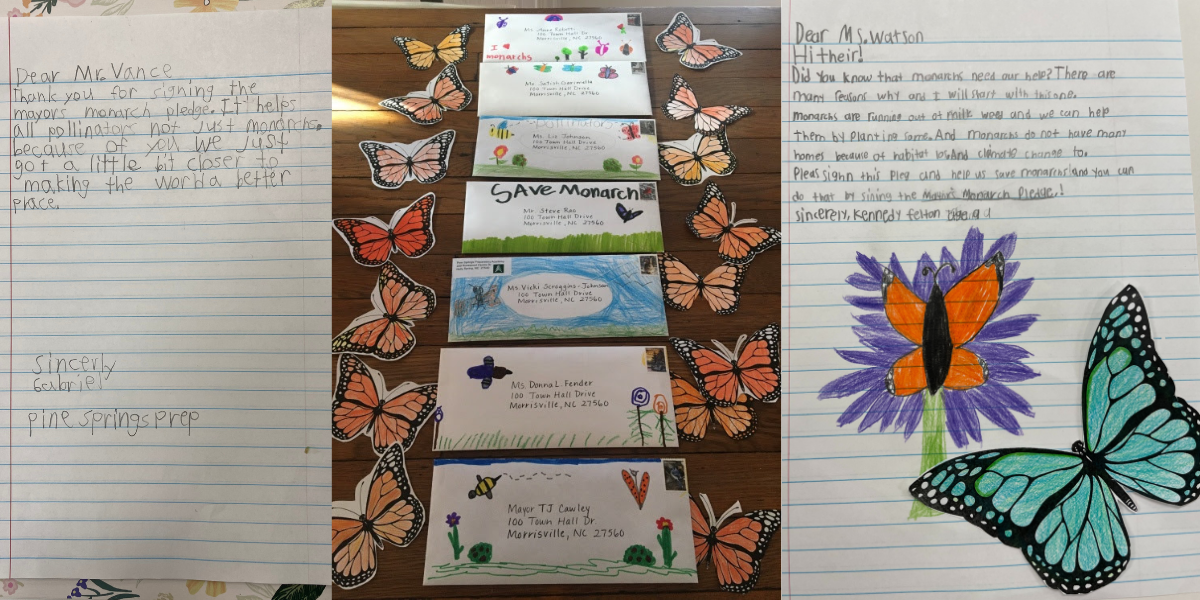 Sending letters to save monarchs
Wake County is now one of the most monarch-friendly counties in the country, thanks to a letter-writing campaign by pioneering third-graders from Pine Springs Preparatory Academy in Holly Springs.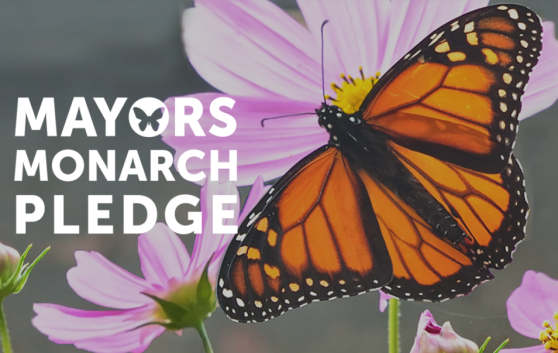 Through the National Wildlife Federation's Mayors' Monarch Pledge, every town and city in Wake County has committed to helping save the iconic monarch butterfly, whose eastern populations have declined by 90% in recent years. The program helps create and protect habitat for monarchs within local communities while also promoting awareness of declining pollinator populations.
A letter-writing campaign by 125 "world changer" students in Katie Thompson's Global Education class inspired local leaders to become stewards of monarch butterflies and pollinators and commit to their conservation. All Wake County cities and towns have signed the Mayor's Monarch Pledge at least once in the last five years.
"Kids rule! It is a great example of how the next generation can be a powerful force for positive change," said Monty Moree, president of South Wake Conservationists, an NC Wildlife Federation community wildlife chapter. "Thanks to their intensive letter-writing campaign, Wake County will be a better place for wildlife and habitat for many generations to come."
By signing the pledge, city leaders agree to implement action items such as encouraging residents to plant monarch gardens at home or in their neighborhood, creating educational conservation initiatives to benefit under-represented communities, planting milkweed and pollinator-friendly native plants in medians and public rights-of-way, and removing invasive species. 
North Carolina cities and towns that have taken the pledge include Montreat, Concord, Chapel Hill, Apex, Carrboro, Morrisville, Garner, Selma, Gastonia, Hendersonville, Wendell, Greensboro, Asheville, Wake Forest, Zebulon, Fuquay-Varina, Rolesville and Knightdale.
Inspiring young students to make a difference 
Global Education is an active and creative learning process based on the universal values of tolerance, solidarity, equality, justice, inclusion, cooperation and non-violence. Student "pioneers" explore environmental science, international demographics and geography, cultures, endangered species, financial literacy and critical thinking.
"Each grade level goes on a different adventure, where learning is fun, memorable and always informative," said Thompson, a South Wake Conservsationsist chapter member. "Through knowledge, compassion and action, students learn they can inspire change and make a difference in the world around them." 
One of the issues Thompson's students focused on this year is Pollinators in Peril, making the Mayors' Monarch Pledge a perfect project for her third-grade classes. 
"When I told the students that we have the county covered and they are responsible for making it happen, they could not be more thrilled, and I could not be more proud," she said. "Because of these smart and compassionate Pioneers, Wake County is now one of the most monarch-friendly counties in the entire country. This is a fantastic win for monarchs and a wonderful thing to celebrate."
Learn more about monarchs and pollinators
Wildlife Species Spotlight: Monarch
Milkweed Plants & Monarch Butterflies: A Love Story
Native Pollinators of North Carolina (webinar)
Attracting Pollinators to Your Yard (webinar)