Blue Ridge Snorkel Trail: Experience the Underwater World of North Carolina's Mountain Rivers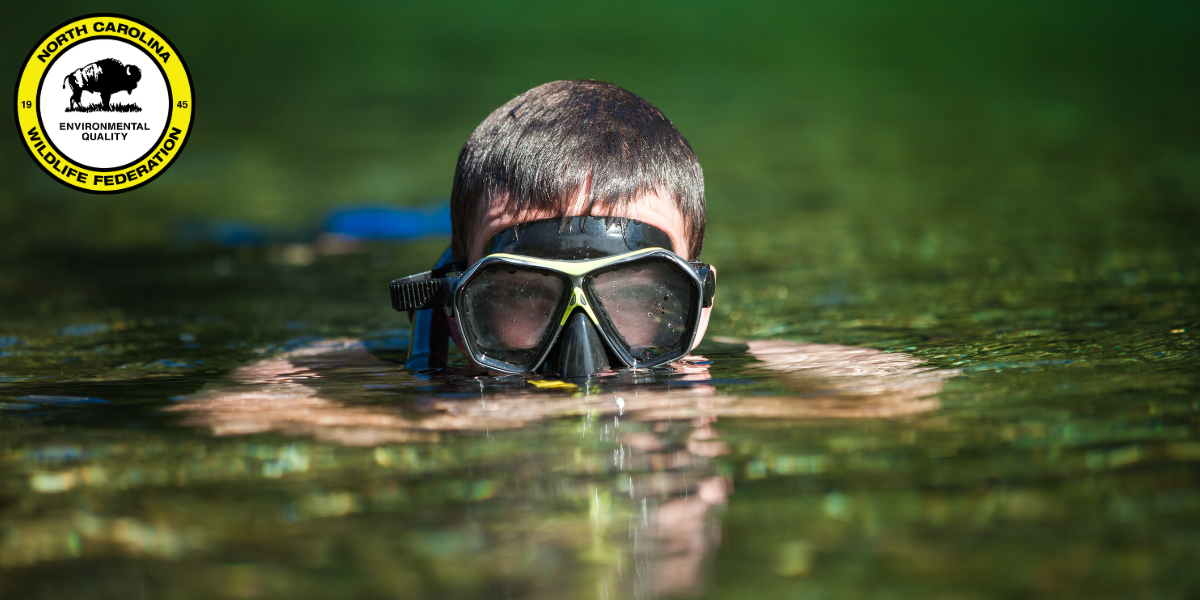 North Carolina offers a wide variety of opportunities to observe wildlife – whether you are taking a bird-watching walk in the mountains or a paddle trip on the coast. But what if you could go a little deeper, and get a glimpse below the surface into some of the most vibrant ecosystems in the state?
Well now, through a collaboration between North Carolina Wildlife Resource Commission (NCWRC), NCFishes, NCWF, The Glass Foundation, and more, you can do just that! The Blue Ridge Snorkel Trail offers a unique experience to strap on snorkel gear, hit the water, and experience the diverse underwater species that North Carolina rivers have to offer.
The Blue Ridge Snorkel Trail is a collection of curated snorkel sites throughout North Carolina's mountain rivers and provides a fun, educational outdoor adventure for wildlife enthusiasts of all ages. The best part – the Blue Ridge Snorkel Trail is free! All that is required is a snorkel and goggles and – in the case of Little Tennessee River – you do not even have to bring snorkeling gear!
Thanks to generous support from the American Fisheries Society and The Glass Foundation in collaboration with the Little Tennessee River Native Fish Conservation Partnership, 30 sets of snorkeling gear and associated cleaning materials are available for public use. Also included as part of The Glass Foundation's support is educational signage along the course of the trail informing visitors about wildlife found in the river and how to ensure a healthy habitat for their survival.
Some of the many species of NC wildlife you might see while snorkeling the Little Tennessee River include:
The Little Tennessee River Crayfish (Cambarus puncticambarus georgia):
The Little Tennessee River Crayfish is only found in North Carolina's Jackson, Swain, and Macon counties – as well as Rabun County, Georgia. It prefers slow-moving streams with high sediment and low competition from other crayfish species. It is an omnivorous species and eats a combination of underwater vegetation and some worms, larvae, and amphibian tadpoles.
River Otter (Lontra Canadensis)
You may even spot a river otter on your adventure to the Little Tennessee River! Due to heavy trapping and habitat degradation, they were largely wiped from the Little Tennessee River over the course of the 1800-1900s, but were reintroduced to the Little Tennessee River Basin in 1992.
They are nearsighted animals – most likely an adaptation to hunting in murky, low-lit underwater environments – and have long whiskers that help them navigate their surroundings. They mainly eat fish, crayfish, and amphibians and can live up to 15 years!
Brook Trout (Salvelinus fontinalis):
Brook trout are the only species of freshwater trout native to North Carolina. Though there are several strains within the brook trout species, they all boast a muted gray/green base color with an overlaid vibrant gold, white, and orange speckle design. They are a popular game fish species and a favorite among many fly fishermen. They mostly eat insects, both underwater and on the surface of streams.
You may also observe a collection of endangered or threatened species during your snorkeling adventure, including: 
Appalachian elktoe mussel
Littlewing pearlymussel 
Spotfin chub

 

Sicklefin redhorse
If you encounter these or any other wildlife species during your snorkeling adventure, the best thing you can do is leave them be. Some of these species are delicate and any human interaction might harm them or displace them from their natural habitat. Also remember that you are a visitor and to leave rocks and other natural features untouched. You may disturbed aquatic wildlife and accidentally harm them.
In addition to the Little Tennessee River, other Blue Ridge Snorkel Trail sites include:
Catawba River Basin

Joseph McDowell Historical Catawba Greenway, Town of Marion



French Broad River Basin

Canton Recreation Park Boat Ramp, Town of Canton, Haywood Waterways Association, Inc.

Mills River Park, Town of Mills River, Mills River Partnership

Black Mountain Veterans Park, Town of Black Mountain



Hiwassee River Basin

Valley River Heritage Park, Town of Andrews



Little Tennessee River Basin

Bryson City Island Park, Town of Bryson City

East LaPorte River Access Park, Jackson County

Joyce Kilmer Bridge Fishing Access, United States Forest Service

Queen Branch Nature Preserve, Mainspring Conservation Trust



Yadkin River Basin

Stone Mountain State Park, N.C. Division of Parks and Recreation
Sites generally open for snorkeling in early June and will stay open until August. Most sites will have a kick-off event that will take place during the summer, so keep up with a snorkel trail site near you so you don't miss it!