59th Annual Governor's Conservation Achievement Awards
September 9, 2023 @ 6:00 pm - 9:00 pm
The Governor's Conservation Achievement Awards honor individuals, associations, businesses and others who have exhibited an unwavering commitment to conservation in North Carolina.
By recognizing, publicizing and honoring these conservation leaders – from professionals and volunteers to young conservationists and lifelong conservation heroes – the North Carolina Wildlife Federation hopes to inspire all North Carolinians to take a more active role in protecting the natural resources of our state. The awards committee is composed of qualified and dedicated conservationists who review all nominations and select the winners.
When: Saturday, September 9, 2023 at 5:45 p.m.
Where: EMBASSY SUITES-RTP IN CARY, NC
Early bird rate per seat: $75 (ends August 1)
Regular rate per seat: $100
Reserve a Table for Eight: $1,000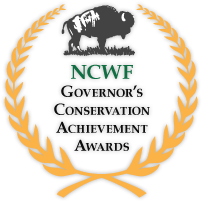 Cary, NC
United States


Organizer: NCWF

If you synced the NCWF Events Calendar with your calendar and the events are not appearing, please click the "Subscribe" button above to refresh the connection. We are happy to help with any technical issues by email at [email protected].