Standing Among Giants: A Journey Through the Black River's Ancient Bald Cypress Forest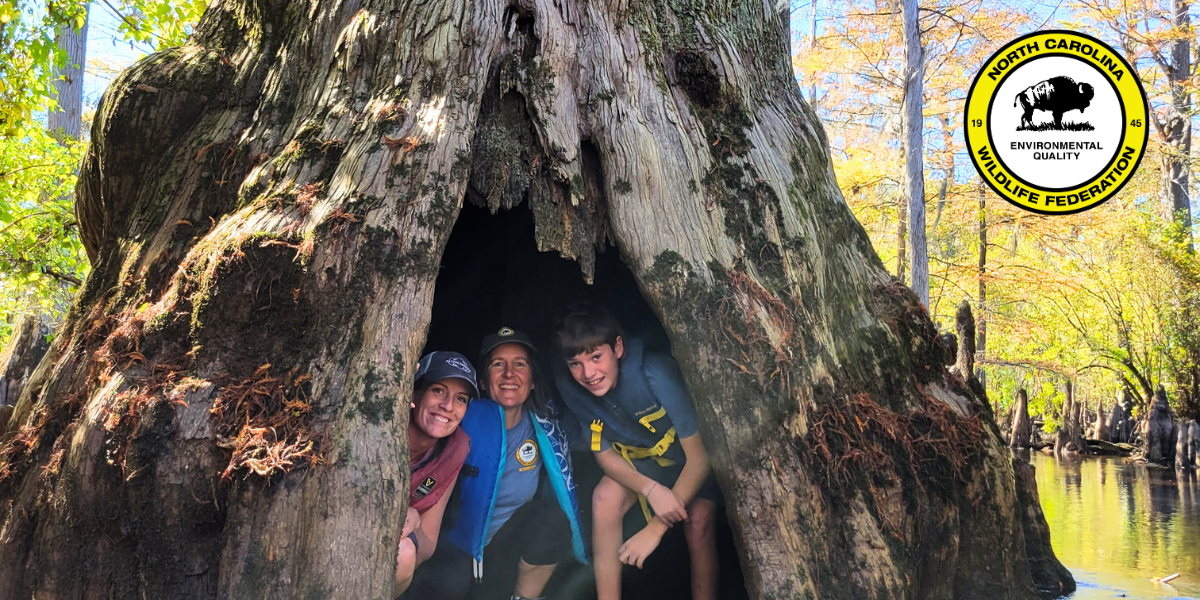 In the wake of large-scale urbanization, degradation, and fragmentation, wildlife and habitat in North Carolina are facing increasingly hostile conditions. These habitats – and the species within them – are often left to fend for themselves, struggling to adapt to conditions they never before experienced. 
Much of this hostility comes at the hands of human interference. Many do not even notice the impact that this interference has on wildlife and habitat, due to the distance many have from these natural spaces. And where there is distance from consequences, remediation of harm is unlikely to occur, and these species and spaces are left to struggle in isolation.
What would happen, though, if people took a minute to recognize and appreciate these spaces? To retreat from the urban sprawl of our day-to-day lives and witness the glory of nature? Would we be so quick to function as if those beings and places didn't matter? Would we be so quick to forget?
NCWF's For the Love of the Black River giving campaign, provided people the opportunity to examine the grandeur of a fragile natural habitat – one with extreme beauty and an incredible history.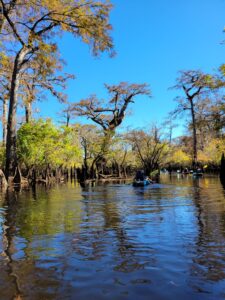 The Black River is located in southeastern North Carolina, and is a tributary of the Cape Fear River. Renowned for its remarkable diversity of wildlife species, the river's foremost distinction lies in its ancient bald cypress forest—an old-growth marvel that stands as its crowning glory.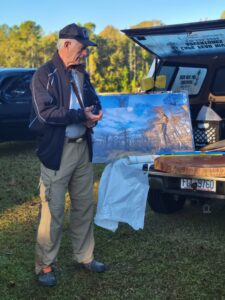 Like Dr. Seuss's The Lorax, Captain Charles Robbins of Cape Fear River Adventures "speaks for the trees". "I'm a swamp guy," says Capt. Robbins, which is probably the understatement of the year. As chairman of the board at the Ancient Bald Cypress Consortium, Captain Robbins has an intimate knowledge of the Black River and the wildlife species that call it home. In addition to leading people on educational, science-based adventures among the cypress trees, he has also contributed to the analysis of these trees for the past ten years benefiting the research of world-renowned scientist Dr. David W. Stahle at the University of Arkansas.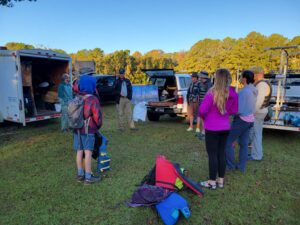 On October 21, 10 people gathered for a kayak trip down the Black River, facilitated by Captain Robbins. Participants on the trip were randomly selected as winners during the For the Love of the Black River giving campaign in February, 2023. If their gift to wildlife through the For the Love of the Black River campaign wasn't enough to demonstrate their enthusiasm for wildlife and habitat in North Carolina, they're collective excitement gathered on the banks of the Black River certainly was. Many may wonder why these people would give money, travel so far, and still maintain so much excitement, merely for the chance to see some trees. But, of course, these are not just "some trees", and their significance goes far beyond their aesthetic beauty.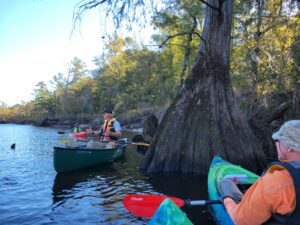 The Black River is home to some of the oldest known trees in eastern North America, some reaching the age of 2,500 years, having begun their growth as early as 605 BC. Captain Robbins was instrumental in the finding of these hidden trees, and is uniquely positioned to take people right to them – and to emphasize the critical ecological importance and position of these ancient species. As pictured here, Captain Robbins passes up no opportunity to speak for the trees, praise their stature, and emphasize their ecological importance in the ecosystem of the Black River – particularly for the wildlife within it.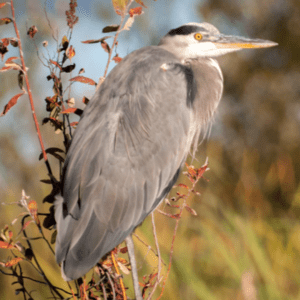 The ancient bald cypresses in and around the Black River are far from the only species that call it home. The Black River is a thriving ecosystem including species such as egrets, osprey, blue herons, crabs, fish, and alligators. Many of these species seek out these ancient bald cypresses for shelter, and have done so for the thousands of years that these trees have been here. As in any ecosystem, each species depends on one another in the delicate balance between wildlife and habitat.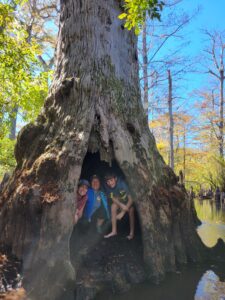 Captain Robbins says that standing among these trees is like "standing in a cathedral". This is all the more true when you consider that some of the trees that make up this cathedral have been here for centuries upon centuries. They were seasoned adults long before the founding of this country and have sheltered wildlife through times of flood and drought, through human globalization and even world wars. They were here over 2,000 years before urban development began in the natural spaces of our country. And yet, in just over two hundred years – a mere fraction of their lifetimes – they have witnessed the unprecedentedly rapid pace of large-scale urbanization, habitat fragmentation and degradation – including the chemical pollution of the air and water that these species depend upon. And yet they still remain, and play a crucial role in filtering out toxins that we introduce into their atmosphere.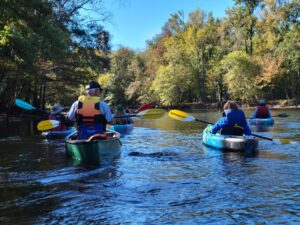 But trips like this provide a critical reminder that they do not have to remain alone. Moments like these, with a group of conservationists joining the ranks of ancient bald cypresses, remind us of what the fight for wildlife and habitat is all about – a community of life, with a united passion to be a voice for the voiceless. The trees themselves demonstrate the value and importance of working for good in these natural spaces; not only for ourselves, but for the greater ecosystem of which we are a part. Among such a community, it is impossible to miss that driving motivation behind protecting, conserving, and restoring wildlife and habitat. And it is hard to not feel a sense of strength when standing among giants.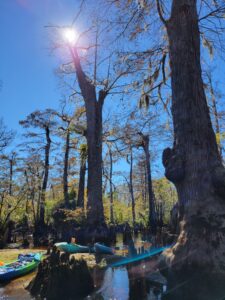 To support outdoor experiences like this and advocate for the conservation of land and water for wildlife in North Carolina, consider a donation to North Carolina Wildlife Federation, participate or volunteer in NCWF outings and restoration projects, and help spread the word. Thanks!
Written by: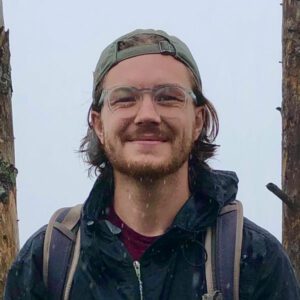 – Bates Whitaker, NCWF Communications & Marketing Manager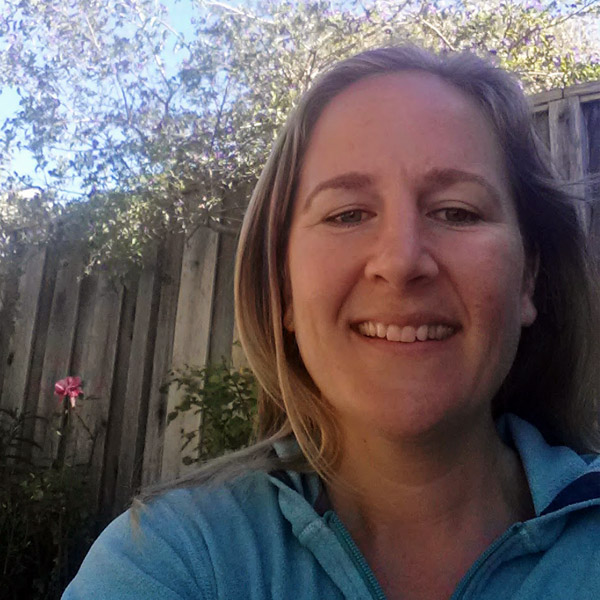 – Kate Greiner, NCWF VP of Philanthropy & Communications