Wildlife Species Spotlight: Elk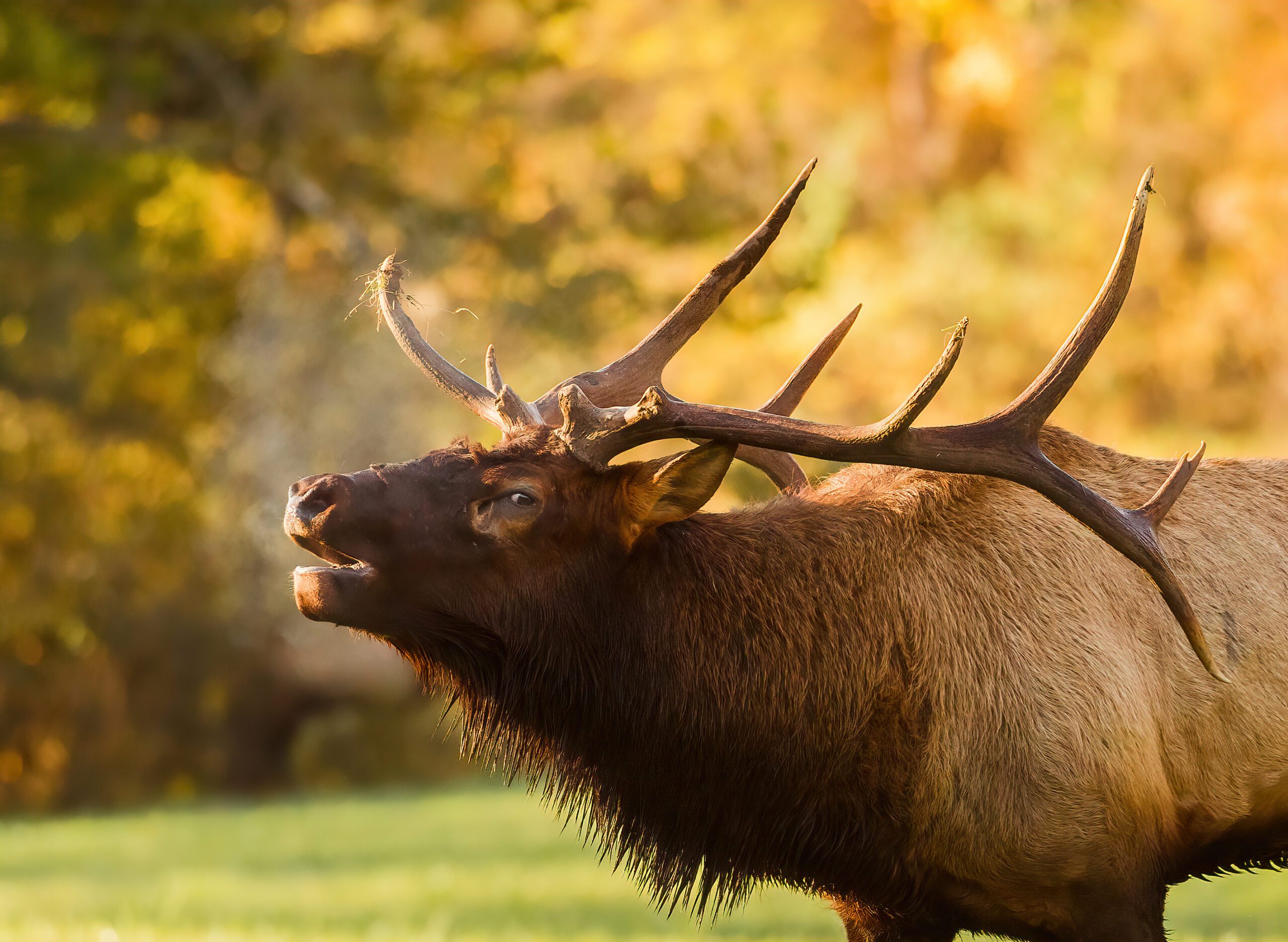 This blog series focuses on species that underscore North Carolina Wildlife Federation's commitment to habitat protection, restoration and connectivity, supporting wildlife species in need, and championing public trust resources based on science-based and nonpartisan decision making. 
Elk, Cervus elaphus manitobensis
Many are surprised to learn that more than 200 wild elk roam their historic eastern range in the mountains of North Carolina. The triumphant return of this majestic animal to the Southern Appalachians is nothing short of a wildlife success story and one that is still being written today. 
Fragmentation, loss of suitable habitat and increased vehicles on roads are all ongoing threats to growing the current elk population. As urban and suburban development continues and vehicle traffic increases, it's vital to prioritize connectivity for wildlife like elk to traverse roadways safely. These measures help animals fulfill their biological needs and reduce the risk to drivers associated with wildlife-vehicle collisions. 
Elk are large-bodied animals that can easily weigh hundreds of pounds so colliding with one (or other species like a bear or deer) can cause substantial amounts of property damage and loss of human life. The cost of a deer-vehicle collision averages around $6,000 while a collision with an elk can cost upwards of $17,000, not to mention the loss of the elk at a time where removal of one or more reproductive adults can have lasting impacts on population growth. 
Addressing wildlife mortality, human injury and wildlife-vehicle collisions
Over the last few years, NCWF has begun tackling some of the challenges elk face by joining Safe Passage, a diverse group of biologists, wildlife managers, transportation planners and wildlife advocates.  Safe Passage is working to make a dangerous 28-mile stretch of I-40 in the Pigeon River Gorge safer for drivers and wildlife alike. While elk is one of three focal species of the effort (bear and deer also), improvements in habitat and connectivity will benefit small mammals, reptiles and amphibians, and aquatic species.
The Safe Passage project is an example of road ecology, the study of how life is altered for both plants and animals when roads are nearby. To identify where, when and how wildlife such as elk are crossing roads, coalition partners employed camera trap surveys, GPS tracking and personal observation to collect animal movement data. These science-based approaches allow researchers to take a closer look at mortality "hot spots" and prioritize where crossing structures may be most beneficial. 
Once these crossing-structure target areas are identified, the group can begin working toward the inclusion of wildlife-friendly passage structures to enhance the ability of wildlife to move safely over or under roads.
Proactive planning for wildlife-friendly roadways
With approximately 80,000 miles of state-maintained highways in North Carolina combined with projected human population growth, its imperative NCWF continues to assist with proactive planning for new construction projects. 
NCWF helped craft and submit comments to the North Carolina and Tennessee Departments of Transportation to make wildlife-friendly roadways. NCWF acknowledges these measures come with a hefty price tag and is dedicated to raising awareness and supporting policies that will provide funding. In 2021, we saw the congressional passage of a large infrastructure bill that included $350 million for wildlife road crossing projects around the country. 
Furthermore, habitat and connectivity are the keys to helping animals navigate a fragmented landscape; therefore, maintaining and protecting natural areas for wildlife through conservation easements or other land acquisition programs is also a great step to support elk. NCWF continues to lease prime elk grazing habitat to provide food and open areas, free of roads, where elk can convene and interact. 
When discussing wildlife interactions, it's also important to note that NCWF supports measures to control disease transmission in cervids, including elk. While NC Wildlife Resources Commission has not detected chronic wasting disease in white-tailed deer or elk in the state, NCWF supports federal legislation to reduce the risk of disease transmission and increase funding for disease testing efforts in cervids. 
Where to find elk in NC
The Great Smokey Mountains is the most consistent and accessible opportunity to see elk throughout their entire Southern Appalachian range. The best times to view elk throughout the year are in the early morning and late evening; Bugling and rutting activity is at its peak in September. Remember that these are wild animals with unpredictable behavior. Use binoculars for an up-close experience, and never approach elk in the fields.  There are two primary locations where visitors can view elk almost daily. 
Cataloochee Valley in the southeast portion of the park. Directions: Exit 20 from Interstate 40, travel 0.2 miles to Cove Creek Road on the right. Follow Cove Creek Road for approximately 11 miles into the park leading directly into Cataloochee Valley.

Area surrounding the Oconaluftee Visitor Center in the park. Directions: From Cherokee travel north on U.S. 441 for approximately 3 miles. Once you reach the fields along the right, you're in elk country.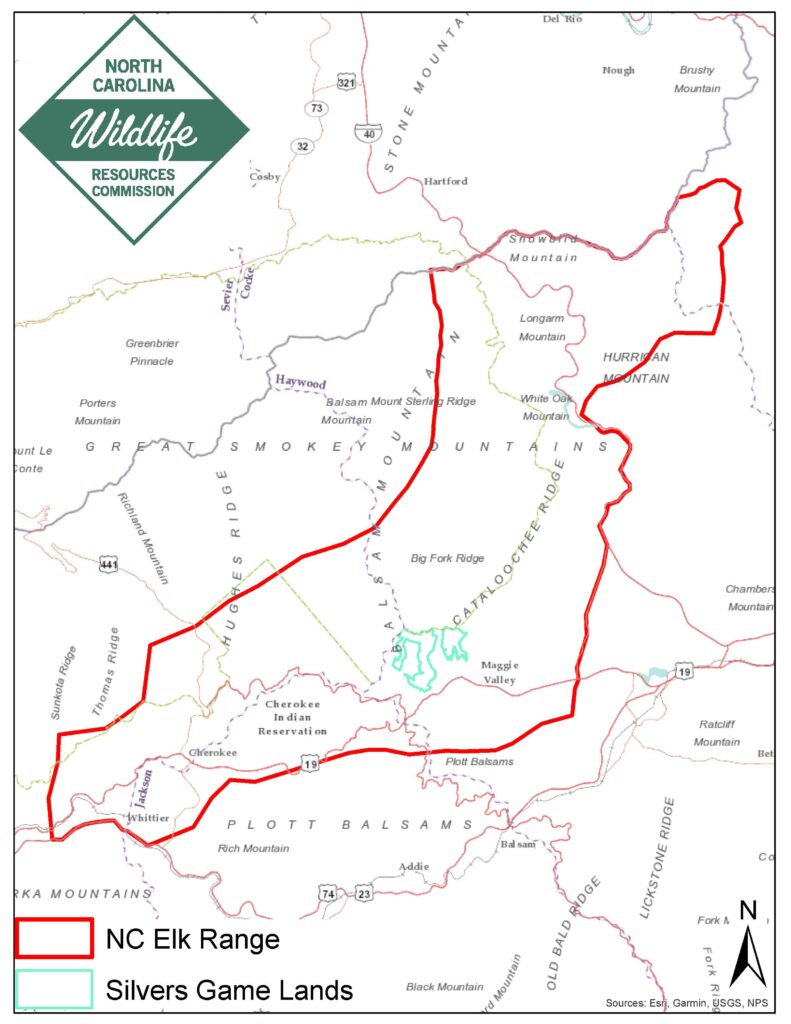 Read more about elk, wildlife connectivity
Land of the Giants: The Inspiring Comeback of North Carolina Elk
Wild Collaboration + Road Ecology 101 = Safe Passage for Wildlife