Charlotte Conservationist Ernie McLaney Named 2021 Wildlife Volunteer of the Year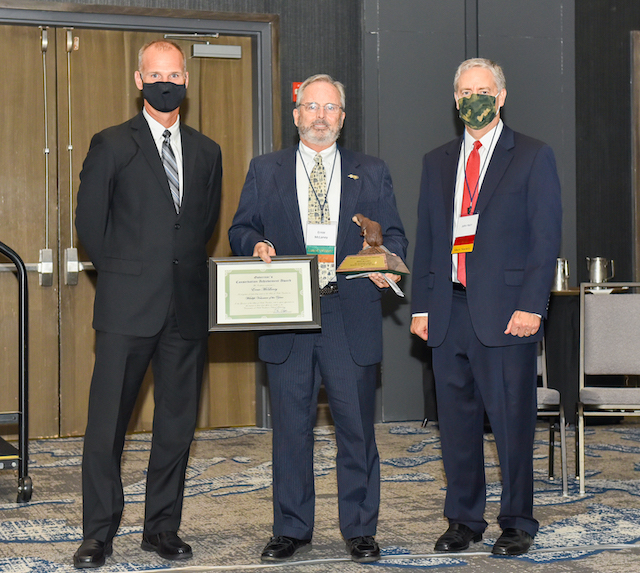 Ernie McLaney "lives and breathes conservation and sustainability every day" while donating his time, energy and resources to preserving wild lives and wild places in North Carolina. That commitment earned him Wildlife Volunteer of the Year honors on Sept. 11 at North Carolina Wildlife Federation's 57th Annual Governor's Conservation Achievement Awards.
McLaney was among the 18 agency professionals, elected officials, volunteers and organizations celebrated at our banquet in Cary, NC, for his dedication to North Carolina's wildlife, habitat and natural resources. NCWF Board Chair John Hairr and NC Wildlife Resources Commission Executive Director Cameron Ingram presented him with a specially made wildlife statuette following a thank you message from Gov. Roy Cooper. 
"It's difficult to enumerate in just a few words the countless hours Ernie spends in public meetings and public speaking and behind the scenes and one-on-one, working for conservation," said banquet emcee and awards chair T. Edward Nickens. "Between his volunteer work for NCWF, the National Wildlife Federation and Charlotte Wildlife Stewards, to name a few, Ernie seems to work three full-time jobs all at once. And all while being retired."
McLaney served as the first executive director of the Center for Sustainability at Central Piedmont Community College, co-founded Charlotte Wildlife Stewards in 2013, and served as its chapter president for five years. He also served two years as vice president of the Habitat and Wildlife Keepers chapter. 
Additionally, McLaney was part of the leadership team that certified Matthews as a National Wildlife Federation Community Wildlife Habitat in 2012. He worked in a similar capacity to certify the City of Charlotte as a Community Wildlife Habitat in 2015. 
"Ernie is constantly exploring ways to nourish the environment, spread awareness to future generations and promote sustainable practices," Nickens said. "Whether it's by contacting local politicians, picking up roadside trash or leading kayak and hiking trips, he is a tireless advocate for living things that have no voice of their own. He is not just a wildlife volunteer. He is an inspiration, mentor, leader and follower." 
Volunteering: The ultimate exercise in democracy
During his acceptance speech, McLaney noted North Carolina's State Constitution on the conservation of natural resources (Article XIV, Sec. 5). "We need a lot more volunteers to help organizations like the North Carolina Wildlife Federation keep our decision-makers on the powerful message that article contains," he said. 
"I volunteer for NCWF because I truly feel pure joy when I witness wildlife in their natural habitat. And I hope someone else that I work with, talk to or do a project with will pick up the stewardship passion in their core and continue it after I'm gone."
McLaney asked the attendees to join him and step up their volunteer efforts with a renewed focus on wildlife conservation and introduce others in their community to the importance of the natural world.
"I want to leave you with this quote from Martin Luther King, Jr.," he said. "Volunteering is the ultimate exercise in democracy. You vote in the elections once a year, but when you volunteer, you vote every day for the type of community you want to live in." 
First presented in 1958, the Governor's Conservation Achievement Awards are the highest natural resource honors given in the state. Our annual program brings together diverse groups of conservationists to highlight wildlife conservation achievements to inspire others to take a more active role in protecting North Carolina's natural resources for future generations.
Join a chapter, volunteer with NCWF
Wildlife and their habitats face many threats to survival, but together, we can give them a fighting chance. Our Community Wildlife Chapters are community-based organizations that together form a cohesive, statewide network of wildlife enthusiasts working for wildlife and habitat conservation.
Each chapter is uniquely designed to empower local wildlife enthusiasts – including anglers, backpackers, birders, hunters, gardeners and hikers – to have a direct and effective impact on the conservation of wildlife in their local communities and across the state. Chapters hold nature programs, conduct field trips and work on wildlife projects in their communities. Join an NCWF Community Wildlife Chapter and help us build our wildlife volunteer network!