Concord Wildlife Alliance is NCWF's Chapter of the Year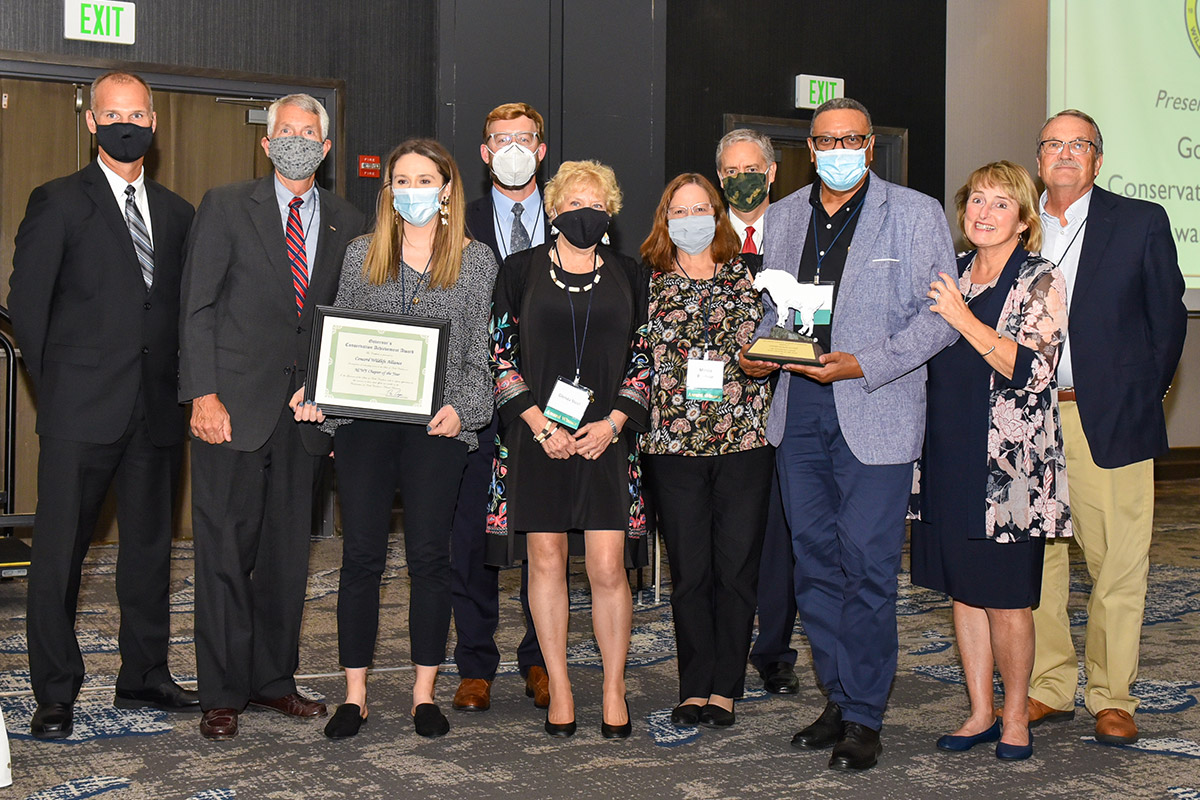 A global pandemic and cancellation of all in-person events was no match for the creativity and adaptability of the Concord Wildlife Alliance. The Community Wildlife Chapter of the North Carolina Wildlife Federation earned top honors on Sept. 11 at the 57th Annual Governor's Conservation Achievement Awards.
NCWF's "Chapter of the Year" was among the 18 agency professionals, volunteers and organizations honored at our banquet in Cary, NC, for its dedication to North Carolina's wildlife, habitat and natural resources. 
NCWF Board Chair John Hairr and NC Wildlife Resources Commission Executive Director Cameron Ingram presented chapter members with a specially made mountain goat statuette following a video message from Gov. Roy Cooper. The governor said "investing in clean water, expanding clean energy and protecting waterways and greenways" will allow North Carolina to thrive and thanked honorees for their commitment to the state's environment.
Edward Nickens, banquet emcee and NCWF awards committee chairman, noted it'd been a difficult 18 months for conservation organizations built on community action and advocacy. "The Concord Wildlife Alliance inspired us with their creativity in pushing conservation forward when the Earth itself seemed to stop spinning," he said. "They collaborated and socially distanced and cared for the wellbeing of their fellow man while flat out getting it done for wildlife."
In 2020, the chapter partnered with city and county officials and local organizations to certify 63 Community Wildlife Habitats and seven schoolyard habitats. Additionally, they collected 400 pounds of trash, hosted an Adopt-A-Stream cleanup, restored habitat affected by an emerald ash borer infestation, and planted native trees and shrubs.
When President Sarina Dellinger and Past President Glenda Steel accepted the award, they gave special thanks to City of Concord Mayor Bill Dusch, who also attended the event. "We would not be here without our partners who are here with us tonight," Steel said. "The City of Concord has been a strong supporter from day one, as have our county and city parks and recreation departments, local corporations and the Concord Youth Council."
First presented in 1958, the Governor's Conservation Achievement Awards are the highest natural resource honors given in the state. The annual program brings together diverse groups of conservationists to highlight wildlife conservation achievements to inspire others to take a more active role in protecting North Carolina's natural resources for future generations. 
About the Concord Wildlife Alliance
Formed in 2014, the Concord Wildlife Alliance goal was to become a Community Wildlife Chapter of the North Carolina Wildlife Federation and help the City of Concord obtain the official status of a Community Wildlife Habitat. CWA is a volunteer-led group centered on environmental education, appreciation of wildlife and natural history, and conservation of wildlife habitat and natural resources. Chapter members work with residents, organizations and leaders to create and sustainably manage healthy habitats that support bountiful and diverse wildlife as a vital natural resource for future generations. ​Members are gardeners, birders, hunters, photographers and hikers who have a direct impact on the quality of life in the Concord community.
The Concord Wildlife Alliance is directed by a board and guided by its mission statement: "The mission of the Concord Wildlife Alliance is to protect, conserve and ​restore wildlife and habitat in the greater Concord Area." Chapter vision: "Our stewardship in the greater Concord area will result in bountiful and diverse wildlife with healthy habitats and a citizenry that values and sustainably manages this vital natural resource for future generations. ​Work to ensure Concord Wildlife Alliance is a household name and is seen as a go-to resource to inform and advise citizens, developers, businesses and local governments with regard to wildlife and habitats."