January Calendar of Wildlife & Habitat Happenings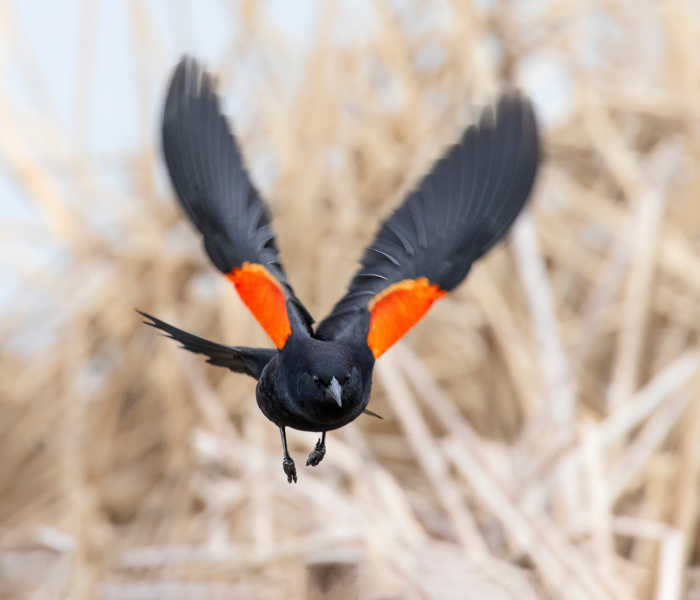 January Calendar 
Opportunities to experience natural North Carolina are as diverse as our state's spectacular landscape. And there's no shortage of things to do, see and hear this month – from migrating waterfowl to nesting owls to blooming bittercress. Take a look at the January calendar below and explore NCWF's upcoming events.
Jan. 1: Consider New Year's resolutions to spend more time outdoors and learn more about what's happening in the natural (= real) world.
Jan. 2: On warm winter days, especially in the Coastal Plain, you may see lingering adults of several hardy butterfly species flying, including common buckeye, variegated fritillary, monarch, red admiral and American lady.
Jan. 5: Watch for rare visiting winter finches like red crossbills and common redpolls.
Jan. 6: Waterfowl populations are peaking along the coast; Pea Island and Lake Mattamuskeet National Wildlife Refuges are excellent waterfowl viewing areas. The Swanquarter and Cedar Island ferries provide good viewing opportunities for sea ducks.
Jan. 7: Bald eagles are laying eggs. 
Jan. 8: Keep an eye out for harbor seals along our coast. Oregon Inlet is often a place to encounter these small marine mammals, swimming or hauling out on beaches or spoil islands.
Jan. 9: While many small mammals sleep during the cold months, shrews are active in tunnels underground or beneath surface litter or snow all winter.
Jan. 10: Migration is peaking for mallards and black ducks.
Jan. 11: White-tailed deer are shedding their antlers.
Jan. 12: Great horned owls are nesting.
Jan. 14: Barred owls begin nesting.
Jan. 16: Mourning doves are beginning their courtship flights.
Jan. 17: Flocks of snow geese along our coast are a not-to-be-missed wildlife spectacle. Take in the show on Jan. 29 at the Pungo Unit of Pocosin Lakes National Wildlife Refuge.
Jan. 20: Most flycatchers and other heavily insectivorous birds winter in the tropics, but the eastern phoebe sticks around all year. Pay attention to flycatchers — reports of rare winter visitors like Say's phoebe and ash-throated flycatcher have increased in recent years.
Jan. 21: The vast flocks of red-winged blackbirds, common grackles and other blackbirds overwintering along our coast are spectacular to witness. Large coastal refuges, like Pocosin Lakes, Alligator River and Mattamuskeet, are good spots to view these phenomena.
Jan. 25: Watch for humpback whales and other marine mammals along the coast, particularly off the Outer Banks.
Jan. 27: Pennsylvania bittercress is blooming.
Jan. 28: Raccoons and opossums are mating.
Jan. 30: Wood frogs breed during winter rain events. Like many winter-breeding amphibians, these handsome frogs of our mountains and foothills are highly tolerant of freezing.
Jan. 31: Chorus frogs have begun calling over much of the state: upland chorus frogs in the Piedmont; Brimley's, southern and ornate chorus frogs in the Coastal Plain; and spring peepers nearly statewide.
Jan 31: Seasons end for fox squirrel and duck hunting.