Worn Shoes, Full Heart: Highlights from Luke Bennett's 1,175-Mile Hike Across North Carolina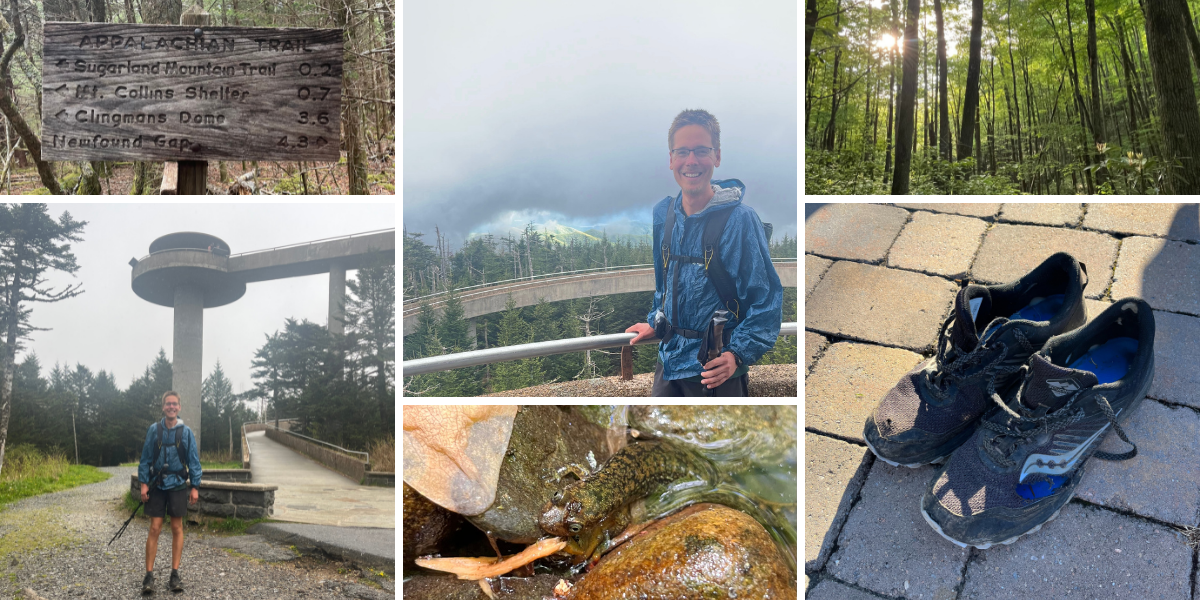 The poet Emerson said when we've worn out our shoes, the strength of the journey has passed into our body – a sentiment that certainly applies to Luke Bennett.
The 23-year-old hiked 1,175 miles from the Outer Banks to the Great Smoky Mountains to immerse himself fully in North Carolina's abundant natural resources. His 52-day trek ended with a well-worn pair of Saucony running shoes, renewed love and appreciation for our state's diverse wildlife and habitat, and $8,315 raised toward their protection, conservation and restoration.
Luke's journey started getting its legs last October when he emailed North Carolina Wildlife Federation after discovering our website while searching online. At the time, he wanted to use his goal of breaking the Mountains-to-Sea trail record as a fundraising opportunity for a nonprofit working to preserve North Carolina's natural beauty.
"My name is Luke Bennett. I'm going to attempt the Mountains-to-Sea Trail's fastest known time in April. The trail is 1,175 miles and stretches from the Great Smoky Mountains to the Outer Banks. I've lived in every region of North Carolina and have fallen in love with the wildlife and the land I'm lucky to call home. In an effort to give back, I'd like to use this hike as a way to raise money for the NCWF. What would be the most effective strategy moving forward? Thank you for protecting this beautiful state."
Over the next couple of months, Luke weighed the logistical challenges of breaking a record against his desire to fully experience the sense of wonder and appreciation for the outdoors he's had since he was a child growing up in Durham.
In the end, North Carolina's beauty and natural landscapes won, and Luke decided he'd instead go at his pace rather than try and break a record. "It'd be a shame if I blazed through the MST without enjoying all the beauty and people along the way," he said. "Not to mention it would be incredibly difficult to shed light on issues threatening wildlife and habitat if I'm always in a hurry or too exhausted to care."
Hiking for habitat on behalf of N.C.'s wild lives and places
"I felt like I had been transported to the Sahara Desert or into the setting of Mad Max Fury Road. Sand is already working its way into everything. The sand along the Outer Banks is loose. My heel sinks in with every step and sand slowly fills my shoes."
In addition to sandy beaches, Luke traversed coastal swamps, bogs, marshes, barrier islands, paved roads, forest roads, commercial farms, backroads, highways, paved greenways, stream and river crossings, high elevation ridges, single-track trails, and rocks and roots. He spent most of his 52 days surrounded by flora and fauna while passing – over, under or through – 10 state parks, four national parks, three national forests and two national wildlife refuges.
On May 13, he reached  Clingman's Dome – the highest point in Tennessee and the Great Smoky Mountains National Park – where his Dad was waiting to welcome him. Luke said he didn't have any sort of "great epiphany" when he completed the trail because it wasn't about the destination; it was about the experience. While the MST is still in its infancy, he believes it could become one of the premier hiking trails in North America with enough resources.
"The lessons and realizations are within the life of the journey itself, not in its ending. I will never forget the 52 days I spent walking across the state of North Carolina," he said. "Of course, there were challenges, but I never felt alone. Thank you to all the kind strangers who became friends and to all my friends and family who were with me every step of the way."
Although he's crossed the finish line on Hiking for Habitat, Luke's partnership with N.C. Wildlife Federation and love for North Carolina continues to gain speed. Throughout the journey, Luke offered daily observations and photos of the wildlife and habitat he encountered along the way. Once Luke made it back home to Oak Island and had a chance to catch up on sleep and showers, he reflected and shared more about his Hiking for Habitat experience.
"Thanks to North Carolina Wildlife Federation for their efforts in protecting, conserving and restoring our state's wildlife and habitat," he said. "I'm eager to return the favor and pay forward all the generosity I received. The connection I have to my home is undoubtedly stronger; the love I have for NC wildlife will never fade."
Luke's tips for tackling the trail
Download music, podcasts and books ahead of time to avoid battery drain. (Audiobooks consumed:Kitchen Confidential, Where the Crawdads Sing, Call of the Wild, Harry Potter and the Prisoner of Azkaban, American Buffalo and Blood Meridian.)
Stay with as many trail angels as possible.
Respect the communities, habitat and wildlife along the trail.
Put sunscreen on your calves when walking on the road.
Stay alert when facing traffic.
Trekking poles provide protection against stray dogs.
Start conversations with strangers.
Download the MST Guide App.
Ask locals about the best restaurants.
Don't carry a ton of food during stretches where there are plenty of grocery stores.
Anybody can hike the MST no matter their fitness level. It might be a shock at first, but humans adapt quickly to change.
Continue the journey
Luke may have retired those well-worn running shoes, but there's still time to support Hiking for Habitat and help him reach his $10,000 fundraising goal. Need more inspiration? Read all about Luke and see the rest of his photos in this blog.