Luke Bennett, 23, is Hiking for Habitat in Support of North Carolina's Wild Lives and Wild Places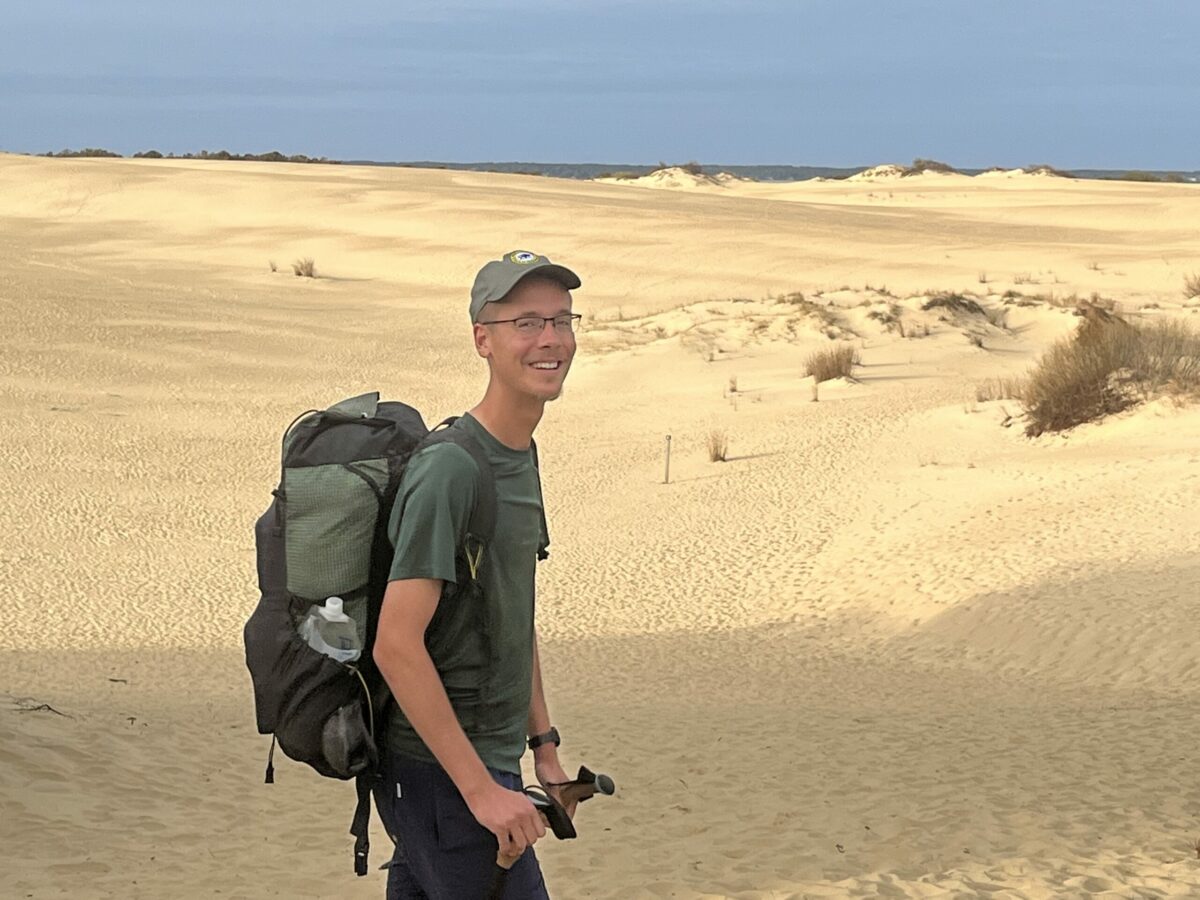 Luke Bennett, 23, hit the Mountains-to-Sea Trail on March 23 in Nags Head. Throughout his eight-week, 1,175-mile Hiking for Habitat trek, he'll celebrate the wonders of North Carolina while raising awareness about protecting, conserving and restoring wildlife and habitat. We'll post links below to Luke's updates, images and videos so you can follow along with his adventure.
Support Luke
Follow Luke's journey on social media.
Hiking for Habitat: One Man's Mountains-to-Sea Journey
Since joining his middle school's cross country team a decade ago, Oak Island resident Luke Bennett estimates he's traversed more than 20 thousand miles. The 22-year-old says he's hooked on the endorphin rush that comes from running in the open air through natural landscapes with the earth's terrain beneath his feet. Growing up in Durham, Luke developed a sense of wonder and appreciation for the outdoors while spending his childhood fishing, swimming, and exploring the Eno River. His first race – a two-miler at Eno River State Park – ignited his passion for running and exploring opportunities to push himself physically and mentally. Shortly after graduating from Appalachian State University last year, Luke completed the entire 2,193-mile Appalachian Trail Thru-Hike, a herculean feat accomplished by only one in four of the thousands of hikers who attempt it each year. While it typically takes thru-hikers 5 to 7 months to complete the trail, Luke finished in less than 100 days.
On March 23, Luke will embark on another physically grueling challenge when he hits the Mountains-to-Sea Trail. His Hiking for Habitat journey will start at the Outer Banks and continue 1,175 miles west to the Great Smoky Mountains. Along the way, Luke will observe and document the wildlife and habitat he encounters to help raise awareness about their protection, conservation and restoration. Luke's journey coincides with the 45th anniversary of the MST, first proposed at Lake Junaluska in 1977.
Honoring NC's wild lives and wild places
North Carolina's wildlife, outdoors and adventures are the foundation of Luke's life, and he plans to celebrate the beauty of North Carolina while shedding light on issues threatening habitats and wildlife, the risks to their survival and ways to give them a fighting chance.
"After taking a deep dive into the diversity of habitats and wildlife throughout the state, it's now time for me to give back. I'm thrilled to partner with NCWF to celebrate the beauty of North Carolina," he said. "Hiking for Habitat will be a culmination of all my outdoor experiences in North Carolina and serve as a tribute to our state."
We recently chatted with him about training, his biology background, his love of herpetology, the past jobs that connected him with nature and his plans for the future.
NCWF: Why did you choose the Mountains-to-Sea Trail for your next outdoor adventure?
Luke: The MST has been on my mind ever since I learned the trail existed. It connects North Carolina's three distinct regions and provides a way for people to experience the geographical variety of our state. I've lived in all three areas of North Carolina, so hiking the MST will feel like an adventure in my backyard.
In Durham, I ran and hiked on sections along the Eno River near West Point and Penny's Bend. I ran and hiked on the Tanawha Trail and stretches near Trout Lake and Boone Fork when I lived in Boone. I've also been on multiple backpacking trips in the Great Smoky Mountains, where the MST begins, and I've biked along the Neuse River section of the MST in Raleigh. The terrain in North Carolina is rugged. I've been itching for a challenge, and the MST will deliver.
Hiking the entire MST will reinforce my connection with North Carolina, so I never forget where I came from no matter where I'm heading.
NCWF: How are you preparing physically and mentally for Hiking for Habitat?
Luke: Most of my preparation is fueled by the fact I went through the motions during my time as a cross country runner for Appalachian State. I left a considerable amount of potential on the table and I owe it to myself to burn the boats and go all in regardless of the outcome.
I run about 6 days a week, including a long run on Sunday of at least 20 miles. I've been running up every hill I can find, along skinny trails with thick roots, and through loose sand during high tide. I've also been stretching constantly and doing plenty of core exercises. I have a 30-mile run planned in January, a 40-mile Uwharrie National Forest trail race on Feb. 5 and a 40-mile trail race up Mount Mitchell on Feb. 26. There's an MST 50-mile endurance race on March 19 that I also may run.
Constant exposure to challenging situations is the foundation of my mental preparation. The Appalachian Trail forced me into discomfort daily. One of the biggest sources of discomfort was completing the four-state challenge, which involved hiking 42.9 miles on the AT in less than 24 hours, traveling across the Virginia, West Virginia, Maryland and Pennsylvania borders.
Now I find challenging situations by seeking and embracing rugged terrain and weather. Over the past few months, I've done numerous long runs in the pouring rain and freezing cold or under the scorching sun. Sometimes I'll run a short loop over 10 times to prepare for the boredom that comes with constant hiking. Each challenging situation throws me out of my comfort zone and adds a layer of callus to my mind.
NCWF: You graduated with a bachelor's degree in biology and a geographic information systems (GIS) certificate. What led you down that educational path, and what are your career plans?
Luke: What could be more interesting than the study of life?! The field of biology rewards students that retain their childlike curiosity. Biology is a difficult subject, but naturally, I was sucked in by the challenge. Finally reaching a point of understanding after countless hours in the library never failed to bring me joy. Studying biology reminds me that I'm a part of this world and that life is filled with complex connections beyond my imagination.
I've also always had a fascination with maps. The GIS courses gave me a peek under the hood revealing how data can be managed, analyzed and represented on a map. I learned about the power of GIS to identify patterns, monitor change, and satisfy scientific investigations.
GIS and biology have a close relationship. If I continue in conservation biology, there will be many opportunities for me to implement GIS knowledge, especially when faced with questions related to habitat connectivity, biodiversity loss and species distribution. I recently started flight training with the goal of performing aerial wildlife surveys for the National Park Service.
NCWF: Digging in the dirt outside in nature played a significant part in nearly all of the jobs you've had – from organic farm apprentice to assistant greenhouse manager to garden crew leader. What are some highlights from those experiences?
Luke: My idea of seizing the day involves coming home exhausted and covered in filth. I'm the best version of myself when I can spend the day outside, moving constantly and working with my hands. Outdoor jobs remind me to appreciate the simple things in life and recognize the rich sense of freedom. Solitude was never hard to find on the farm. At night it got so dark I could see the milky way. At times it felt like I was living on a wildlife refuge. Moose, deer, turkeys, foxes, porcupines and all sorts of other critters roamed around. We worked hard, but there was no glory, ego or drama.
Farming and gardening allow you to see and sometimes taste a final product. My three months on the farm taught me more about work ethic than 17 years in school. It opened my eyes to how much can be grown even with only a few acres. I had access to a seemingly endless abundance of fresh vegetables that tasted even better because I actually had a connection with the food. Gardening and landscaping also allowed me to be a part of the final product. I loved being able to visualize the progress and contribute to the creation of a beautiful space.
NCWF: What ignited your interest and appreciation for amphibians and reptiles? 
Luke: During my sophomore year of college, I went on a study abroad trip to Churchill, Manitoba, with Dr. Jon Davenport, a professor at App State. We tracked wood frogs and their egg masses for two weeks, and I was swept away by his enthusiasm. After that trip, I joined the herpetology club and occasionally went on outings with the club or just with friends to look for and identify different amphibians and reptiles.
During my senior year, I took a herpetology class with Dr. Davenport. My interest grew exponentially, especially after getting my first field guide (Peterson Field Guide to Reptiles and Amphibians of Eastern and Central North America). I even took care of a few pet salamanders (spotted and marbled). Building terrariums and meeting the needs of the salamanders was so much fun. Amphibians and reptiles are hypersensitive to their environment. Studying their behavior, development and distribution helped me begin to grasp the strong relationship between animals and their surrounding habitat.
NCWF: What role did nature, the environment and outdoor recreation play in your upbringing?
Luke: My family always encouraged and supported my pursuit of different activities. They never sheltered me and let me explore so I could learn to figure things out for myself. We only took vacations to the beach, but I often wanted to stay home because my best friends were my neighbors. We called ourselves the Wild Goose Gang and spent the weekends outside living spontaneously and doing whatever the heck sounded like fun. There's an access point to the Eno River just a short bike ride away from my childhood home. We climbed trees, rode bikes, fished at the Eno, played capture the flag, jumped into leaves, built elaborate forts, mapped out the woods, shuffled across icy ponds, pulled off ticks, chased after snakes, caught crawfish, rolled down grassy hills, and dared each other to eat dirt and bugs.
I wouldn't trade my childhood for the world. My imagination was free to run wild, which has left me susceptible to constant feelings of wanderlust which is normally cured after a long run. Running has always been my most effective decision-making, problem-solving and idea-generating tool. It clears my thoughts, enhances my focus, elevates my energy level, provides fulfillment in the present moment and generates eagerness for the future. Anxiety, depression and stress seem to melt away with every step I take. I swear I have withdrawal symptoms during a day off.
NCWF: In addition to finishing the Mountains to Sea Trail in record time, what else do you hope to see or do on your Hiking for Habitat journey?
Luke: The MST provides an opportunity for people to create their own adventure, but not everyone is aware the trail exists. I'm hopeful Hiking for Habitat will let out the secret and put the MST and its volunteers on a worthy pedestal. I'll be celebrating my 23rd birthday on the trail and I can't think of a better way to celebrate than experiencing the peace and clarity that comes with a long day of hiking towards complete exhaustion. I'm eager to find new gears in my body and mind that I didn't know existed. New gears will help me reach my full potential as an athlete and as a person. I want the trail to be a humbling experience and a way for me to restore any gratitude I've lost. And of course, I want to raise awareness about the diversity of habitats and wildlife and push myself on their behalf.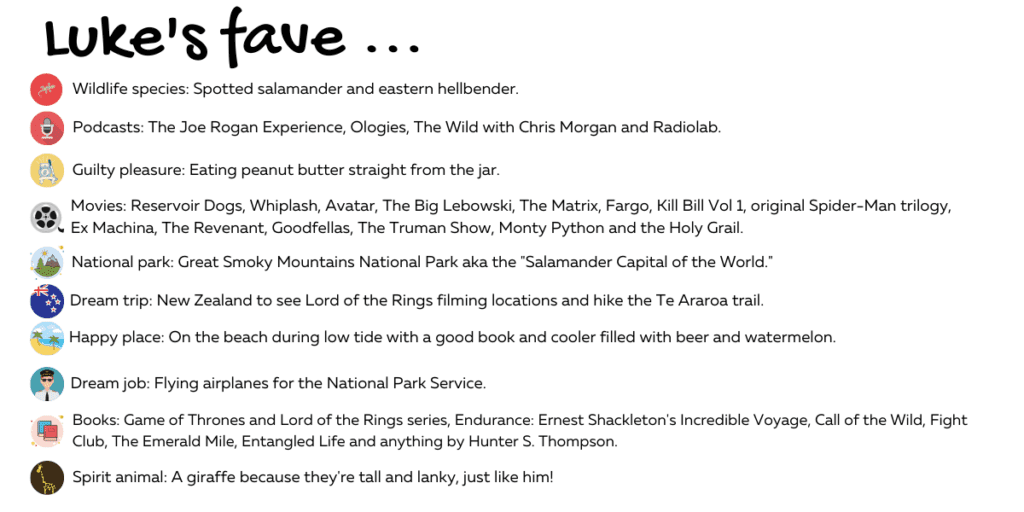 3 ways to support Luke's journey 
Bookmark this blog for Hiking for Habitat updates
Follow Luke's journey on social media.