The Story Behind the Birth of Critically Endangered Red Wolf Pups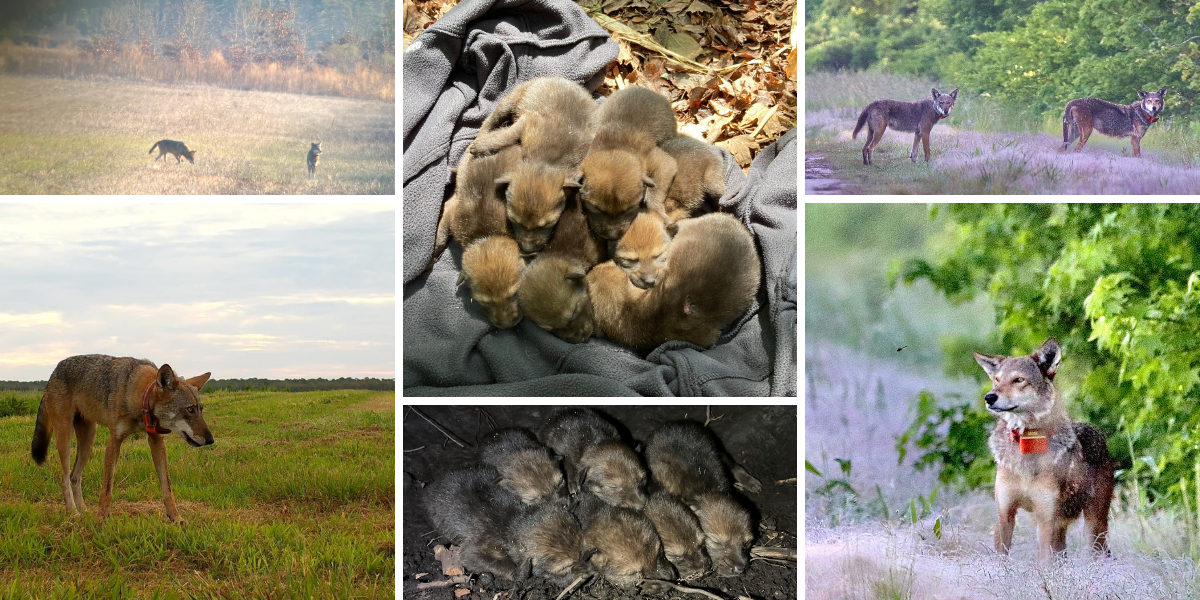 A red wolf couple – dubbed 2225F and 2323M – renewed and sparked hope for the critically endangered red wolf species when they recently became parents to six pups – the first litter born in the wild since 2018. 
Red wolves (Canis rufus) are on the brink of extinction, with fewer than 25 in the wild and only a few hundred in captivity in facilities across the country. Their survival depends on the U.S. Fish and Wildlife Service (USFWS) Red Wolf Recovery Program and the work of program partners like North Carolina Wildlife Federation (NCWF). The last remaining wild red wolves reside on the Albemarle-Pamlico Peninsula, located on the North Carolina coast and covering Dare, Tyrrell, Washington, Hyde and Beaufort counties. 
"The six red wolf pups born in mid-April – four females and two males – are the offspring of two pretty cool wolves. The female was born in the wild at Alligator River National Wildlife Refuge (NWR). The male was released there in 2021 after being translocated from St. Vincent NWR in Florida, where he also was born in the wild," said Katerina Ramos, NCWF's refuge volunteer and programs coordinator. 
Ramos, who works at the Red Wolf Center located on Pocosin Lakes NWR in Columbia, noted the close bond between red wolf pairs, which shows through their parenting. "The parental care and shared responsibilities between male and female wolves – especially this pair – is so heartwarming to see," she said. "We have evidence that he's been working diligently to bring food to the den for his mate."
Another interesting piece of this red wolf story is that the young female's 12-year-old mother (1849F) is the former breeding female of the Milltail wolf pack on the Alligator River NWR. When USFWS officials brought the male red wolf 2323M from Florida, they captured the matriarch and placed her in an acclimation pen with the newcomer hoping she would show him the lay of the land and accept him into the territory.
"Before the male red wolf 2323M came along, a coyote hanging around in the area had the younger female in his sights, but she would often visit her mom and the new male wolf in the acclimation pen. It worked out wonderfully because as soon as the pen was opened, the male red wolf made a direct path to her and displaced the coyote," Ramos said. 
Ensuring red wolves survive for future generations
In addition to new parents 2225F and 2323M, 10 red wolves were recently released into the wild: two pairs of red wolves on Alligator River NWR and a family group of five red wolves and a solo red wolf on Pocosin Lakes NWR. 
Of the 10 wolves released, one of the pairs released on Alligator River NWR is no longer there, Ramos said. "The female was found deceased, and the male sustained an injury that N.C. State vet students are currently treating. We hope the male can be put back out on the landscape, but that decision will be made once he's healed."
She added that the red wolf team also caught, collared and released two of the four red wolf pups that were fostered by an adult female red wolf this past year, resulting in a successful fostering of pups into a wild den. 
Red wolves and the importance of coyote sterilization
One of the most significant setbacks to red wolf recovery efforts is hybridization with coyotes. Red wolves will breed with coyotes out of desperation when they can't find another red wolf mate. This past trapping season, 20 wild canids were captured, including 12 coyotes that were sterilized and released through the Red Wolf Recovery Program. 
"The coyotes were captured from public and private lands with landowner permission. There was even a coyote caught and sterilized for a Prey for the Pack landowner," said Ramos, who emphasized that officials place white collars on coyotes after they've been sterilized.  
"These coyotes are left hormonally intact, so they still have the drive to defend their territories. This prevents other coyotes from moving into their territory, which reduces the chances of hybrid litters of pups being born," Ramos said. "It's a great way to increase the red wolf population and eventually displace coyotes on the landscape."
6 ways to support red wolves
View live webcams

24/7 for a glimpse into the life of a pair of captive red wolves at the Red Wolf Center. With one webcam in their den and the other in their outdoor enclosure, viewers can watch (and occasionally hear) the 14-year-old male and 8-year-old female wolves anytime.

Donate

to help save endangered red wolves and support their conservation.

Watch the 10-minute

Right of Passage

red wolf documentary, which includes an interview with Ramos. 

Enroll in

Prey for the Pack

, an opportunity for private landowners in the Red Wolf Recovery Area to support wildlife on their property while meeting their land management goals.

Watch our educational videos and webinars below on red wolves in the wild and red wolf biology.
Red Wolves in the Wild
Learn about the critically endangered red wolf, recent updates with red wolf conservation, and how you can help in their recovery with NC Wildlife Federation's Katerina Ramos.
Red Wolf Biology, Reintroduction and Conservation in North Carolina
There are only approximately 25 red wolves left in the wild, all of which reside on North Carolina's Albemarle Peninsula. This presentation, hosted by NCWF and the Union County Wildlife chapter, covers the iconic red wolf and what is being done to ensure their survival with a panel of speakers who are on the front lines of red wolf conservation in North Carolina.
Endangered Species Series: Red Wolf
Join us for the second installment of the series to get to know the red wolves of North Carolina with NCWF's Katerina Ramos for a discussion on red wolves and how you can help in their recovery.
Conserving North Carolina's Red Wolf
There are less than 25 red wolves in the wild, all of which reside in North Carolina. Join NCWF CEO Tim Gestwicki and Wildlands Networks Dr. Ron Sutherland for this talk on red wolves and the fight to preserve this species.
* Download free red wolf images at http://redwolfgallery.org/  presented by Weiler Woods for Wildlife.