Charlie Shaw Society Donor Spotlight: Naadii Salaam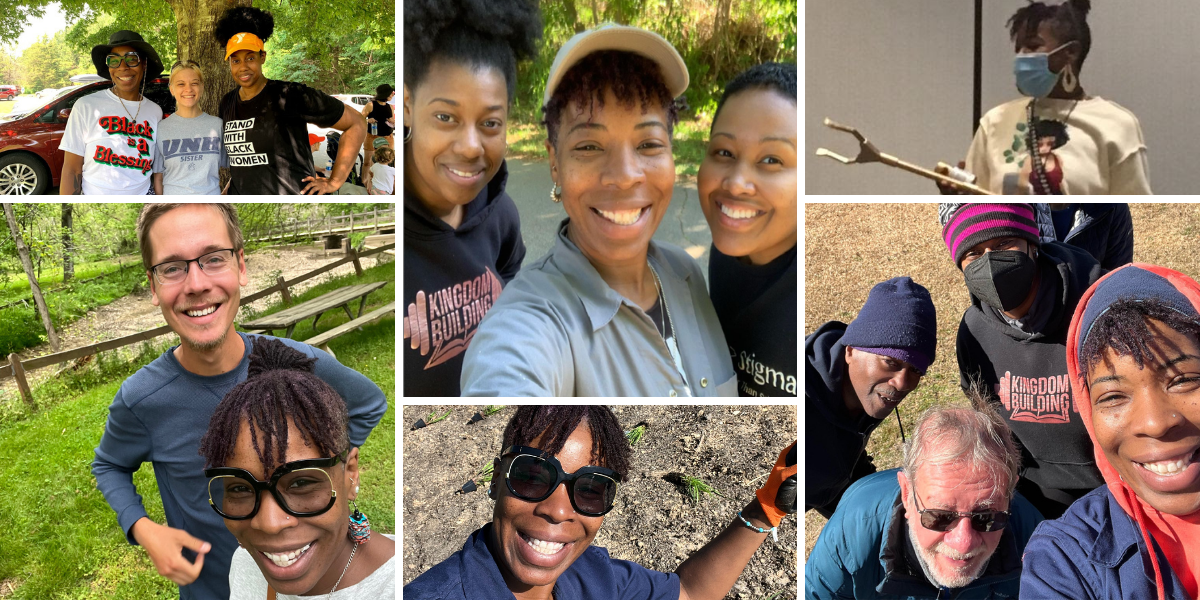 Donor spotlight on Naadii Salaam
Residents of urban areas face challenging conditions when grappling with conservation issues, but Bull City Trailblazers (BCT), a community wildlife chapter of North Carolina Wildlife Federation, aims to help "roses blossom from the concrete" by engaging residents and bringing resources to address litter proliferation and tree canopy inequities in underserved communities in Durham.
Naadii Salaam, BCT founding member and president, grew up in a Pennsylvania suburb, but she now calls Durham her second home and takes pride in forming BCT with other women. "Black women of color aren't always as vocal about being lovers of nature," she says, "but Beth Leigh, Nikki Liles, and I came together to create community around nature."
Naadii majored in biology with a minor in marine science at UNC-Chapel Hill, and has always loved nature. "I grew up camping in Montana with my dad," she says. "I've always loved hiking, trails, lakes, and streams. They are all interwoven."
Litter in Durham and other underserved communities can be a problem that isn't typically found in more affluent, upper-income neighborhoods, and Naadii isn't the only one that sees the inequities. Historically, discriminatory practices such as "redlining" communities by the federal government have limited investments and economic growth in communities of need due to their racial compositions.
These practices still can exist today, affecting quality of schools, and the amount of litter, tree canopy, and green space available. "Trash reflects a lack of caring for the immediate environment and the earth," Naadii explains. When she is picking up litter, some people stop to thank her and others will help for a while, asking how they can get involved. "People come to learn about the connections in their community and come in the spirit of helping."
Read: Bull City Trailblazers Chapter President Naadii Salaam Earns Golden Trash Grabber Award
Understanding who you are, where you come from, and being a good steward is important to Naadii. "I work to be that way; genuine, not fake," she says. "I am most proud of the fact that I am able to show up as my authentic self in most situations. I grew up challenging myself to walk the walk because talk is so cheap."
Investing in the values she holds dear is why she joined NCWF's Charlie Shaw Society. "NCWF is a small but mighty organization," Naadii says. "I enjoy meeting people excited about the inner workings of planet earth, so we can all cohabitate this planet for a while. When a rose can grow in concrete, who can deny the power of nature?"
About Charlie Shaw
Charles Raymond Shaw was born July 15, 1932. He was raised at Overhills, the Harnett County estate of the Rockefeller family, where he developed an early and abiding love for wildlife and the environment. Charlie helped found the Wake County Wildlife Club in 1964 and remained a charter member. He served as the club's president in 1968. He was elected president of NCWF in 1973 and assumed the post of executive vice president later that same year. In 1981, he became the southeastern Regional Executive of the National Wildlife Federation. He was inducted into the North Carolina Conservation Hall of Fame in 1988.
During his tenure with NCWF, Charlie led the effort to involve anglers and boaters in cleaning up North Carolina lakes and rivers by establishing a series of "environmental" fishing tournaments – where a bag of trash picked up from along the shoreline was as important as hooking a big bass. He also led NCWF's efforts against the destructive practice of stream "channelization" and helped to initiate a lawsuit that resulted in a landmark decision against channelization.
Charlie Shaw Society Membership
The Charlie Shaw Society continues his legacy in raising funds for what Charlie always believed in: conservation of our unique natural resources. Society members are our most dedicated supporters – generous members who have made a commitment to the work and programs of NCWF through an annual contributing gift of $1,000 or more. Some NCWF Shaw donors prefer to give by stock, donor advised fund or IRA. Gifts can also be made in one lump sum or in any number of smaller contributions within a calendar year, and can be directed to any NCWF program that is of interest to you.