Dam, That's a Lot of Trash! Volunteers Collect 47K Pounds at Fontana Lake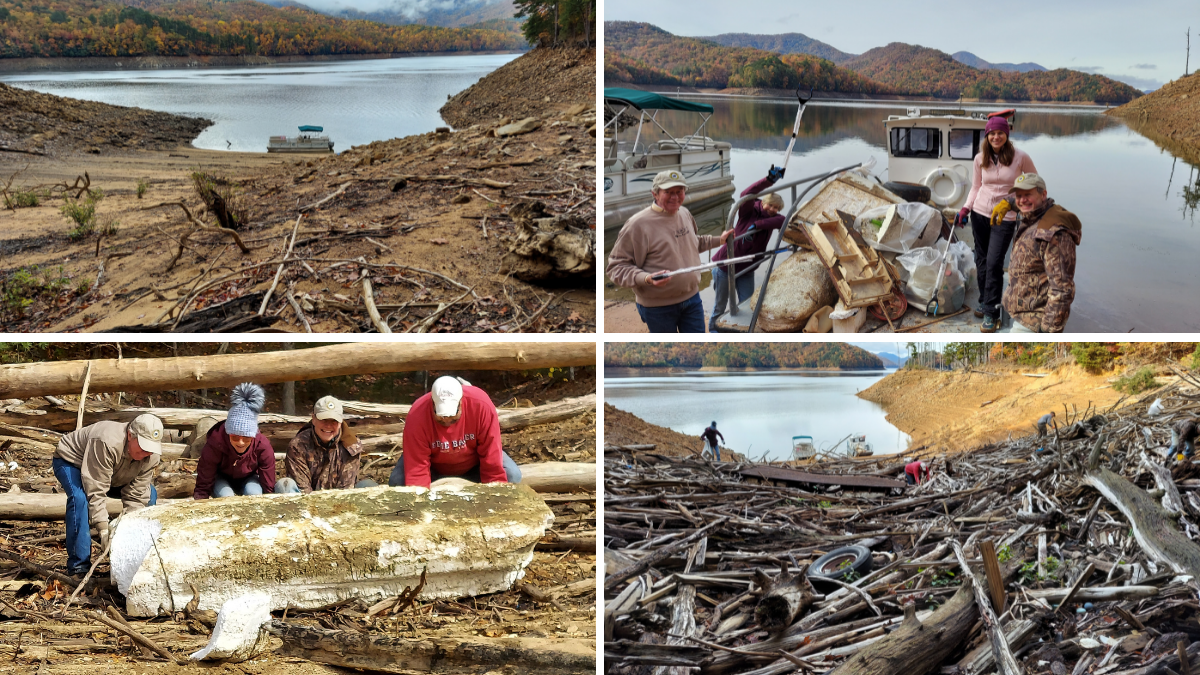 Fontana Lake's emerald waters and habitat-rich shoreline look even more pristine these days, thanks to the 150 volunteers who gathered at the remote area of western North Carolina for the country's largest cleanup in a national park.
Staff and volunteers from North Carolina Wildlife Federation, Mainspring Conservation Trust, Tennessee Valley Authority, National Park Service and Smoky Mountain Hiking Club removed more than 47,000 pounds of litter for the Fontana Dam Cleanup held Nov. 5-7. Since 2019, the collaborative has eliminated more than 170,000 pounds of trash from Fontana Lake through volunteer cleanup efforts. 
Visitors come to Fontana Lake for its natural beauty, rich cultural heritage, abundant wildlife and outdoor opportunities to enjoy and explore. As part of North Carolina Wildlife Federation's habitat restoration efforts, we'll plant 1,880 native trees, plants or shrubs – one for every 25 pounds of trash collected at the 4th annual event – to promote healthy wildlife habitats.
NCWF crew on a mission for wildlife and habitat
Smoky Mountain Dave, who works at Fontana Village Resort & Marina, recorded video from the event. A boat carrying five NCWF volunteers and staff was the first group to head out for the cleanup. 
"Unfortunately, Fontana Lake is a gathering place for garbage that's dumped or collected, both accidentally and knowingly," said Tara Moore, NCWF's director of conservation partnerships. 
"We found all sorts of trash and debris – a rotted baseball, torn flip flop, discarded tires, massive chunks of styrofoam, a rusted water heater, metal pipes, and hundreds of plastic and glass water bottles and containers."

Natural landscape, unique habitats
Surrounded and protected by the Great Smoky Mountains and Nantahala National Forest, Fontana Lake boasts 238 miles of shoreline. It provides a natural landscape and unique habitats for wildlife such as bobcats, foxes, bald and golden eagles, ospreys, otters, turkeys, deer and black bears.   
While cleaning up along the shoreline, NCWF staff and volunteers spotted bear tracks and other signs of wildlife throughout the area. 
"Seeing those tracks was such an uplifting reminder because we saw first-hand how removing trash can have an immediate and long-lasting impact on this beautiful natural resource," Moore said. "NCWF's work in restoration and protection results in fewer toxins polluting the environment, cleaner water feeding the Little Tennessee River, improved wildlife habitat and more inviting natural areas for everyone to enjoy."
Want to help? Visit our Keep it Clean, Make it Green page to learn how.