Habitat Enhancement and Environmental Education Reaps Rewards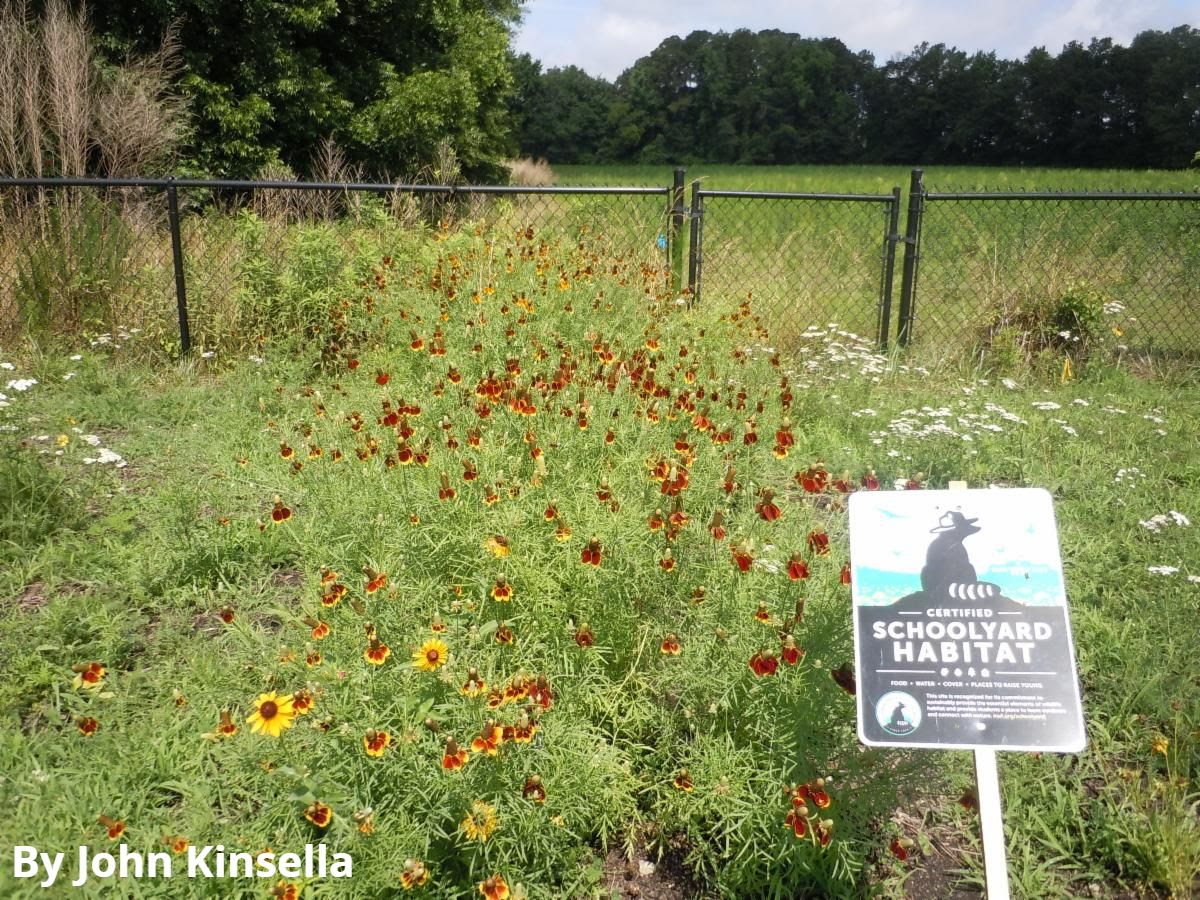 The need for habitat restoration and enhancement in North Carolina is a constant with population growth and rapid development of the state's forested land. Gardening for wildlife in our backyards and on school campuses can make a difference for wildlife and people alike.
NCWF's South Wake Conservationists Chapter's habitat enhancement work on the campus of Lincoln Heights Environmental Connections Magnet Elementary School in Fuquay-Varina helped the school to earn the "Watershed Stewardship School Award" from the Wake Soil and Water Conservation District. This award recognizes the school's  exemplary efforts to enhance environmental education opportunities in the past two years, despite setbacks from  COVID-19.
The South Wake Conservationists (SWC) chapter is actively engaged in creating and enhancing wildlife habitats in and around Wake County. Lincoln Heights is one of several schools that the South Wake Conservationists have worked with in the Triangle area, helping the schools to achieve their environmental and wildlife habitat goals by working closely with school staff, volunteers and community partners to enhance wildlife habitat and outdoor learning opportunities on the campus.
Through the Trees4Trash program, a collaboration of North Carolina Wildlife Federation and Plastic Ocean Project, more than 50 native trees and shrubs on-campus were planted, watered and mulched late last year by Lincoln Heights' volunteers, staff and families with the help of volunteers from the SWC chapter.
Later in the year, Chapter volunteers came back to the campus to install five bluebird and six brown-headed nuthatch nest boxes, which are now being monitored by the students as part of the 1st grade environmental learning curriculum.
This school year, students have been taking turns watering the native plants and continuing to monitor the bird boxes to record and submit data on their progress.
Providing opportunities for students to engage with nature and learn about the world through an environmental lens is key to creating future stewards. 
North Carolina Wildlife Federation's chapters are community-based organizations across the state that together form a cohesive, statewide network of wildlife enthusiasts working for wildlife and habitat conservation.
Each Community Wildlife Chapter is uniquely designed to empower local wildlife enthusiasts – including anglers, backpackers, birders, hunters, gardeners and hikers – to have a direct and effective impact on the conservation of wildlife in their local communities and across the state. Chapters hold nature programs, conduct field trips and work on wildlife projects in their communities. Visit the NCWF Chapter page to find a chapter near you and get involved for wildlife in your community!
Click here to read the original article on the South Wake Conservationists' blog and learn more about Lincoln Heights' award and the efforts being put forth by the South Wake Conservationists chapter to benefit wildlife and the community.