GoU Breaks Barriers to Connect Kids with the Great Outdoors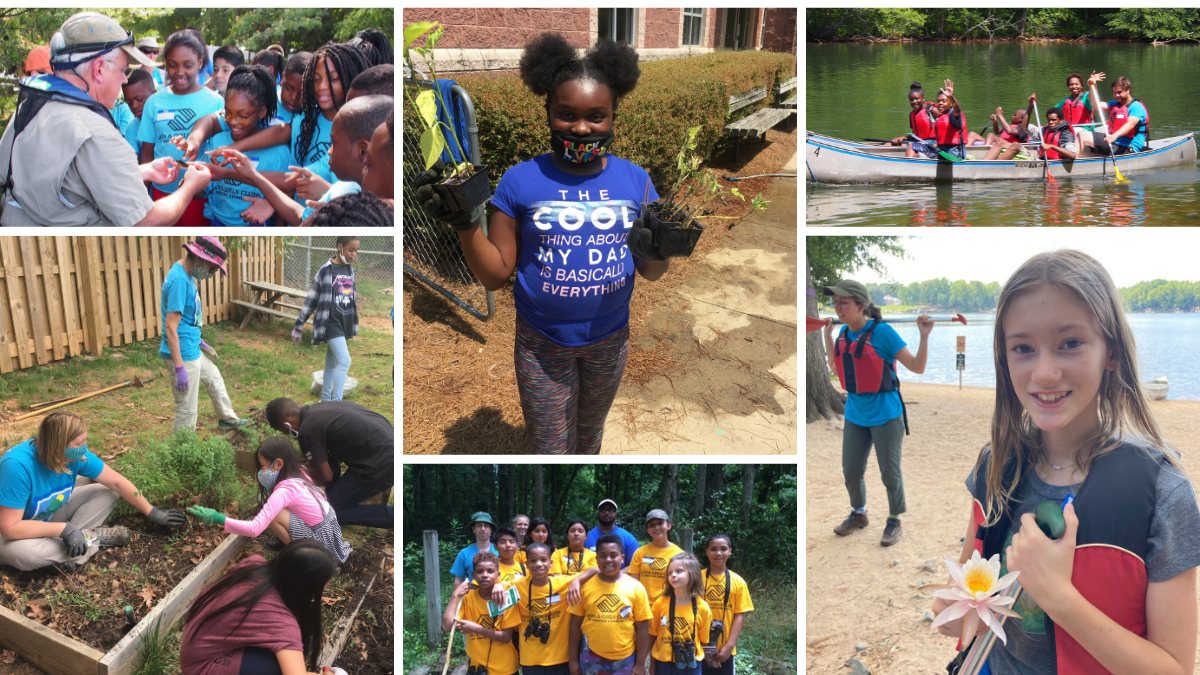 Great Outdoors University (GoU) isn't your typical classroom. There aren't any walls, desks or textbooks, and no test-taking under harsh fluorescent lights. Instead, there are green spaces, fresh air and sunshine, and lots of opportunities to get dirty and get moving while exploring the natural world.
Since North Carolina Wildlife Federation launched the GoU program in 2013, more than 106,000 kids and their families have headed outside, a living laboratory where they learned about and experienced the wonders of nature. 
Whether they take place on a trail or in a stream, GoU's adventures are as diverse as the participants, who range in age from 4 to 18 and come from urban and rural communities. The 1,043 excursions hosted to date at 40-plus destinations have included fishing, hiking, biking, canoeing, gardening, bird watching, archery, scavenger hunting, hands-on experimenting, and identifying wildlife and their habitat. 
"GoU helps inspire their curiosity about the natural world so they can discover its many joys and benefits, while also learning about teamwork, personal responsibility and other life skills," said Program Director Mary Bures. "It's all about empowering kids and fostering a passion for continued learning so they can become future nature stewards." 

Breaking down barriers, opening doors to nature
No matter where they live or what their economic status is, every young person should have access to life-enhancing opportunities. With support from 45 community partners such as Boys & Girls Clubs, GoU helps break down barriers and create more inclusive opportunities to get young people outside.
"We see a lot of kids who have what we refer to as a 'nature deficit' because they live in communities with limited green spaces and parks, don't have available resources or don't have many chances to connect with nature," Bures said.
Tonia Lewis, unit director for the Milton Road Boys & Girls Club, added that many kids and teens who participate in local clubs don't visit parks as often with the same experiences they receive with GoU. 
"GoU provides no-cost, outdoor adventures. Kids receive a wealth of knowledge in a fun and enjoyable environment with caring staff," she said. "Our parents say that without GoU and the Boys & Girls Club, their youth would never have the chance to do something like walk Crowders Mountain or go canoeing."  

From skepticism to sparked curiosity 
When club kids have equal access to enriching programs that teach life lessons and build confidence, they thrive. "Many of our youth are skeptical at times to try something different, but with GoU, they always enjoy new experiences," Lewis said. 
"One teen was afraid to go on a canoe trip, so she was going to watch the others. But then decided to go and came back raving about how fun it was. She was proud of herself for trying a new experience."
Lewis also recalled a 9-year-old boy who was extremely afraid of critters, especially bugs and spiders. "But after he got information from Ms. Mary and her team about why they existed and how they are more afraid of us than we are of them, he finally relaxed and even got close to the bugs without screaming."
And it's not just young people benefiting from GoU activities; it's their parents and staff members from the partner organizations also learning about nature. Lewis had a vine growing in front of her house and never knew what it was. After going on a couple of GoU trips, she realized it was poison ivy, which she saw and heard about on a nature walk.
"(The GoU team) also helped us plant a vegetable and herb garden for the kids to take care of and beautify our property at Milton Road Club," she said. "We love them!"

Unexpected wonders of nature and spending time outdoors  
Some GoU kids have a traumatic home life or a history of abuse, neglect or addiction. Bures recalls two sisters from a couple of summers ago who were taken from their mom and placed in foster care. While a loving family later adopted the sisters, when they first started going on GoU trips they were sad about their home life and didn't like to be outdoors. 
"By the end of the summer, they loved animals, nature and being outside," she said. "They were hands-on and ready to go and the first ones in creeks trying to catch little salamanders, tadpoles or crayfish. It was amazing to see the change in them over such a short time." 
The sisters also loved the calming effects of being in nature, which surprised Bures. 
"We took a trip to Lake Norman State Park, and they commented on how fresh the air was and how quiet and peaceful it was," she said. "That's not something you expect kids to say, but some of them find it much easier to focus on relaxing when they're out there in nature because it's so calming." 
Feeling less anxious is just one of the many rewards unlocked when exploring nature. Playing outdoors also encourages problem solving and creativity, improves physical health and boosts confidence.
Over the years, Bures has met thousands of young people through GoU and loves watching their personalities blossom. "Initially some kids are not excited to be there and complain about it being hot and buggy and wanting to be glued to their phone instead," she said. 
"Then, by the end of the outing, they're ecstatic over all the things they discovered. They never knew nature was so cool and there was so much wildlife to uncover and explore."

Positive influences, unexpected transformations
Program participants aren't just learning from GoU mentors and conservation experts; they're learning from each other and building confidence along the way. Bures remembers a teenage boy from a couple of summers ago. He was in a "dark place" and refused to participate in a low ropes course outing. 
After Bures got the other kids started on the activity, she asked the teen what he liked. His response? Blood and death. "I think he was just trying to act tough, so I said, 'OK' and left him alone," she said. 
As the morning went on, the teen came and stood by Bures as she watched the kids tackle the ropes challenge. When he started telling Bures what they needed to do to master the course, she replied, "Well, why don't you tell them?" 
The teen told Bures the other kids wouldn't listen to him because "they don't think I know anything." Bures gave him an encouraging nudge, saying it would be hard for the others to listen to him if he never said anything in the first place. 
"He ended up sharing what his idea was, the kids listened, and they worked through the ropes challenge. By the end of the day, he had done a 180 and was apologizing to me for having a bad attitude," she said.
Bures added, "We never know the history of every child who comes to our programs, and there's never any guarantee that what we do will have a positive influence. But on that day, I know that the ropes course experience made a huge difference in his life.'

Supporting future wildlife enthusiasts, conservation leaders 
It's stories like these that inspire NCWF donors and grantors to support programs that introduce younger and more diverse audiences to the many ways they can enjoy North Carolina's natural resources. "We all have the responsibility to care for the natural beauty of this state so that future generations will have the opportunity to enjoy it as well," said Laura Lineberger, executive director of the Glenn Foundation.
A couple of summers ago, Lineberger joined Bures on a GoU outing. "GoU is unique in the way it brings nature and children together through outdoor educational experiences," she said. "Not only were (the kids) connecting with nature but also with each other. I watched their faces and saw their smiles. I was reminded of what is commonplace in nature to an adult is often amazing to a child."
Academics Afield is another NCWF offering designed to bridge gaps and get teens and young adults outside through educational workshops, skill-building, mentorship and hands-on experiences. The program aims to diversify the hunting and angling community by expanding the sport to college students who have no previous hunting or shooting sports experience.  Both GoU and Academics Afield help develop wildlife enthusiasts and champions for North Carolina's natural resources.
"It's like lifting a rock to see what lies beneath," Bures said. "We hope programs like these inspire our youth and help them discover their potential. Younger generations must make lasting connections with North Carolina's wild lives and wild places … the future of conservation lies with them."