Join the Butterfly Highway
To be designated as a Butterfly Highway pollinator garden, your garden should include the following elements:
Size: There is no minimum size required as long as the appropriate plants and resources are provided. Even an apartment balcony can provide habitat for pollinators.
Location: Pollinators and the plants that support them need lots of sun. The site should include an area that receives at least 6 hours of sun every day.
Soil and water: Various plants have different soil and water needs. See our recommended native plant list for appropriate plants for your habitat type. Most pollinators get the water they need from nectar, but butterflies do love puddling in a butterfly spa!
Shelter: Plants should be planted close together, but not crowded, to provide protection from pests and predators.
Place to raise young: Native bees typically build their nests in the ground and require open patches of soil. Leave space in your garden free of mulch and debris to provide this essential bee nesting habitat. Butterflies lay their eggs on trees and herbaceous plants. Certain species have very specific requirements for plants; for example, the monarch butterfly caterpillar will only eat the leaves of milkweed plants.
Food source: Nectar plants provide an essential food source for butterflies, hummingbirds and other pollinators. It is important to provide plants that bloom from early spring to late fall to provide adequate food for breeding and migration. It is also recommended to provide a variety of plants in different colors, shapes and heights that may be attractive to a diversity of pollinators. Your garden should include at least 3 nectar plants that are native to your region. See a list of recommended plants.
Sustainable gardening practices: Many pollinators are insects and are vulnerable to the effects of insecticides. It is recommended to use organic gardening practices to reduce these effects. This includes eliminating chemical pesticides, not treating your yard with a chemical mosquito barrier and using native plants that have not been treated with neonicotinoids.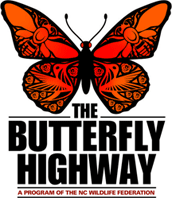 Support the North Carolina Wildlife Federation
Gather your family and friends and plan your next outdoor adventure for one of North Carolina's many unforgettable natural destinations. Help NCWF preserve wildlife and wild places for our children and future generations to come.