The Future of Conservation: Get to Know NCWF's 2022 Scholarship Recipients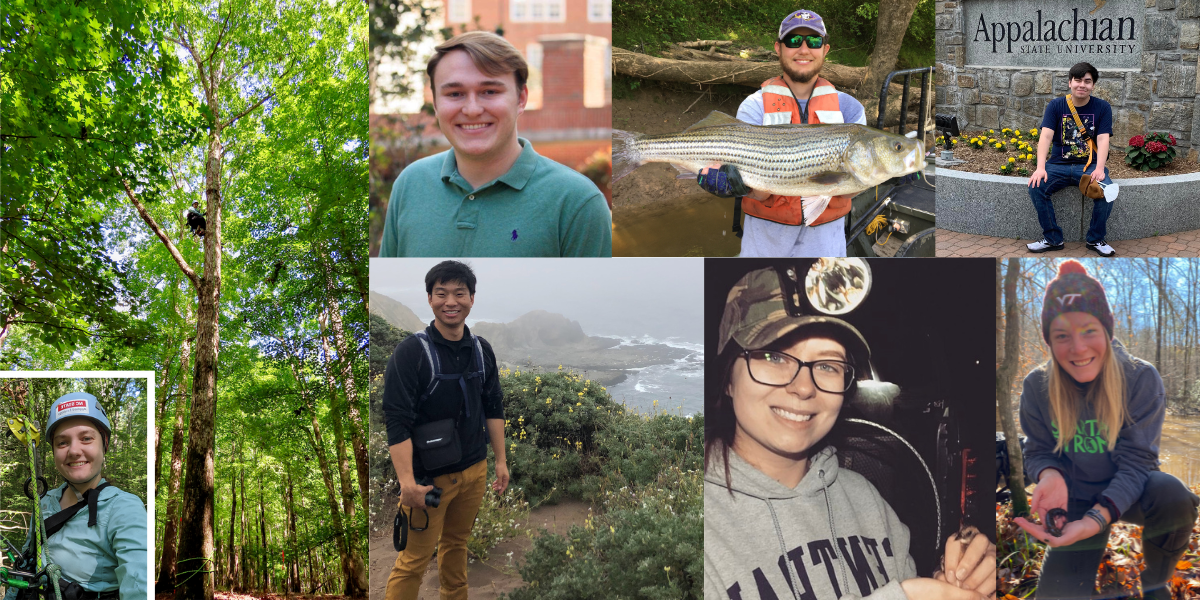 Environmental law and migratory birds, red wolves, entomology, freshwater fisheries and habitat, public lands, ornithology and marine fisheries. The fields of study of this year's North Carolina Wildlife Federation scholarship recipients are as multifaceted and vital as our state's natural resources themselves. 
Seven undergraduate, graduate and Ph.D. students attending NC State University, Duke University, Eastern Carolina University and Appalachian State University received 2022 scholarships to support their goal of studying and working in conservation.
Jonathan Choi of Durham received the $2,500 Conservation Leadership Scholarship for "standing out as an exemplary student, peer and community leader." David (John) Brooks, Jr. (Harkers Island), Bailey Kephart (Greenville), Michelle Kirchner (Raleigh), Jesus Lovaton (Mount Airy), Alexa Murray (Raleigh) and Chase Spicer (North Wilkesboro) each received $1,000 scholarships. 
"As North Carolina's oldest and largest wildlife conservation organization, we appreciate the opportunity to identify and recognize future professionals working to protect our state's wildlife and wild places," said Tim Gestwicki, N.C. Wildlife Federation CEO. 
"The first question in our scholarship application is, 'Describe the type of career you seek in natural resources and explain why.' The thoughtful and inspiring responses below demonstrate why these students deserve recognition and how the grantees are already helping ensure a heritage of natural resource and wildlife conservation in our state." 
Jonathan Choi
"Every year, hundreds of thousands of ducks, geese, shorebirds, and songbirds flit across North Carolina seeking momentary shelter or seasonal homes. In the sea, whales, fish, and sea turtles cross the waters season after season, connecting continents for millennia. However, in the last ecological heartbeat, we have carved up these migratory paths among various cities, counties, states, and countries, and the often-mismatched laws passed in these various jurisdictions can have profound impacts on the ultimate survival of these species and the phenomenon of migration itself. I hope to use my unique hybrid legal-ecological background in non-profit advocacy or government to advance policies that advance the best interests of these migratory species and the human communities that they touch and connect. Using my familiarity with science and law, I want to take on a translation role, explaining cutting-edge science to attorneys and communicating the law's specific scientific questions to inform management. For example, I am currently working on the migratory species impacts of offshore wind energy development on the US Atlantic Coast. The challenge is balancing the generation of carbon-free energy in the face of climate change against conservation priorities for the species that rely on the Gulf Stream. This requires conveying our emerging understanding of migration to wind energy developers and regulators while describing the type of information needed by industry and government to make appropriate changes. I hope to spend the rest of my career working precisely on these sticky problems, where so much critical information can be lost in translation."
Michelle Kirchner, Raleigh
"I decided to get a Ph.D. in ecology because of the range of career opportunities it opened to me. Throughout this journey, no experience has been as rewarding and challenging as mentoring and educating others about nature. As a conservation intern and Raptor Team member with Piedmont Wildlife Center in Durham, NC, I learned to curate conservation lessons to diverse audiences by running outreach booths at community events and hosting wildlife education programs for all ages. I enjoy thinking on my feet to turn a question like, "Why did that bird just poop?" into a lesson about animals preparing for flight from predators. Educating others takes creativity and empathy to meet the audience on their level. Even in formal education spaces, recognizing a class' needs is critical to a productive learning environment. As a teaching assistant, I have relished the opportunity to craft lessons that engage students with humor, active participation, and compassion. While I enjoy teaching in large format settings, mentorship is my passion. As a graduate student, I have mentored my peers as a representative and leader, and I have also mentored four incredible research assistants. From my own experiences as a mentee and a mentor, I recognize the value of a good mentor to succeeding in science. Ultimately, my goal is to teach ecology at a primarily undergraduate institution, where I will foster and mentor the next generation of diverse, engaged scientists to contribute to our understanding of the natural world and how we fit into it."
Bailey Kephart, Greenville 
"In the field of natural resources, I am hoping to contribute to conservation by working with the state and/or federal government to maintain land and preserve endangered wildlife. I have a particular interest in conservation efforts to protect marsh bird populations threatened by wetland fragmentation/loss. I was originally inspired to pursue this work during my time as an undergraduate, where I worked as a research technician for Dr. Chris Butler's ongoing Yellow Rail wintering site studies with the University of Central Oklahoma. While working in this position, I was inspired by the complex ecology found in rallids as well as other marsh-dependent bird species. I also came to realize how modern anthropogenic stressors (coastal squeezing, land development, etc.) are rapidly destroying suitable habitat for these birds at a rate that could lead many species to extinction within the next twenty or thirty years. For this reason, I have decided to focus my studies on wetland bird conservation and pursue a master's thesis on the breeding ecology/occupancy status of Eastern Black Rails in North Carolina. For this position and in future endeavors, I wish to gain knowledge about unknown breeding behavior and suitable habitat characteristics of focal marsh species to better understand how to maintain ideal environmental parameters."
David (John) Brooks, Jr., Harkers Island
"Growing up on Harkers Island, NC in a commercial fishing family has given me a unique perspective on natural resource management and use. Commercial fishing has provided a living for my family for generations. As a kid, I remember my family voicing a distrust of fisheries regulations and management because of the difficulties it placed on gleaning a living from the water. Although I am sure regulations have influenced commercial harvest, my undergraduate education has taught me the crucial importance of fisheries management. Without some form of management, our fisheries would be teetering on non-existence (and many are, indeed, doing just that). My education has given me insight on both sides of this long-standing tension, and I hope that my career fosters a new and lasting relationship between fisheries managers and those who rely on our marine resources. Nothing would make me happier than to bolster the tradition of commercial fishing in a way that allows individuals to provide for their families as well as secure the future of fisheries for generations to come.  Ideally, my career will focus on researching, understanding, and protecting our estuaries – which serve as the primary nursery grounds for most (if not all) of our recreational and commercial fisheries. I feel that fostering fisheries education amongst fishers, and the public, will help garner support for issues that plague our fisheries management practices. A few contemporary issues affecting NC fisheries include the exploitation of commercial licenses (by those not dependent on fisheries for a living), bycatch and otherwise wasteful fishing practices, harvesting species before maturity (Let Them Spawn!), and gross mismanagement of species with little scientific input or acknowledgement."
Chase Spicer, North Wilkesboro 
"I have always wanted to work to help preserve and protect our natural resources and become a fisheries biologist and work in North Carolina. Growing up fishing in the mountains of North Carolina with my grandfather taught me to appreciate how special our state's natural resources are and how they are worth protecting. I learned to appreciate the natural world through hunting and fishing across the state. On one such outing, I met some fisheries biologists with the North Carolina Wildlife Resources Commission. I got to watch as they worked on a survey looking at trout populations. Afterward, I got to look at some of the different fish they had obtained in their surveys such as trout, darters, madtoms, and some other fish that I did not know even existed as a kid. From that moment on I was hooked and wanted to be a fisheries biologist for the NC Wildlife Resources Commission.  Since then, I started to volunteer to assist with any project that I could with either NC Wildlife Resources Commission, National Park Service, or anything that I could help out with in any lab. This helped me to land a spot as a research assistant in Dr. Keith Gibbs's Lab at Western Carolina University and ultimately helped me to achieve acceptance into a master's program at East Carolina University."
Jesus Lovaton, Mount Airy 
"My current plan is to earn my Biology: Ecology, Evolution, and Environmental degree, in addition to a GIS (Geographical Information Systems) Certificate. After graduating, I want to seek a job working for the National Parks Service or the National Forest Service. I've known for a while that I wanted a job in natural resources, and working for either of these state organizations seems like a good choice. In addition, North Carolina has many beautiful National Parks and Forests that I've visited, such as the Croatan and Pisgah National Forests. I would love to participate in helping these areas remain beautiful, as well as taking inventory of the flora and fauna that reside in these locations. In addition, I would be open to using my GIS skills in a natural resource profession. By using data about flora and fauna in a designated location, I could create maps using GIS software such as ArcGIS or ArcMap. Furthermore, I have learned about LIDAR, meaning I can use satellite imagery, for example, to investigate vegetation cover or burn scars over large natural areas, such as parks and forests."
Alexa Murray, Raleigh
"My ideal career would be to work as a federal or state wildlife biologist or a wildlife biologist for an NGO. I was unsure about my career path during undergrad, but I have since worked a few field technician positions that have cemented my love for this field. I have found my passion working to manage and conserve wildlife, and every position I have held since I graduated has only further convinced me that I am in the right career. Ideally, my future job would require an array of skills and duties, so that every day is different. But big picture, I want to be able to conduct science in order to inform managers and conservationists about what actions they should take. I want a job that requires both days behind my desk, but also days that I get to be in the field. This, I feel, would be the perfect balance and bring me a sense of fulfillment."
NCWF Scholarship History & Past Winners
Since the 1970s, North Carolina Wildlife Federation has awarded scholarships to more than 300 college students from across the state who are studying and working in the wildlife and conservation fields. NCWF provides up to seven grants to full-time students (graduate or undergraduate) who are enrolled in and attending an accredited NC college or university, including two-year programs. Eligible students must be majoring in the areas of wildlife, fisheries, forestry, conservation or the environment.
Many past recipients have achieved significant success in the conservation field, including:
Manley Fuller (1977) is vice president of conservation policy for North Carolina Wildlife Federation.

Jonathan Marchal (2004) is director of education at The North Carolina Arboretum and

2021 Environmental Educator of the Year

.

Scott Fletcher (1985) is natural resources manager for Duke Energy and vice chair of NCWF's Board of Directors. 

Erin Singer McCombs (2008) is Southeast conservation director with American Rivers.

Dr. R. Wilson Laney (1973) is a retired senior biologist with U.S. Fish and Wildlife Service and serves on NCWF's Board of Directors.

Dr. David Cobb (1982) is research director for North Carolina Wildlife Resources Commission.